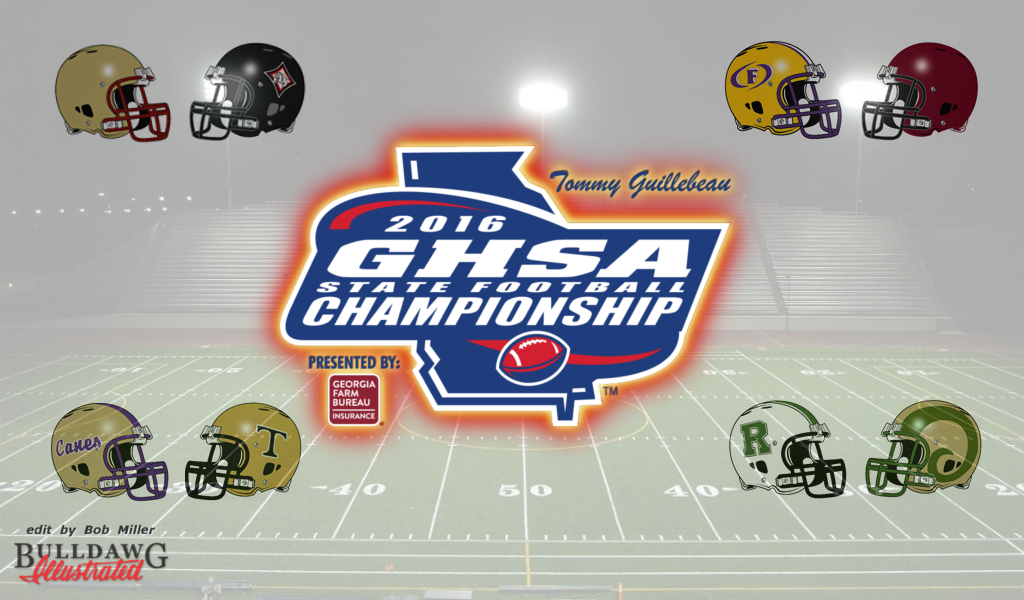 We are down to the final four games in the Georgia High School Football State Championships and will get things started with the Class Single-A public final which will pit McIntosh County vs. Macon County. Class AA, Class AAAA, and then Class AAAAAAA will finish out the day in the Dome.
All games will be televised live on GPB-TV and via live stream online at GBP.org and the NFHSNetwork.com. You can also catch live broadcasts of the games on the radio on the Georgia News Network (GNN) and on WCNN-AM 680 The Fan as well as via audio stream at 680 The Fan.
TODAY'S GAMES
---
10:00 a.m. ET – Class A Public Finals
McIntosh County vs. Macon County
The Class single A public championship game kicks off today's games in the Dome between the Macon County Bulldogs from Region 4B and the McIntosh County Academy Buccaneers from Region 3A. Macon County is 11-2 overall with losses to AA Fitzgerald and 6A Northside while McIntosh County is 10-2 with losses to Clinch County and Calvary Day.
The Buccaneers' defense has a tough task ahead of them in slowing down Macon County's offense which is averaging 46 points per game. The Bulldogs' quarterback, K'hari Lane (2), is a touchdown machine with 52 this season while only throwing one interception. Lane has also passed for over 3,500 yards on the season. And Macon can also hurt teams with their rushing attack with Jared Daniels (21) and Aukeeveous McClendon (6), who have combined for 2,000 yards on the ground.
The McIntosh defense has been able to get to the quarterback this season with Dallans Anthony (28), Akhari Roberts (15), and Joseph Roberts (59). Those three have racked up 24 1/2 of the Buccaneers' 46 sacks. Can they affect Macon's Lane enough to slow down the Bulldogs to bring home McIntosh's first state football title?
McIntosh County Academy Buccaneers
Coach: Robby Robinson
Region 3 – Class A
Regular Season Record: 7-2-0
Region Record: 5-1-0
Macon County High School Bulldogs
Coach: Dexter Copeland
Region 4 – Class A
Regular Season Record: 8-2-0
Region Record: 7-0-0

---
1:00 p.m. ET – Class AA Finals
Benedictine vs. Fitzgerald
The Region 2 champs and number 1 seeded Benedictine Cadets will face off against the Region 1 champs and number 1 seeded Fitzgerald Purple Hurricanes for the Class AA title. Benedictine is undefeated on the season and has rolled through the playoffs defeating teams by an average score of approximately 52 points to 8. Fitzgerald is 13-1 overall with their only loss to Tift County.
Benedictine will be looking for some payback against Fitzgerald as the Purple Hurricanes ended the Cadets' hopes at back-to-back state football titles with a 54-28 win in last year's semifinals. But Fitzgerald is looking to end their drought of hosting a championship trophy, which they last did some 68 years ago in 1948.
The Benedictine Cadets' defense led by Chris Harris (32), Noah Johnson (33), and Adam King (17) will have their hands full trying to slow down the Purple Hurricanes' JD King (18). The class of 2017 running back, who is currently committed to Oklahoma State, has rushed for over 5,700 yards and 70 TDs in his high school football career.
And if you like the Wing-T offense, this is the game for you as both high schools run it well.
Benedictine Military School – Cadets
Coach: Danny Britt
Region 2 – Class AA
Regular Season Record: 10-0-0
Region Record: 7-0-0
Fitzgerald High School Purple Hurricane
Coach: Jason Strickland
Region 1 – Class AA
Regular Season Record: 9-1-0
Region Record: 5-0-0

---
4:30 p.m. ET – Class AAAA Finals
Cartersville Hurricanes vs. Thomson Bulldogs
A big time match-up between two undefeated teams; Region 5 champs, the number 1 seeded Cartersville Hurricanes and the Region 4 champs, number 1 seeded Thomson Bulldogs. Can junior QB Trevor Lawrence (16) and the Hurricanes sweep aside a stout Thomson defense to win back-to-back state titles and continue their win streak which stands at 29 straight?
Speaking of Lawrence, the class of 2018 signal-caller has completed over 63% of his passes for 3,708 yards and 49 touchdowns to just 9 interceptions. He leads a Cartersville offense that averages over 45 points per game.
To keep Lawrence and the Purple Hurricanes' offense off the field, Thomson will rely on a stout running game that averages over 300 yards per game. That rushing attack is led by senior RB Michael Thomas (22) who has accounted for 2,240 yards on the year and 24 touchdowns, and in the playoffs, he has carried the ball 89 times for 830 yards and 10 touchdowns. Thomas is complimented by Bulldogs' sophomore RB Bubba Murray (3) who has rushed for over 1,000 yards and 17 touchdowns.
Cartersville High School Purple Hurricanes
Coach: Joey King
Region 5 – Class AAAA
Regular Season Record: 10-0-0
Region Record: 6-0-0
Thomson High School Bulldogs
Coach: Rob Ridings
Region 3 – Class AAAA
Regular Season Record: 10-0-0
Region Record: 5-0-0

---
8:00 p.m. ET – Class AAAAAAA Finals
Roswell vs. Grayson
No. 1 seed from Region 8, Grayson, will face the no.1 seed from Region 4, Roswell, for a titanic showdown in the Class 7A championship game. Grayson is 13-1 and their only loss on the season was to IMG Academy back in their opening game. Roswell is undefeated on the season. Both teams are ranked in the top 10 nationally by MaxPreps with Grayson at No. 4 and Roswell 10th. Grayson will look to avenge a last-second loss to Roswell in the state semifinals last year.
And senior running back Kurt Taylor (5), currently committed to Michgian, along with athlete Jamyest Williams (1), currently committed to South Carolina, will look to help the Rams do that. Taylor and Jamyest have combined for over 1,400 yards on the ground and 24 touchdowns. Clemson commit Chase Brice (2) has thrown for over 2,500 yards and 30 touchdowns on the year allowing Grayson to attack teams with a balanced offense. Deangelo Gibbs (8) will be looking to catch some passes from Brice, and he will also be playing at CB on defense.
On defense, Grayson's Ismail Abdul (12), Breon Dixon (9), Solomon Egbe (44), Owen Pappoe (7), Tru Thompson (95) and company will have to try to corral Roswell's Sheldon Evans (1) and Malik Willis (7) who have rushed for over 2,500 yards and 25 touchdowns. Willis can also hurt opponents with not just his legs but his arm as well. The Virginia Tech commit has thrown for over 2,500 yards on the year and 27 touchdowns.
For Roswell on defense, Xavier McKinny (15) and LeAnthony Williams (4) will look to pick off some of Brice's passes if the Hornets' defensive front can force Grayson into passing situations.
Will this one come down to the final ticks of the game clock again?
Roswell High School Hornets
Coach: John Ford
Region 4 – Class AAAAAAA
Regular Season Record: 10-0-0
Region Record: 5-0-0
Grayson High School Rams
Coach: Jeff Herron
Region 8 – Class AAAAAAA
Regular Season Record: 9-1-0
Region Record: 5-0-0

---

For more information on the GHSA State Football Championships including directions to the Georgia Dome along with parking and ticket information, please CLICK HERE.