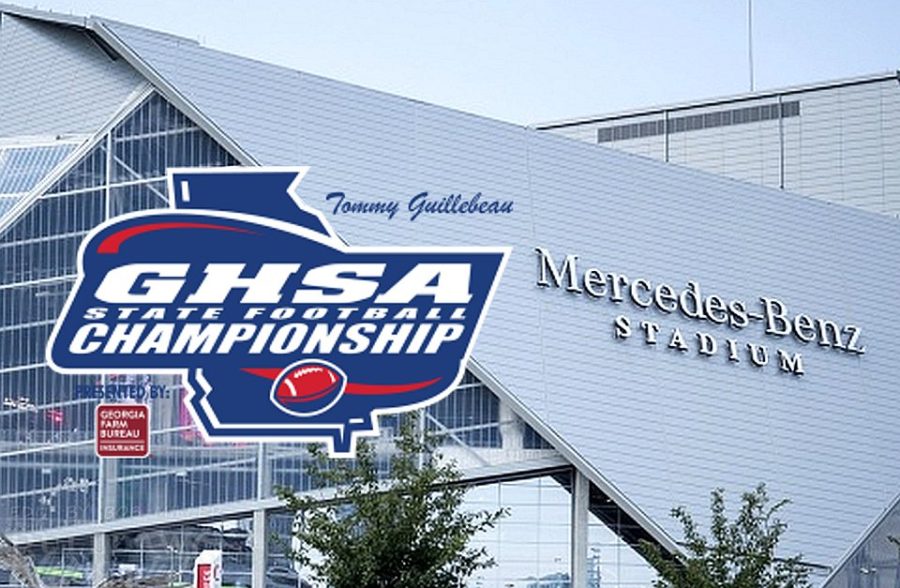 GHSA has postponed all of today's games:


https://twitter.com/OfficialGHSA/status/939519501955207168
Players, parents, coaches, and fans of high school football teams playing in this weekends Georgia State Football Championship games made the journey to Atlanta from across the Peach State but 'Old Man Winter' brought heavy, wet snows across the metro-area and North Georgia throughout the day on Friday causing GHSA to postpone and reschedule several of the games.
The winter weather brought 3 to 6 inches of snow across north Georgia over the day on Friday with some spots seeing locally higher totals. Road conditions deteriorated throughout the day into the evening. That information led the GHSA to decide to postpone Friday's Class 5A championship game between Rome and Warner Robins as well as the Class 6A title game between Coffee and Lee County and rescheduled them for next weekend. In addition, Saturday's Class 1A-Public state championship game featuring Clinch County and Irwin County scheduled for a 10:00 a.m. kickoff has also been postponed and rescheduled for next weekend. The Class 2A state title game has also been postponed and is going to be rescheduled for next weekend.
As of right now, GHSA plans on playing the Class 4A and Class 7A championship games on Saturday.
The 4A title game featuring Blessed Trinity vs. Marist is scheduled for a 4:30 p.m. ET kickoff and the 7A title game between Colquitt County and North Gwinnett is scheduled for an 8:00 p.m. ET kickoff.
GHSA's late decision to postpone and reschedule four of the eight state championship games was met with mixed reaction on social media, but a number of people that had already journeyed through the inclement weather were not exactly happy with the way the situation was handled, especially the large contingent of football fans and family members of players and coaches from south Georgia. There is also the question as to why the cancelled games could not have been played on Sunday in the Mercedes-Benz Stadium since the Falcons had already played on Thursday and would not be playing on Sunday as they normally would for a home game. This is especially true for teams and fans that had paid for travel and hotel accommodations already.
Understand the weather is a problem today but why not just play the other games on Sunday the falcons played last night they don't have a game on Sunday…If I was a team not getting to play in the dome I'd be ticked you might never get another chance to play there.

— Rob Royal (@robroyal02) December 8, 2017
This is absolute garbage @OfficialGHSA and @GaFarmBureau. The teams are already in Atlanta. You honestly think sending them home is the safe play. Completely moronic. Way to be prepared and cost all of these people their money.

— J. Blake Pittman (@jblakepittman) December 8, 2017
Garbage. Complete debacle by OUR GHSA administration. 3 teams are already at the dome, paying customers in, and THEN you decide to cancel. The safety of individuals were already compromised.

— Brett Steverson (@steverson_brett) December 8, 2017
You had all day! Everybody including the teams are here. Lee spent $15,000 to go up there and y'all cancel when they're already there.

— Ryder Hayes (@ryderh2021) December 8, 2017
GHSA did release a statement that says it will honor tickets that have been purchased already and fans can use them to get into the postponed, rescheduled championship games, but fans need to make sure to hold onto your tickets and ticket stubs. Of course, that is if people will be able to attend the rescheduled games.
The Alabama High School Athletic Association (AHSAA) also had to make a decision on whether or not to play it's Friday slate of state football championship games in open-air Bryant-Denny Stadium in Tuscaloosa, AL as they were experiencing similar winter weather conditions, but the road conditions in Tuscaloosa were reported to be safe and in better shape than they were in the Atlanta-metro area.. The AHSAA made the call to go ahead and play.
---
Recent Articles by Bob Miller


[pt_view id="83405b425p"]