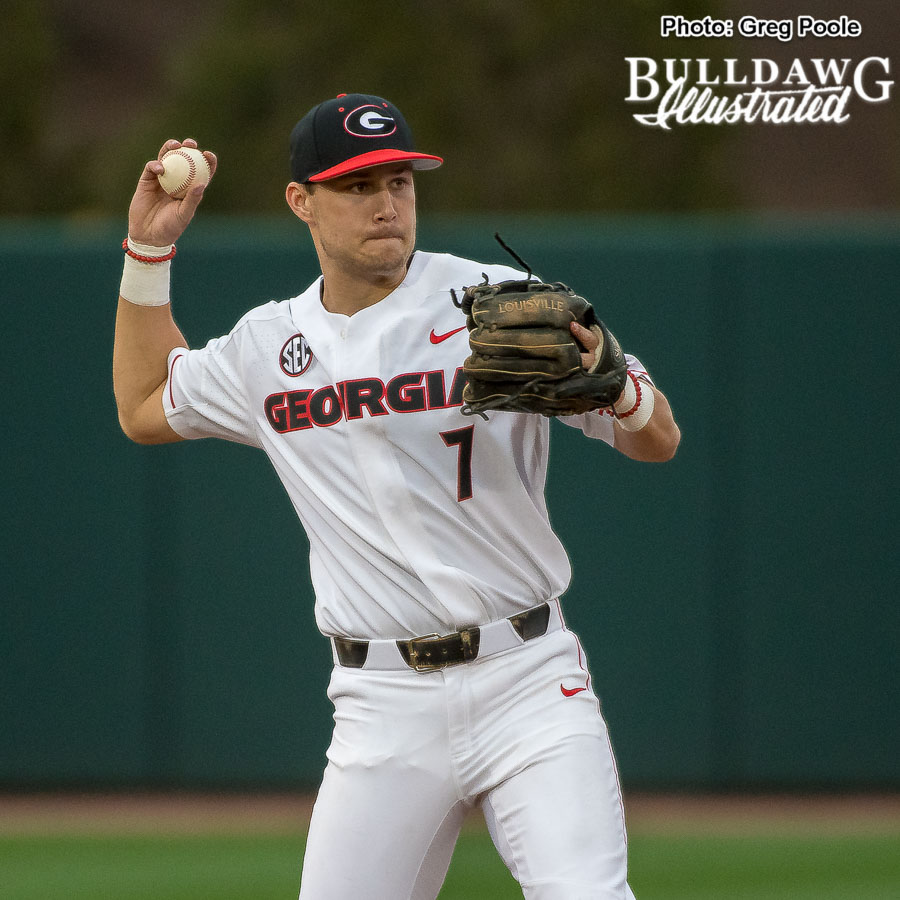 Han Vance on Georgia: Originally intending to attend in-person the Georgia baseball game at Kennesaw State University in Cobb County with a good friend who lives in the area, I opted out in favor of watching both the baseball (streaming on ESPN 3) and virtually must-win Georgia men's basketball game at South Carolina (broadcast by the SEC Network).
First the diamond. Dawgs in black and the home Owls in gold, it's a good crowd with lots of Georgia folks seeing the University make a rare appearance just north of my oft home of Marietta. The signal was clear and un-delayed in the big city, so I felt a little better about missing a balmy winter evening outside at the ballpark.
This dual coverage will be a whole lot easier from Athens Saturday: baseball versus Charlotte in the middle game of a weekend series starting at 4 p.m. and the Hoop Hounds tipping at 2:00 versus LSU. For ease of understanding, I'm splitting up the nomenclatural vernacular here and talking "Dawgs" for the baseball diamond and "Hounds" for hardwood, a la my regular basketball coverage we've called "Houndspeak" this season. Thinking that my main focus has to be basketball, because not only is it the bigger sport, our team is coming off two straight huge late-season wins (at Florida sweep and Tennessee in Athens).
Baseball Dawgs (2-1) are off a huge opening series win over Georgia Southern, with Coach Scott Stricklin seeking his first winning season in his fifth as skipper in the Classic City. Hounds headed up by Coach Mark Fox, needing a third NCAA tournament appearance in his ninth season in Athens.
Early homer yielded on the road and the Dawgs find themselves in a slight hole. Back-to-back UGA homers, the second by super sophomore shortstop Cam Shepherd, and it's 3-3. Back to 4-3 Owls in the 3rd. Tucker Bradley robs them of more on a nice layout in the outfield, and then a bad play by Bradley on a ground ball and runners got to 2nd and 3rd. Freshman Ryan Webb, pitching in first collegiate start, gets out of the jam. Twenty minutes until I go two-sport, reminding me of periods of prowess in middle school and much-later adult league glories. Runner on, runner over on an easy steal. Kennesaw error and two kids called Tucker on base for the Dawgs.
The Hounds tip in around ten minutes now, in South Carolina. They beat UGA in Athens already, after sweeping the Hounds in the season series last year, as they advanced to the Final Four while Georgia's bubble burst, dumped into and out of the NIT. Can't expect to be "Not In Tournament" this season and survive it.
Two outs, 4-3 Kennesaw, top of the 4th. Ball four, bases loaded and Michael Curry seeking his second grand slam of the young season. The first team all-SEC designated hitter keeps battling then strikes out.
I'm onto basketball. Hounds hit a couple early threes but only have six more total points at the 10:30 mark, a low-scorer at 12-12. SEC Player of the Year-to-be Yante Maten hits two at the stripe to push the Hounds to 14. Freshman Nicolas Claxton out of South Carolina, in his fifth straight start, makes a single free throw. 15-14 after Carolina hit some of their own.
Bottom of the 5th and still 4-3 KSU, on the diamond. Dawgs don't want to slip back to .500 and certainly won't be satisfied with .500 in-state as the flagship. Two more Carolina charity connects 16-15 Cocks over UGA. These programs at UGA are both in peril currently, folks.
Will Proctor (of California) pitching for the Dawgs now, with two outs. South Carolina with a three, Hounds down under 8:00. Then, the programs went simultaneously in different directions.
South Carolina ended on a 9-0 run to close out the half up 42-27. Is the end nearing, again, for Fox? Can Georgia come back from this?
Boom. Dawgs up 8-4 top of the 6th. Bases loaded and a sac, and it's 9-4. It surges all the way to 14-4, 11 runs in a single inning as the Dawgs explode offensively, as they did in the season opener.
Back to Carolina…it's 47-40 after UGA starts the second half 6-of-10 from the field. 58-50 at 5:30 and I can finally focus on the Hounds with the baseball game score out of hand. No clocks in baseball, though, so I will check back.
Juwan Parker is stripped and the Cocks hit a three. "The lead is back to eleven," my TV is saying. They hit another deep backbreaking bomb and get the offensive rebounds to close the Hounds out. Miss State, not Georgia, was the SEC Bulldog of choice by bracket expert Joe Lunardi after their win, even before our loss. Getting swept by South Carolina probably necessitates that we sweep UT. Georgia surely needs to win the next two games at home.
The live stream asks me to refresh, and I do. It's same score in the 9th. Georgia goes 1-1 for this unique article, with me looking forward to Saturday in Athens.