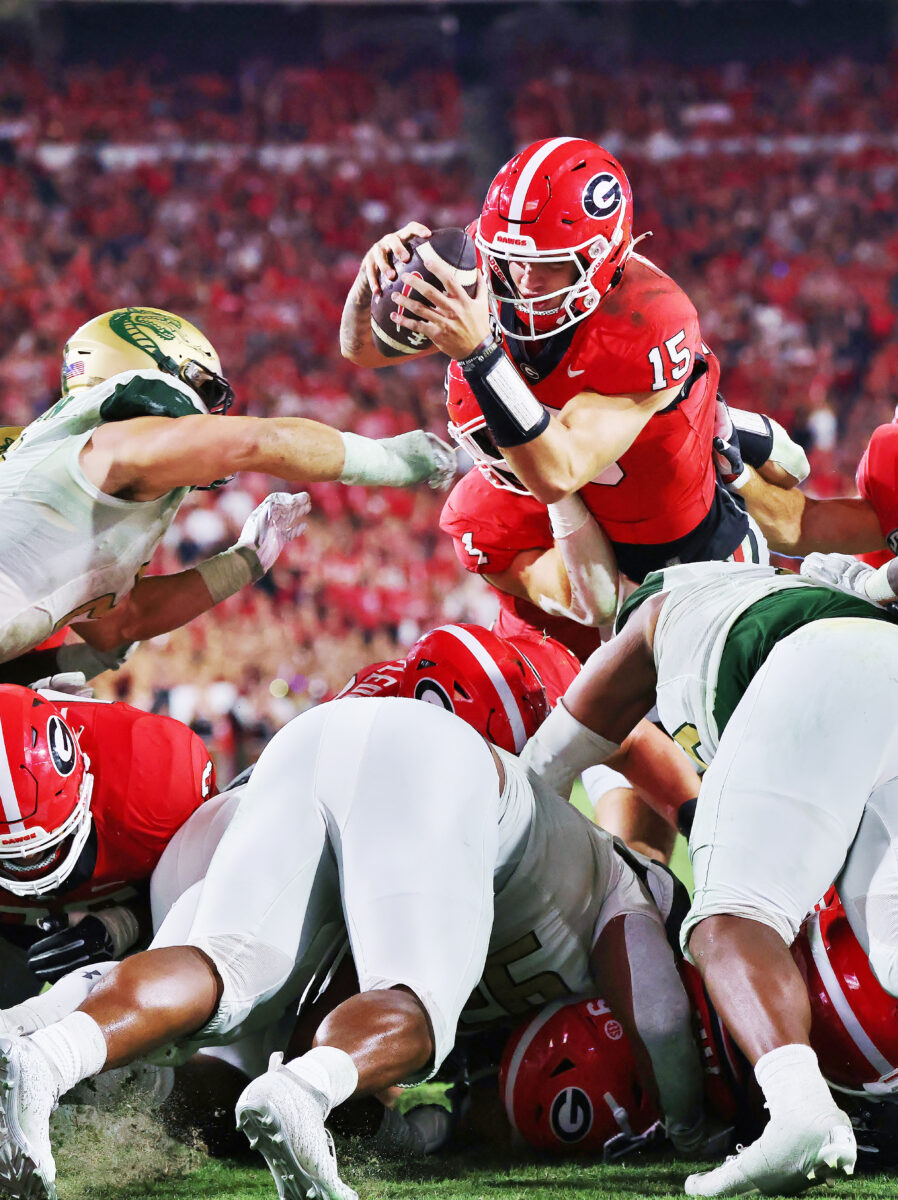 Now the gauntlet begins for the two-time reigning national champions of college football.
Ancient rivals Georgia and Auburn battle Saturday afternoon at Jordan-Hare Stadium. The top-ranked Bulldogs improved to 4-0 with an 49-21 win over UAB this past weekend. Georgia is 1-0 in the Southeastern Conference, beating South Carolina 24-14 two weeks ago in Athens. Auburn is 3-1, 0-1 in the league, falling to Texas A&M 27-10 in College Station this past week.
For the Bulldogs, this is the first of seven straight SEC games before the regular season finale against the Yellow Jackets. For Auburn, it's the second of seven success SEC showdowns.
This past week, Kirby Smart coached his 100th game at Georgia, and now has a career record of 85-15. Over a 100-game period for SEC coaches, Smart now has the best winning percentage and most victories in the history of the league.
Carson Beck had a strong game through the air with All-American do-everything tight end Brock Bowers shining. The John Mackey Award winner (nation's top tight end) from a year ago went over 100 yards for the game against UAB, which pushed him over the 2,000-yard career receiving yardage mark.
A pair of special teams turnovers, an interception and another near pick marred the victory over the Blazers. Those are the kind of mistakes Georgia can't afford on the plains Saturday.
Auburn fell behind Texas A&M 6-0 in the first quarter, then fought back to make it 6-3 at intermission. The Aggies took control with a pair of third quarter scores to grab a 20-3 lead heading into the fourth quarter. The Tigers again fought back, as Eugene Asante made the big play, returning a fumble 67 yards for a touchdown, cutting the A&M advantage to 20-10. But the Aggie defense stood strong and Texas A&M was able to deliver a final touchdown in the closing minutes. The Tigers struggled through the air, completing 9 of 23 passes for 56 yards.
It's the 128th renewal of the Deep South's Oldest Rivalry. Georgia leads the all-time series 63-56-8, winning six straight going back to the 2017 Southeastern Conference Championship Game, and 15 of the last 18 meetings.
Georgia comes in having won 37 of the past 38 games and is riding a school record 21-game winning streak. The victory over the Blazers extended Georgia's current college football best home winning streak to 22 in a row.
The Bulldogs sit atop the college football world, but as Smart always points out, "humility is just a week away." And you know the Tigers will come out snarling, trying to add to this rivalry's upset-laden history.