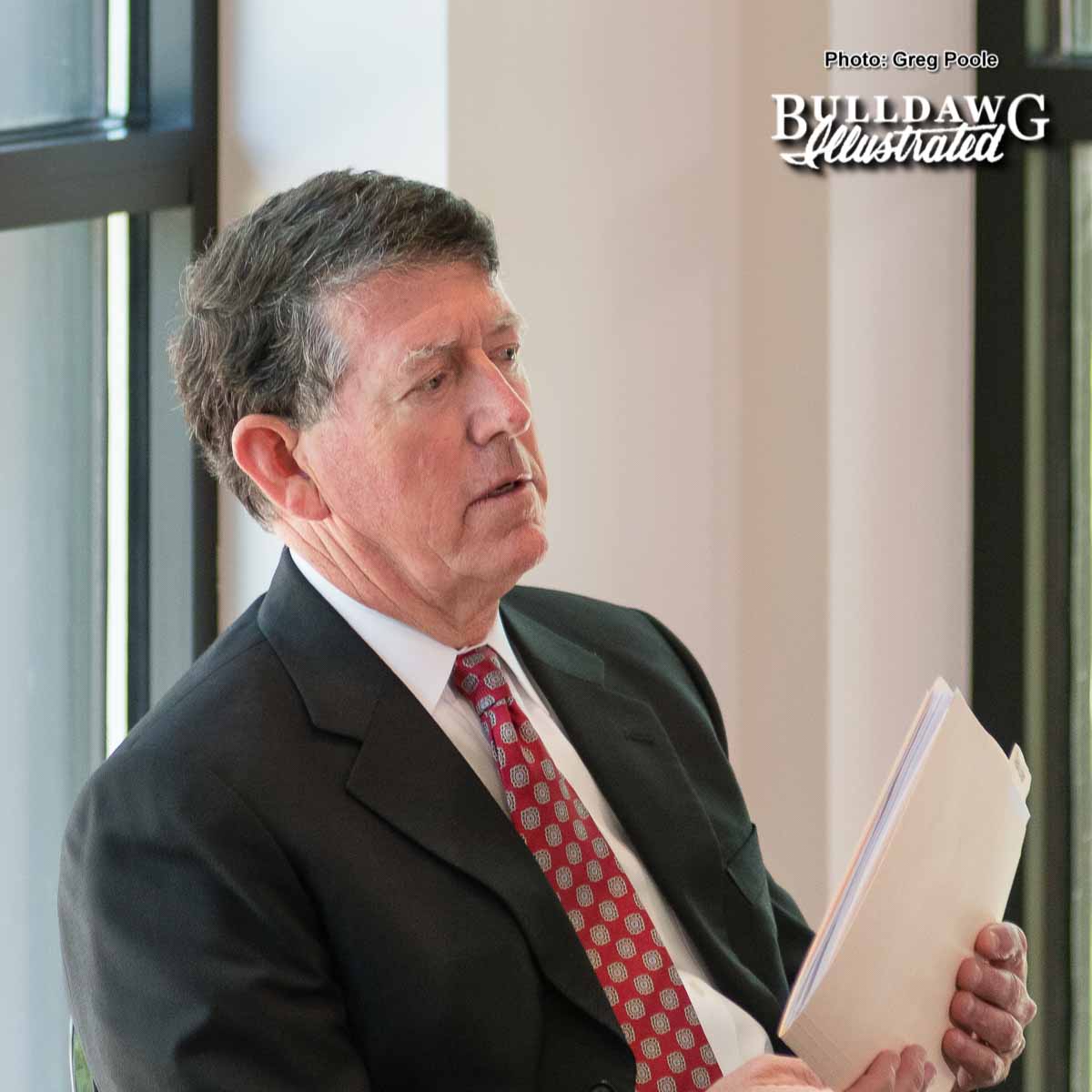 A one-year contract extension for J. Reid Parker Director of Athletics Greg McGarity, as well as the approval of a new, $8.5 million tennis grandstand at Henry Feild Stadium, were among the prominent topics at the University of Georgia Athletic Association Board of Directors quarterly meeting Wednesday on the UGA campus.
After a brief discussion in executive session, the Board voted unanimously for the one-year contract extension for McGarity, who has served in his position since August of 2010.
''Greg's been a great resource for me since coming to Georgia and has always been supportive and energetic about all the things that are necessary to develop and maintain a successful football program,'' said UGA head football coach Kirby Smart. ''I'm especially appreciative of his commitment to facilities. Greg is loyal to the University and has what is best for Georgia as his top priority.''
''Greg's leadership and continued support instill confidence in our coaches, student-athletes, and sports programs in general,'' said Lu Harris-Champer who just began her 19th season as head coach of the UGA softball team. ''He is totally committed to providing the best opportunities for our student-athletes to be successful in competition and in the classroom. Greg is a great facilitator of success.''
The Board also voted unanimously to allocate $8.5 million toward the new grandstand at the Dan Magill Tennis Complex. Deputy Athletic Director Josh Brooks presented plans for the grandstand, which will improve the fan experience with better sightlines, permanent concessions, new restroom facilities, and chair back seats in the lower seating area. The project will also include the construction of a new 1750-square foot press box. According to Brooks, construction is scheduled to begin this May and will be completed in February of 2020.
In his Athletic Director's report, McGarity recognized the culture of ''servant leadership'' within the athletics program at Georgia. He introduced three people as examples of servant leaders, two UGAAA longtime employees and one student-athlete of recent vintage. Senior Associate Athletic Director Glada Horvat and Assistant AD Rhonda Kilpatrick have a combined experience of assisting UGA student-athletes of over 60 years. Horvat and Kilpatrick together oversee many student-related issues, including academics, financial aid, housing, eligibility and international student services. Additionally, they are frequently the initial point of contact for many parents of student-athletes with a wide range of questions.
McGarity also introduced Keturah Orji, one of the most decorated student-athletes in UGA history. Orji — whose accomplishments include a bachelor's degree (Spring 2018), eight NCAA individual titles, NCAA Woman of the Year and the Bowerman as the nation's top female collegian in track and field — spoke briefly on her experience at UGA.
McGarity also called attention to the following: the selection of former UGA great Roland "Champ" Bailey to the Pro Football Hall of Fame; the victory last week by the women's tennis team — led by head coach Jeff Wallace — at the ITA national indoor championships in Seattle; and the appointment of UGA volleyball coach Tom Black as head coach of the Canadian women's national team.
Other highlights of the meeting included:
> Faculty Athletics Representative David Shipley gave a glowing academic report. The most prominent information he shared was the 3.0 overall grade point recorded by all UGA student-athletes in the Fall 2018 semester. The men's cross country squad had the highest grade point average among all UGA teams at 3.49, while the women's swimming & diving team had the top GPA among women's teams at 3.37. Fifteen of the 19 UGA teams had collective GPAs of 3.00 or better during Fall Semester. Additionally, 284 student-athletes were named to the J. Reid Parker Director of Athletics Honor Roll for fall term.
> Also as part of his report on facilities, Brooks requested funding for new light-emitting diode (LED) lighting at Sanford Stadium. Brooks also gave updates on the ongoing construction of new facilities at the UGA Equestrian Farm in Bishop, Ga., as well as the waterproofing of seating sections in Sanford Stadium.
> A report from one of the three student representatives on the Board: Roya Naghepour, a senior from Roswell, Ga.​