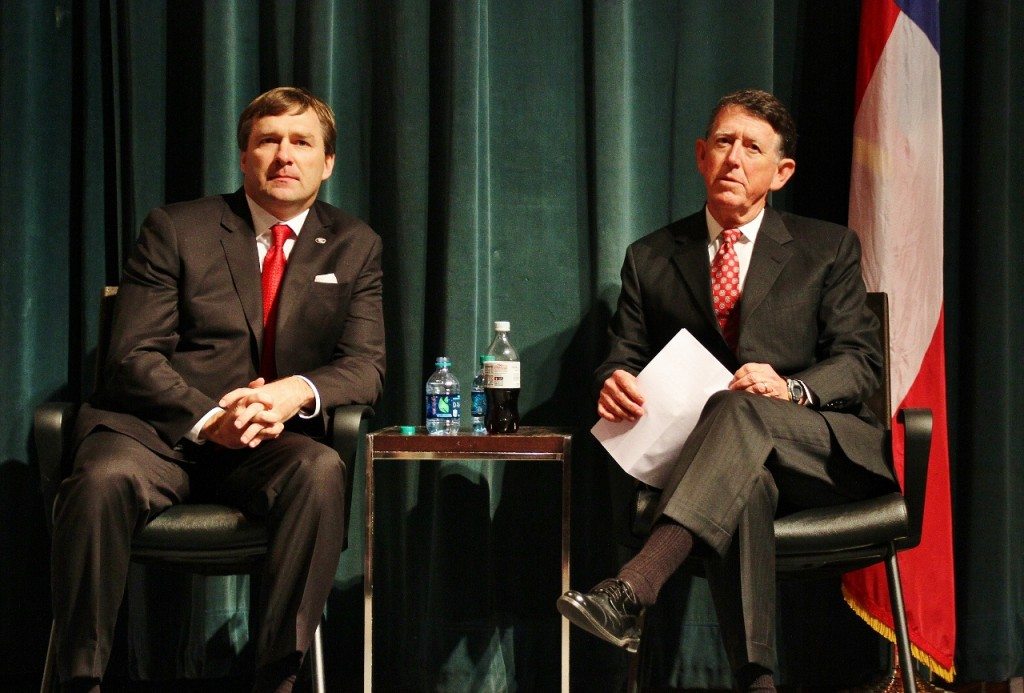 The University of Georgia Athletic Association Board of Directors announced today that Georgia's athletic budget will jump significantly for the coming year. After seeing the budget grow from $99 million in 2015 to $117 million in 2016, expenditures will move to $123 million for the fiscal year 2017.


For a bit of perspective, a $123 million budget would have brought Georgia in at 7th place nationally for 2014-2015. That year, UGA ranked 25th in athletic expenditures. It will be interesting to see if Georgia has improved its position relative to its SEC competitors in the race for all things bigger and, hopefully, better. One thing is certain, there was a change in attitude about spending (or should we day 'investment') in the last year or so of the Richt era.


Here is the source of the national budget numbers:

CREDITS By Steve Berkowitz and Christopher Schnaars of USA TODAY; Peter Benson, Jared Bomba, Amanda Caffey, Sam Fortier, Charles (CB) Garrett, Andrew Graham, Billy Heyen, Tara Lanigan, Matt Liberman, Michael McCleary, Kent Paisley, Adam Regenstrief, Rebecca Thornburg, Jodi Upton, Kevin Van Pelt, Matthew Wieselthier of Syracuse University's S.I.



Here is the UGA budget announcement:


A budget of $123,049,705 for fiscal year 2017, as well as $9 million for various facility-related projects, were approved by the University of Georgia Athletic Association Board of Directors during its quarterly meeting here Thursday.

The Board also approved an average increase of 17% for donations to the 2017 Hartman Fund, the priority system to maintain season tickets and seat locations. The Hartman Fund increase is the first since 2005. More information on the Hartman Fund adjustments will be presented in greater detail in the coming days. Answers to immediate questions can be obtained by calling the Bulldog Club staff at 877-423-2947 or emailing gadawgs@sports.uga.edu.

Also approved by the Board were the following three facility enhancement/renovation projects:
*Enhancements to Stegeman Coliseum, Phase 1 – $1,800,000. Plans include a large-scale aesthetic improvement to the southeast end zone, a space currently occupied with achievement banners of all three sports competing in the Coliseum. The display will surround, keeping intact, the existing video board.
*Jack Turner Soccer stadium renovation — $4,575,000. This renovation project will replace the grandstand and press box, which had been intact since the soccer stadium was built in 1998.
*Sanford Stadium west end zone project — $1,000,000. This project will serve as the initial, exploratory steps of a major enhancement to the west end zone of Sanford Stadium. These enhancements include: a new home locker room for the Bulldogs, a space to host and entertain prospects on game day, and improvements to rest room concession areas.

"The purpose of the stadium project is to ask the question, 'What can we do to maximize our space,'" said J. Reid Parker Director of Athletics Greg McGarity. "That's what an architect will help us answer. Right now, we have a lot of dreams and ideas for how to use the space and getting an architect on board will allow us to document that."

All of the above projects, as well as the current construction of the Indoor Athletic Facility, will be funded through the Magill Society, the philanthropic fund-raising organization for UGA athletics. For more information on the Magill Society and ways to get involved, contact The Georgia Bulldog Club at 877-GA-DAWGS (877-423-2947) or visit http://gado.gs/magill.