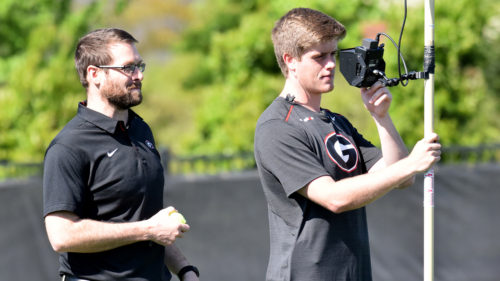 ATHENS, Ga. — Jake Stroot, the Georgia Bulldogs' director of football technology, was named the 2018 Bob Matey National Video Coordinator of the Year last week at the Collegiate Sports Video Association's annual conference in Milwaukee, Wis.
Stroot was selected by a majority vote of his peers in the CSVA. The Bob Matey Award is presented to the video coordinator who displays innovation, determination, perseverance and technical skill as portrayed by the late Bob Matey, legendary video coordinator from Texas A&M. This marks the fourth time in the 21-year history of the Bob Matey Award that a member from the Southeastern Conference has received the honor.
Stroot is entering his second year with the Bulldogs and his 20th overall season as a collegiate sports video professional. During his first season in Athens, Georgia won the SEC Championship as well as the 2018 Rose Bowl, advancing to the College Football Playoff National Championship Game.
Prior to Georgia, Stroot served as director of football technology at Louisville. There, he managed the Cardinals' video department for three seasons and played a significant role in the Cardinals' 2014 inaugural season in the Atlantic Coast Conference and the 2016 Heisman season for quarterback Lamar Jackson.
Stroot spent his first 15 years as the head video coordinator for Appalachian State. During his time as a Mountaineer, he received the CSVA's Ultimate SAVVY Award for best collegiate highlight video in the nation in 2008, 2010 and 2014. He also coordinated the engineering, design and installation of $1 million of A/V technology in Appalachian State's new seven story athletics complex. Stroot was an integral part of App State's eight conference championships and three consecutive National Championships in 2005, 2006 and 2007.
From 2010-15, Stroot served as Secretary on the Executive Board for the CSVA. He was also the two-time CSVA's At-Large Video Coordinator of the year in 2008-09 and 2009-10.
Stroot has the proven ability to utilize video and technology to achieve championship results, and his hard work has been rewarded with 179 collegiate football victories. Every team he has been a part of has enjoyed tremendous success. His greatest accomplishment is getting the commitment from Ashleigh Rideout to be his bride. They are the proud parents of four incredible children, including three sons, Peyton ("Tater",13), Remi (7) and Beau ("Jangles", 5). Their 2-year-old daughter, Aislyn, is his favorite.