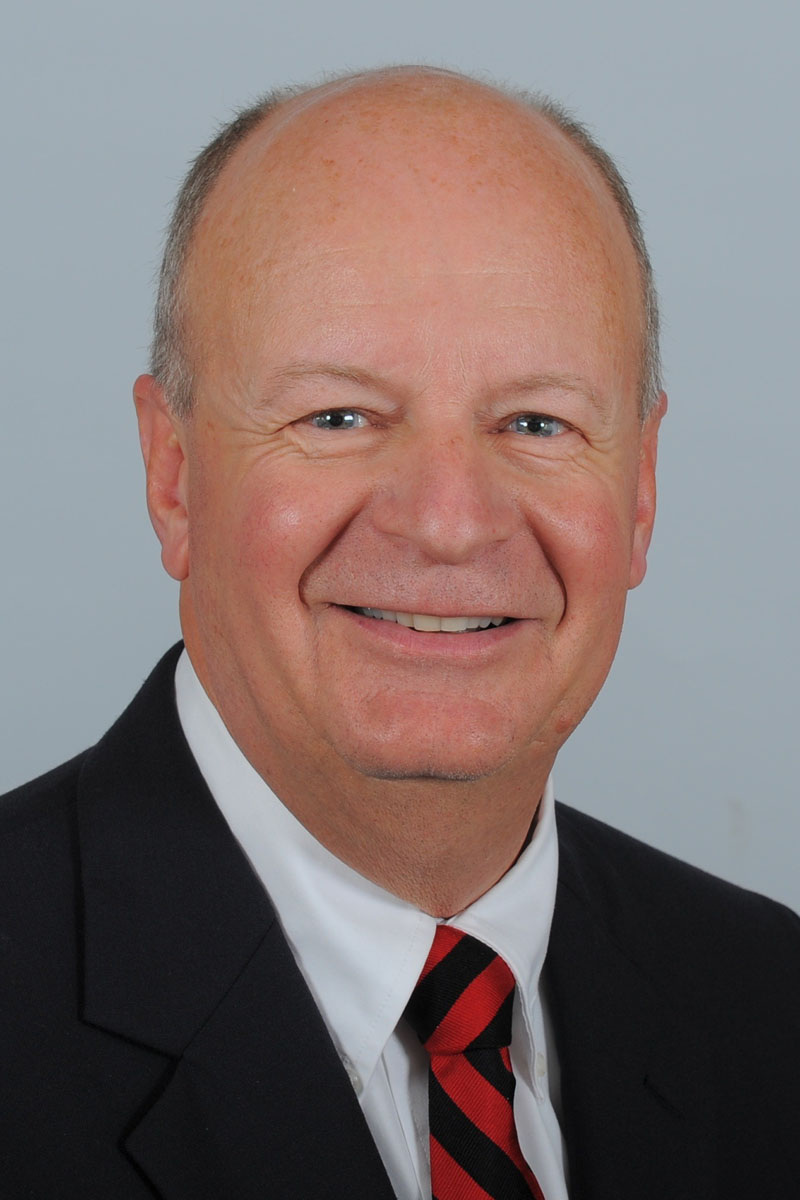 Steve Bryant, or "Chickenhawk" as he is more commonly known to generations of University of Georgia student-athletes, coaches and staff, will retire this Friday after nearly four decades as an athletic trainer with the UGA Athletic Association.


"Chickenhawk is one of the most loyal and dedicated employees I ever had the privilege of knowing in Georgia Athletics," said former head football coach and Director of Athletics Vince Dooley. "He was one the main reasons our sports medicine program was the best in the country. He not only was skilled in his job but he had such an upbeat personality that you always felt good after being with him. I would like to congratulate Chickenhawk on his outstanding career, thank him for his tireless service and wish him the best of luck in his well-deserved retirement."


Bryant has spent his entire professional career with the Athletic Association.


"From the early days in elementary and middle school growing up in Elberton and listening to Larry Munson call games on the radio, I knew having a career at the University of Georgia would be a dream come true," Byant said. "To be able to work my entire career at one school and that be my school is everything I could have asked for. I've been able to witness a zillion great college sporting events and watched some of the greatest athletes in the world compete. From my aspect as a trainer, to see many of them work so hard to come back from the adversity they've faced with an injury is very rewarding. When an athlete steps back into the training room unexpectedly 10 or 15 years after they've finished at Georgia and you get to see how successful they are and meet their family, that puts the icing on the cake. Now I'm seeing second-generation athletes come through. That's very special and what it's all about."


During his tenure, Bryant has served as the athletic trainer for both Georgia men's and women's basketball and co-head athletic trainer for football. He currently serves as the administrator over the Stegeman Coliseum athletic training facility, which is the home base for treatment of the majority of UGA's athletic programs.


"Steve Bryant has been a tremendous ambassador for all of our student-athletes' wellness," said Greg McGarity, UGA's J. Reid Parker Director of Athletics. "His legacy will be his remarkable attention to student-athletes and their parents, too. Athletic training has been a labor of love for him. He's so passionate about it. The health and safety of all our kids is his first priority at all times. The Coliseum athletic training facility covers around 400 of our student-athletes. You mention the name 'Steve Bryant' and they may not know who you're talking about. You say 'Chickenhawk' and I'd bet money that they all know exactly who you're talking about…and have a story to tell about him. And that's not just today. That's for decades. He's been such a great ambassador for our athletic program, and we wish him well."


"We will miss Steve greatly," said Ron Courson, the UGA Athletic Association's Senior Associate Director of Athletics for Sports Medicine. "Over his 37-year career at the University of Georgia he has cared for countless student-athletes and always provided the highest quality of healthcare. Steve is a truly outstanding athletic trainer and an even better person."


Bryant originally joined UGA's athletic training staff as an undergraduate athletic trainer from 1979-80, including Georgia football's 1980 national championship season. Soon after he arrived, "Steve" became more commonly known as "Chickenhawk."


"Football coach John Kasay gave me that nickname in the fall of 1979 when I was a student trainer and everyone on the field got a nickname," Bryant said. "There was a reason Coach Kasay gave me that particular nickname, but we'll keep that hidden."


After serving as a graduate assistant in 1981, he became a full-time member of the athletic training staff in 1982.


"Chickenhawk arrived in 1979, and anyone associated with Georgia knows that was an exceptional time for the Bulldogs," said Hugh Durham, Georgia men's basketball head coach during Bryant's tenure with that program. "There were three people who didn't need anything other than one name. It you said 'Herschel,' there was no need to say 'Walker.' If you said 'Dominique,' everyone knew who your were talking about without saying 'Wilkins." When you said 'Chickenhawk,' everyone knew exactly who you were talking about. He would be on the Mount Rushmore of Georgia Athletics…at least for the early-80s."


Bryant holds the unique distinction of serving as athletic trainer for basketball teams that reached both the men's and women's NCAA FInal Fours. He served in that role with the Bulldogs during their 1983 run to the Final Four in Albuquerque, New Mexico and also did so during the Lady Bulldogs' 1999 campaign that culminated with the Final Four in San Jose, California.


"When I think about Chickenhawk, one of the first things that comes to my mind is his loyalty," Durham said. "That was one of his strong suits, but he had so many of those. I always felt like Chickenhawk wanted to be and was part of our team. He was a very important part of the University of Georgia Basketball program and would do whatever it took to make sure that our team was ready to play. All I know is that you could depend on him for everything. He was always at the right place at the right time. There wasn't anyone more loyal to Georgia Basketball than the Hawk man. All of that stuff is from a professional perspective. From a personal perspective, he was just a fun guy to be around. It's hard not to have fun with a guy named Chickenhawk."


"Chickenhawk has always been a high-energy person," said former women's basketball head coach Andy Landers. "He's a let's tackle-the-problem kind of guy, which is something I appreciated so much. I know of no other athletic trainer, and probably no other person, who has been involved in so many different sports or sporting events as Chickenhawk. Not many athletic trainers can say they worked with teams that went to both the men's and women's Final Fours, but Chickenhawk can. Above and beyond that, I think he's been responsible for, or pitched in, with almost every sport on our campus. He will certainly leave a lasting legacy on Georgia Athletics."


Bryant also played an integral part of NCAA Championships events hosted by Georgia. Most notably, he coordinated the athletic training efforts for 28 NCAA Division I Men's and Women's Tennis Championships at the Dan Magill Tennis Complex in Athens. He also has served as host athletic trainer for NCAA Championship events in baseball, women's basketball, men's golf, women's golf, women's gymnastics, women's soccer, softball, men's swimming and diving and women's swimming and diving .


"I can't say enough about Chickenhawk and the many contributions he has made to our program," said head men's tennis coach Manny Diaz. "Athens and the University of Georgia are the pinnacle of collegiate tennis when it comes to hosting the NCAA Championships, and he played a huge part in helping us reach that point through his hard work and selfless dedication to the Bulldogs. He worked so many tireless days, but always did it with a smile and his one-of-a-kind sense of humor. There are hundreds of coaches and players from all around the country who have great memories and lasting relationships with Chickenhawk. He was always willing to do anything without question. He will be sorely missed, but I wish him nothing but the best in retirement. He deserves every minute of it!"


Dooley, Durham, Diaz and Landers are among a long list of UGA's greatest coaches Bryant has worked with. His stories of Georgia's success are endless, making it hard to select one highlight of this time in Athens.


"The national championships, SEC Championships and individual championships are always special," Bryant said. "Over the years there have been so many is so many different sports, it's impossible to pinpoint one. I do remember the moments with the national championship teams and the moments along the way that made them capable of winning it all."


Bryant attended Gordon Junior College (A.A. 1978) and received his B.S. (1981) and M.Ed. (1984) degrees from the University of Georgia. He is a member of the National Athletic Trainer's Association and the Georgia Athletic Trainer's Association. Bryant served as a medical administrator for the 1996 Olympic Games covering volleyball and rhythmic gymnastics that were held in Stegeman Coliseum. He was the 2001 University of Georgia Athletic Association Employee of the Year and was the 2015 recipient of the Chris Patrick Award, which is given to the outstanding athletic trainer in the SEC as chosen by the directors of sports medicine at each league school.


He is married to the former Peggy Anne McGarity of Athens and they have two children, Abby and Bradley.