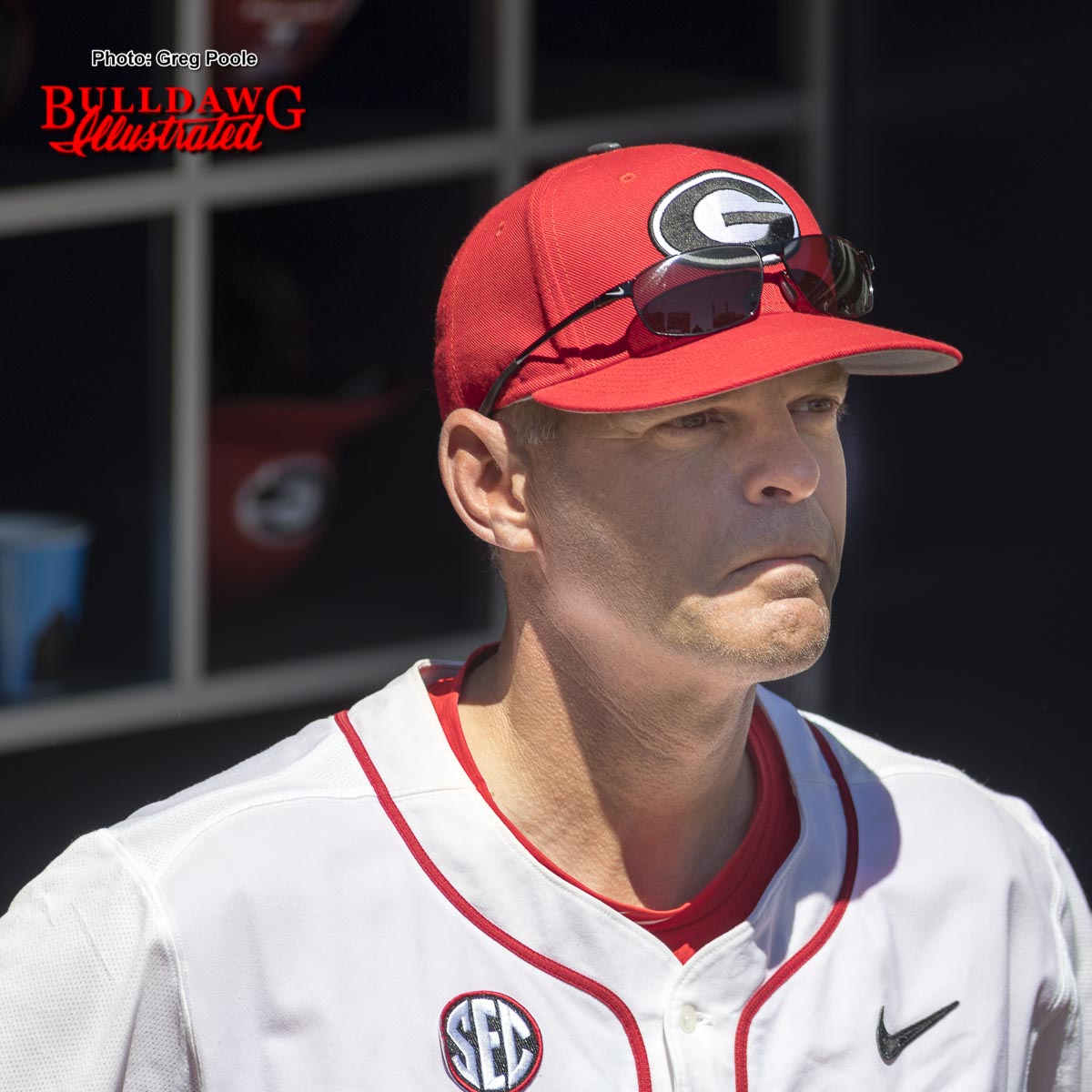 TUSCALOOSA, ALA.—Georgia posted a 6-5 victory over Alabama Sunday to clinch the opening Southeastern Conference series at Sewell-Thomas Stadium.
Georgia (14-6, 2-1 SEC) took a 1-0 lead in the first courtesy of a wild pitch by redshirt freshman left-hander Garret Rukes. Sophomore Aaron Schunk was on after a walk and had advanced to third on a two-out base hit by Michael Curry and a walk to Cam Shepherd. In the third, Schunk extended his career-best hitting streak to 15 games with a single. In the fourth, junior Chandler Taylor tied the contest with his eighth home run of the year. In the fifth, Georgia built its lead to 4-0, scoring three runs on two hits highlighted by a two-out, two-run single by junior Adam Sasser. It gave him a five-game hitting streak. The go-ahead run scored on a balk by Davis Vainer as Bradley led off with a base hit, took second after a walk and then stole third.
Alabama (16-5, 1-2 SEC) closed the gap to 4-3 in the bottom of the frame. Freshman left-hander Ryan Webb ran into trouble, issuing a bases-loaded hit-by-pitch and a walk to plate two runs with one out. At that point with the bases still loaded, Georgia looked to sophomore Tony Locey. He came in and retired the next two Crimson Tide hitters to maintain the edge.
Alabama loaded the bases with nobody out in the seventh after a leadoff walk and a pair of hit-by-pitches. Georgia lifted Locey in favor of sophomore Zac Kristofak. He struck out Taylor on three pitches and then got Chandler Avant to bounce into an inning-ending double play. In the top of the eighth, Georgia got a two-run blast from redshirt freshman Mason Meadows to make it 6-3. It was his second home run of the year and Patrick Sullivan was on base after reaching on a Crimson Tide error. Alabama did not go quietly in the ninth, scoring two runs but Kristofak and the Bulldog defense preserved the victory. Locey notched the win to move to 3-0 while Kristofak, who wound up pitching the final three innings, picked up his second save.
"We're going to enjoy this one a little bit; it's tough winning an SEC road series, and we played well today," said Georgia's Ike Cousins head baseball coach Scott Stricklin. "We bounced back after a tough one Friday and now have won seven of our last eight. I think our best baseball is still ahead of us. We're getting our rotation set and the bullpen is starting to come around. I really like this team."
The game featured a pair of coach challenges on plays at first base by Alabama's Brad Bohannon. Both times the runner was called out and the calls were upheld by the crew following the use of instant replay.
The Bulldogs return to action Tuesday at Georgia State at 6 p.m. Georgia's next two SEC series will be at Foley Field starting Friday when South Carolina (13-7, 1-2 SEC) comes to town, and it will start a season-long eight-game homestand.