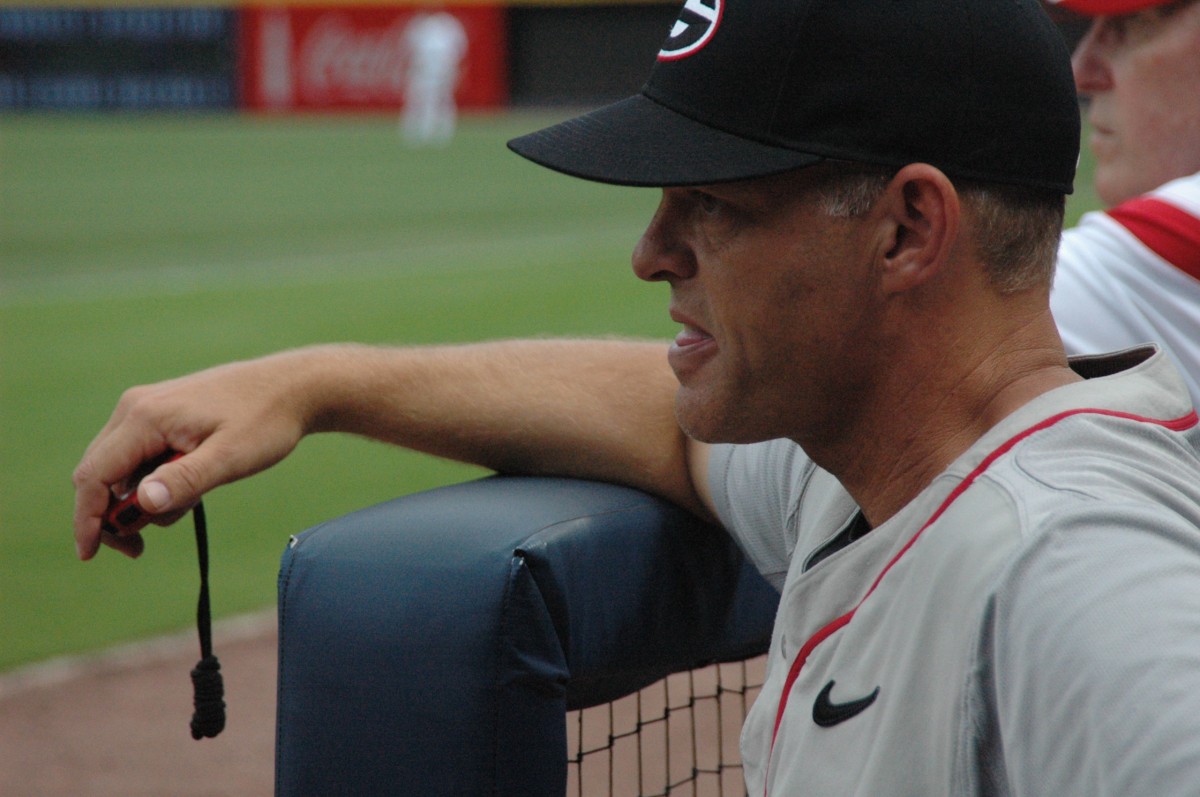 [su_spacer size="20″] The University of Georgia baseball team opened fall practice Sunday night at Foley Field.
[su_spacer size="40″] Scott Stricklin, now in his third season at the helm, welcomed back 17 lettermen and 18 newcomers. The Bulldogs have seven starting position players returning plus their top pitcher in junior right-hander Robert Tyler who is projected as a probable first round draft pick in 2016. He went 3-0 with a 1.00 ERA for USA Baseball's Collegiate National Team this past summer after being limited to 23.2 innings for the Bulldogs as a sophomore.
[su_spacer size="40″] Georgia's veteran position players returning include junior centerfielder Stephen Wrenn, junior right fielder/catcher Skyler Weber, sophomore left fielder Keegan McGovern, senior first baseman Daniel Nichols, senior shortstop Nick King, junior second baseman Mike Bell and third baseman Trevor Kieboom.
[su_spacer size="40″] Wrenn led the Bulldogs offensively last year, batting .324 with eight home runs and 28 stolen bases, all team highs. Wrenn, along with Nichols (.296-6-33), Weber (.245-3-36) and Bell (.240-4-25) were the top run producers in 2015. In their first season wearing the red and black, McGovern (.268-3-17) earned Freshman All-SEC honors while King started all 54 games at shortstop, batted .242-1-15 and was 16-for-19 in stolen bases.
[su_spacer size="40″] "As a staff, we feel like we've got both feet on the ground," Stricklin said on how this fall will be different compared to their first two years in Athens. "We feel good where we are in the program. We've got momentum. It's a building process, and I feel like we're headed in the right direction, and now we need to translate it in to wins."
[su_spacer size="40″] One of the fall storylines will be revamping the starting rotation after six Bulldogs on the mound signed professional contracts last June. They accounted for 20 wins, six saves and 319 innings off a squad that went 26-28. Along with Tyler, Georgia's top contributors from 2015 who return are senior Mike Mancuso (0-1, 2.25 ERA, 28 innings) and sophomore Bo Tucker (1-1, 2.03 ERA, 31 innings). A trio of healthy Bulldogs in senior Heath Holder, redshirt-junior David Gonzalez and sophomore Drew Moody will bolster the staff. Holder and Gonzalez missed all of 2015 recovering from injuries while Moody pitched just 9.2 innings. Nine of the new Bulldogs are pitchers.
[su_spacer size="40″] "We have a talented bunch of newcomers who are going to challenge for at bats and innings on the mound," Stricklin added. "It's a hard-working group that will help us."
[su_spacer size="40″] Georgia aims to hold 30 workouts over the next 45 days before concluding fall practice in late October. The Bulldogs will likely scrimmage a couple times a week, starting with four-inning games and working up to seven and nine-inning affairs.
[su_spacer size="40″] The 2016 season begins on Feb. 19, and the Bulldogs will play host to Georgia Southern for a three-game series.
[su_spacer size="60″]