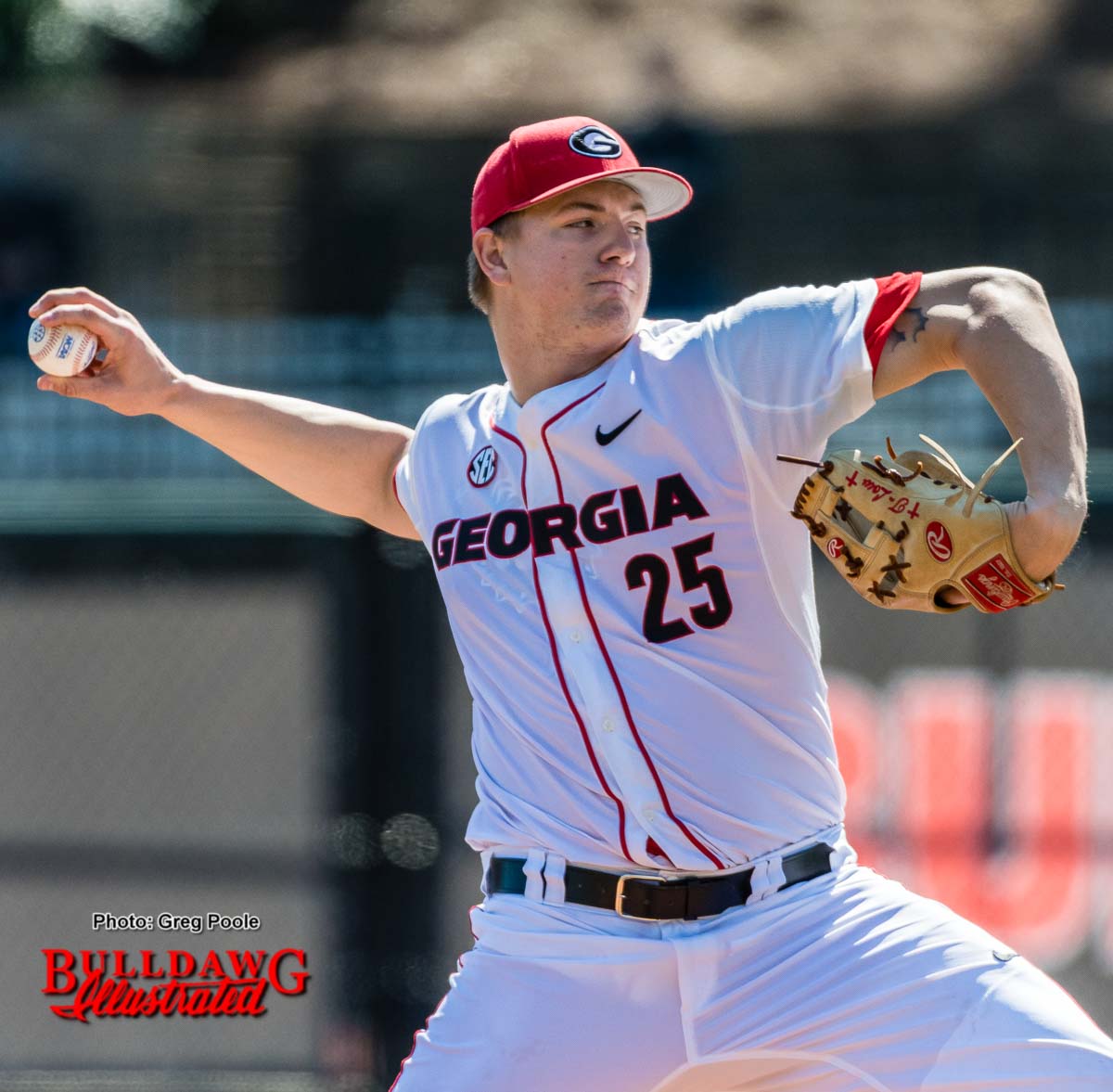 CHARLESTON, S.C.—-Behind a 10-strikeout performance by left-hander Evan Sisk, College of Charleston defeated Georgia 5-2 Friday at Patriots Point.
The Cougars (8-2) jumped out a 3-0 lead by the third inning off Bulldog junior left-hander Kevin Smith. Danny Wondrack worked a leadoff walk and eventually scored on an RBI-single by K.J. Bryant for a 1-0 lead in the second. In the third, Luke Morgan collected an RBI-triple and Wondrack added a run-scoring double. Georgia went to sophomore Tony Locey to start the fourth. Smith allowed three runs on six hits and struck out six. Locey went two innings while sophomore Will Proctor pitched the final three innings for the Bulldogs.
Georgia (7-2) saw its six-game winning streak snap after going 0-for-9 with runners in scoring position as Sisk pitched into the eighth inning before giving way to Nathan Ocker for the final four outs. Sisk improved to 2-1 while Ocker picked up his third save while Smith dropped to 1-1. Georgia tallied just four hits on the night.
The Bulldogs made it a one-run contest by scoring a pair of unearned runs in the sixth, highlighted by an RBI-triple by sophomore Aaron Schunk that made it 3-2. The Cougars made two errors in the frame. Charleston got the run back in the bottom of the inning on an RBI-groundout by Luke Manzo and added an insurance run in the eighth. Dupree Hart went 4-for-4 for the Cougars and made five assists and two putouts at second base.
Dawg Tracks                                   
-Senior Keegan McGovern has reached base safely in all nine games after extending the streak with a base hit in the first inning. Junior designated hitter Michael Curry has also reached bases in all nine games after drawing a walk.
-Sophomore Aaron Schunk notched his second career triple, driving in a run in the sixth inning.
-Sophomore Tucker Bradley went 2-for-4 while sophomore Will Proctor tossed three innings of relief.
Coaches Corner                        
Ike Cousins Head Baseball Coach Scott Stricklin:
"You have to tip your hat to them; they made the plays and the pitches tonight. Their starter (Evan) Sisk, he was really good and crafty. We went 0-for-9 with runners in scoring position, and the first inning was big. We got back-to-back singles and had our 3-4-5 hitters up and we didn't get anything. We had some poor at bats and struck out 12 times. Overall, they were better than us tonight, and we need to come out Saturday and even the series. "
Next Up
The Bulldogs face the Cougars again Saturday at 2 p.m.