Sophomore Bo Tucker was sensational in relief, tossing five shutout innings and surrendering only two hits but the Bulldogs (22-24, 7-15) could not overcome a two-run deficit and ultimately fell 6-4 to No. 7 Ole Miss (35-12, 13-9) on Friday night at Foley Field.
Georgia had a 2-1 lead after one inning and led 4-2 after three, but a four-run fourth for Ole Miss cost the Bulldogs the Friday night contest. The loss was Georgia's first of the season when leading after three innings as the Bulldogs had previously been 14-0 in such games.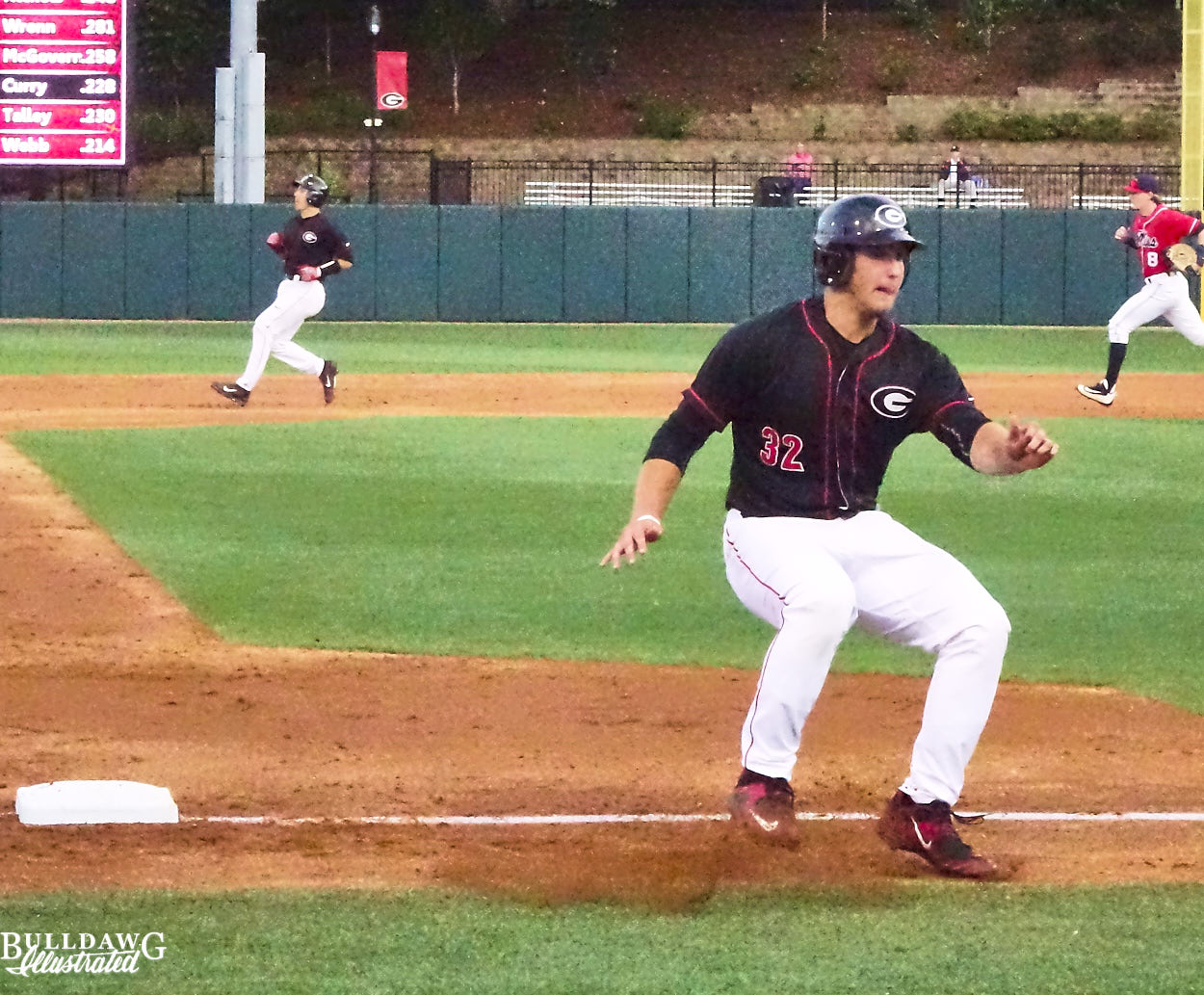 After Ole Miss plated a run in the top of the first, the Bulldogs answered immediately with two runs in the bottom of the frame. Nick King got the inning started with a leadoff bunt single, and Skyler Weber followed with a two-run shot to right-center to grab the lead.
The Rebels countered in the second, plating another run of their own after starting off the inning with back-to-back base runners for the second consecutive inning and cashing in on a two-out double to draw even at 2-2.
Georgia added two runs in the bottom of the third with some small ball at the plate. Trevor Kieboom got things started with a one-out double, then the Bulldogs got a walk and two singles to bring him home for a 3-2 lead. Two batters later, LJ Talley walked to produce the home side's 4-2 edge.
The lead was short-lived, though, as Ole Miss plated four runs in the top of the fourth to claim a 6-4 advantage. Errol Robinson had the big hit for the visitors, a three-RBI triple with the bases loaded.
The offenses went quiet from there as Tucker allowed only two hits in his five innings of relief and retired the final 13 hitters he faced. Mitchell Webb led off the bottom of the ninth with an infield single, the Bulldogs' first hit since the fifth inning, but they were unable to push a run across and fell by a 6-4 final score.
Dawg Tracks
– Skyler Weber's two-run shot in the second was his third home run of the season and extended his hitting streak to six games. His homer gave him his seventh multi-RBI game of the season and sixth two-RBI game of the year.
– Keegan McGovern recorded his 10th multi-hit game of the 2016 campaign. He also claimed his team-leading 29th RBI of the season.
– Nick King's leadoff bunt single in the first extended his team-best on-base streak to eight games. Next closest is Weber at six.
– Trevor Kieboom's double in the third was his fourth double and fifth extra-base hit of the season.
– Georgia lost for the first time this season when leading after three innings (entered today 14-0).
– Bo Tucker finished just one out away from his career-long relief outing after tossing 5.0 innings of two-hit ball. Ole Miss did not record a hit after the fifth inning. He retired the final 13 batters he faced.
Stricklin Says
Ike Cousins Head Baseball Coach Scott Stricklin
On leaving runners on base…
"Yeah we had the opportunities, and the killer was second and third, nobody out (in the second), and we don't score. And we loaded the bases, and we scored two runs that inning, but I think we still had bases loaded one out, and could've scored an additional run. We've just got to find a way to get a hit, have a great at-bat, and we had some really great at-bats in that game, but unfortunately not with those guys in scoring position. It stings a little bit, we out hit them, Bo Tucker was outstanding, gave us a chance to win, we just couldn't come up with a big hit."
On the back-and-forth scoring early…
"Well you know, we went back and forth there and the biggest thing when you score a run is you have to put up a zero the next inning, we just couldn't do that, and they answered our runs. When we scored, they scored, and it kind of took away our momentum. It takes away your momentum as an offense and as a team when you can't put up a zero. And then Bo Tucker came in and really quieted them down. That's as good as I've seen him all year. But (the Rebels) have a really deep bullpen, they kind of flexed their muscles there, and I think they threw five different guys and they were all really good."
On Robert Tyler's recent play…
"Well, Robert is fighting himself. It's not his stuff. You know he is 96-97 miles per hour. The arm is there, he had some good breaking balls, good change-ups, but he was just walking guys. Putting guys on base, and he gave up the big hit to Robinson. But he is our most talented player, and in order for us to be the team we want to be, we need Robert Tyler to come through for us. We believe in him, he's a great kid, he works hard, he deserves all the success in the world, so he's going to get the ball next week and he's going to step up and pitch well against Missouri."
Players' Perspective
So. P Bo Tucker
On his success on the mound…
"Just being able to throw all of my pitches for strikes, keeping it simple out there. I was pitching with a lot of confidence."
On the importance of giving his team a good outing…
"When it comes down to it you just have to be confident in your stuff. We got hit around a little bit against Vanderbilt but that's a solid team. Just going out there and having confidence in your stuff, that's the biggest thing to me."
Jr. OF Skyler Weber
On the offensive success early…
"The scouting report said that he was going to throw a lot of strikes and he wasn't going to throw as hard as the pitchers we've been facing. That could've worked out for us. I thought we swung the bats OK, but we've got to get them tomorrow."
On putting together a full team effort…
"We've got to start pitching better early. Our biggest thing is walking guys. On the offensive side we have to start early. We started early (offensively) this game, we just didn't start pitching early. We haven't gotten on a hot streak yet. We're still searching for that seven-consecutive win streak. We haven't had that yet. In the postseason that's all you need is who gets hot at the right time."
What's On Deck
The Bulldogs and Rebels will meet again on Saturday at 2 p.m. at Foley Field.
Follow the Dawgs
For all the latest on Georgia baseball, follow the team on Twitter (@baseballuga), Instagram (@baseballuga) and on Facebook (Georgia Bulldogs Baseball)