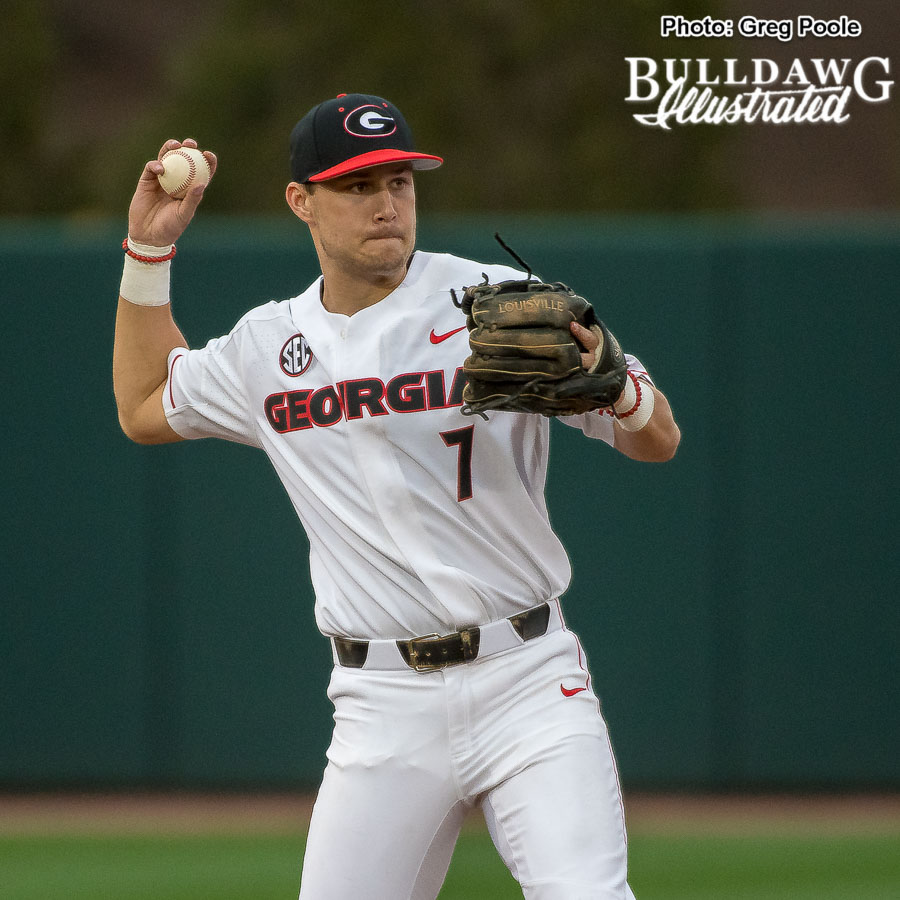 ATHENS—- Georgia will play seven games in an eight-day stretch starting Tuesday. The Bulldogs play host to Wofford (3-4) on Tuesday and Georgia State (4-3) on Wednesday (both 5 p.m. starts) before embarking on a road trip to Charleston, S.C. All games will be carried on the Bulldog Sports Network from IMG while the midweek action will be available on SEC Network+.
Bulldog Summary: Georgia went 4-0 this past week to improve to 6-1 on the year. The Bulldogs won their first road game (Kennesaw State) and then swept a three-game set over Charlotte in Athens.
                Bulldog Hitting: The Bulldogs are averaging 10.1 runs a game, which ranks eighth nationally, while batting .324 with a 4.57 ERA and a .967 FLDG%. Georgia is led by its co-captains in senior left fielder Keegan McGovern (.480-6-13) and junior DH Michael Curry (.429-1-12). McGovern leads the nation in home runs and slugging percentage (1.240). The Bulldog captains have reached base in all seven games this year. Curry has a five-game hitting streak while McGovern had a five-game hitting streak earlier this year.
                McGovern had a monster stretch to earn National Player of the Week and SEC Player of the Week honors after batting .571 with five home runs and nine RBI in four games last week. Last year, McGovern started 54 games and batted .291-2-21. He has matched his season-high for home runs after batting .263-6-35 as a sophomore. He came in this year with 11 career home runs. Sophomore Cam Shepherd (.346-1-6) ranks third on the team in batting. He has started every game at shortstop since stepping on campus, a span of 64 games.
                Georgia has tallied nine sacrifice bunts including four by sophomore centerfielder Tucker Maxwell (.333-0-5) and two by senior infielder Trey Logan. Freshman infielder Ivan Johnson (.300-0-3) has appeared in six games with two starts. He will likely get a start during the week after making his first career start last Tuesday at second base in the win over Kennesaw State.
                Bulldog Pitching: Georgia will start a pair of sophomore right-handers for the midweek action, going with Tim Elliott (0-0, 12.00) and Tony Locey (1-0, 9,00). This will be Elliott's second straight Tuesday start and only the second of his career. He did not factor in the decision in Georgia's 14-4 win against Kennesaw State after going 2.1 innings and allowing four runs on four hits. Locey will be making his first start of the year and ninth for his career. Last year as a starter, Locey went 2-4 with a 6.45 ERA. He has made three relief appearances this season.
                Georgia's weekend rotation has featured junior Kevin Smith (1-0, 6.52), freshman Emerson Hancock (0-0, 2.45) and senior Chase Adkins (1-0, 1.64). Sophomore Will Proctor (2-1, 5.40), who has moved to the bullpen after starting 38 games at second base last year, notched his first two wins this past weekend. He pitched a total of 4.1 scoreless frames with six strikeouts. His first win came at Kennesaw State that saw Georgia trailing 4-3 before erupting for an 11-run inning for an eventual 14-4 victory. Georgia's two saves on the year belong to sophomore Zac Kristofak (1-0, 0.00) and freshman Ryan Webb (0-0, 2.45).  The freshman left-hander inherited a bases-loaded, two-out situation in the ninth this past Sunday and registered a strikeout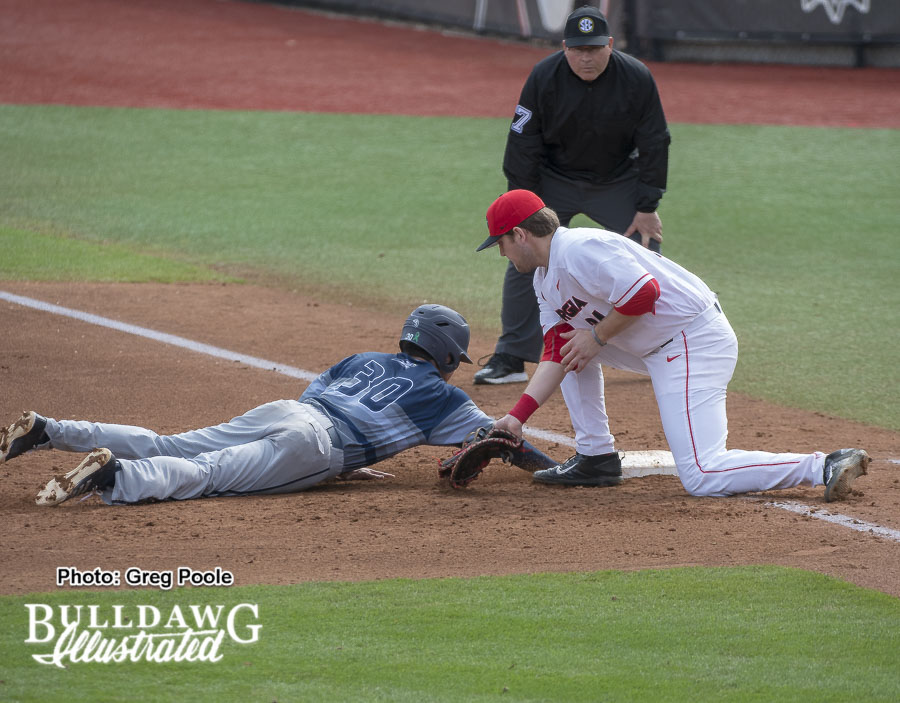 Series History
                Georgia leads the all-time series with Wofford 9-0 and 40-7 over Ga. State. The Bulldogs last faced the Terriers in 2009, a 13-6 win in Athens. Georgia last played the Panthers in 2015, posting a 4-2 victory here.
Did You Know?
Georgia ranks eighth nationally in scoring at 10.1 runs a game.
Bulldog senior Keegan McGovern leads the nation in Home Runs (6) and Slugging Percentage (1.240)
Pitching Matchups: UGA vs. Opponent
Tues.: #44 Tim Elliott (0-0, 12.00), RHP, So. vs. #16 Clay Schwaner (0-1, 7.94), RHP, Fr.
Wed. #25 Tony Locey (1-0, 9.00), RHP, So. vs. #28 Bryan White (0-0, 0.00), RHP, RSr.
Television/Radio
TV: SEC Network+ (Matt Stewart, Nick King)
Links: Tues:  http://www.espn.com/watch/_/id/3281976/wofford-vs-georgia-baseball
Wed. http://www.espn.com/watch/_/id/3281970/georgia-state-vs-georgia-baseball
Radio: Georgia Bulldog Sports Network from IMG College (Jeff Dantzler & David Johnston)
Stations: 960 AM-WRFC and selected affiliates (check your local listings), also via the Georgia Bulldogs app and TuneIn app.
Additional Coverage on Twitter: @BaseballUGA
Tickets/Promotions/Reminder Clear Bag Policy
-Foley Field – Gates/Ticket Booth open @ 3 pm on Tuesday & Wednesday.
-Reserved Seat Tickets: $8; General Admission Tickets:  $5
-Order online or by calling 1-877-542-1231
-UGA Student Tickets: Free Admission with valid UGA Student ID Card
-UGA Student Gate is located off Rutherford Street
Foley Field To Follow SEC's Clear Bag Policy
In order to enhance safety and expedite fan entry at Georgia athletic events, UGA will follow the SEC's Clear Bag Policy at Foley Field and all other athletic facilities. Only one clear bag no larger than 12 inches by 6 inches by 12 inches (gallon size) per person is permitted. Fans are also allowed a small clutch purse not exceeding 4.5 inches by 6.5 inches. Also, Seat cushions/backs should be no bigger than 16 inches and have no arms or pockets.