With The Diamond Dawgs set to begin another season this coming weekend, there's a lot to look forward to regarding the 2023 campaign. Following an impressive start to the 2022 season,  the injury bug eventually came down hard on the pitching staff. Without enough depth to fill in the gaps, the Dawgs barely snuck into the NCAA tournament, where they once again faltered in regional play. Despite lacking the national preseason attention of last year's team, there will be plenty of opportunity for guys to step up this year. 
 Jaden Woods enters the season with perhaps the highest expectations of any man on the roster.  The Junior southpaw will likely move into more of a starter role this year. Nolan Crisp and Liam Sullivan are two other names expected to lead the pitching staff and improve upon their work last season. Whether or not these guys will head up a weekend starting rotation for the Dawgs will remain to be seen, but we'll likely find out a lot in the early weeks of the season.  Sophomore Coleman Willis will look to improve upon a Freshman season during which he struggled mightily at times. General consensus is that the Warner Robins native will see some opportunity as a starter and will be looked upon as a key man to step up if and when injury fatigue strikes the core rotation. 
 As for the bullpen, expect to see more of Junior right-hander Will Pearson. Pearson led the team in appearances (26) in 2022 and continues to remain healthy. Chandler Marsh is another key bullpen piece who showed some impressive stuff last year. 
 Georgia's lack of depth was exposed early and often in 2022. With the addition of four transfer pitchers, Coach Scott Stricklin's staff has seemingly addressed this problem head-on. Wofford transfer Dalton Rhadans is expected to have an impact on the bullpen right away following a  strong showing in the SOCON last season. Tulane transfer Zach DeVito is another guy to keep an eye on if he can stay healthy – something he struggled to do with the Green Wave.  On the offensive side of things, much is expected of left-fielder Connor Tate. Tate was the only Bulldog to start all 59 games last year and led the squad in hits. Defensively, Tate posted a  perfect fielding percentage in 95 total chances with 3 assists. This is the veteran's 5th season with the Diamond Dawgs. CF Ben Anderson will most likely serve as the leadoff man again for the  Bulldogs. Along with Tate, Anderson heads up one of the SEC's most seasoned outfields.  Catcher Fernando Gonzalez returns as one of the most defensively-lauded backstops in the conference. Backing up Gonzalez behind the plate will be Corey Collins. Collins has made big ripples as one of the lineups' biggest power bats and is expected to return to form in 2023.  Things may look a bit different for the rest of the infield. Expect transfers Mason LaPlante  (Yale), Sebastian Murillo (Long Beach State), and Will David (Samford) to start at 2B, SS and  3B, respectively. 
 The 2023 Georgia Baseball season gets underway this weekend (February 17-19) with a three-game set as the Bulldogs host the Jacksonville State Gamecocks out of the ASUN at Foley Field in Athens. 
---
---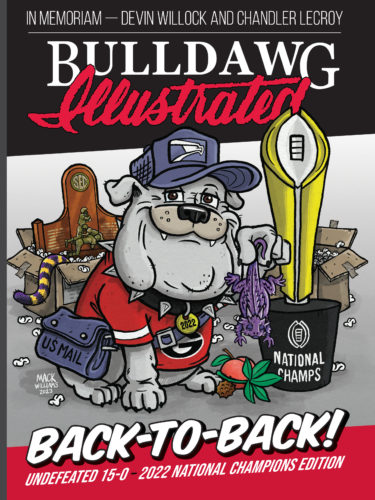 Purchase your print copy of our 2022 Bulldawg Illustrated National Champions Edition now. Or get a back-to-back set, which includes both the 2021 and 2022 Bulldawg Illustrated National Champions Editions.
The mega-editions includes game, scene, fan, and final perspective content, plus over 150 fan photos from the games and the epic National Title campus celebrations in Athens.
Available in singles and 5-packs. All orders include sales tax and shipping.
Order 5 copies of 2022 National Champions Edition $70.00 – Click HERE
Order a single copy 2022 National Champions Edition $28.00 – Click HERE
Order 5 sets of both the 2021 and 2022 Nat. Champions Editions $99 – Click HERE
Order one set of both the 2021 and 2022 Nat. Champions Editions $50 – Click HERE