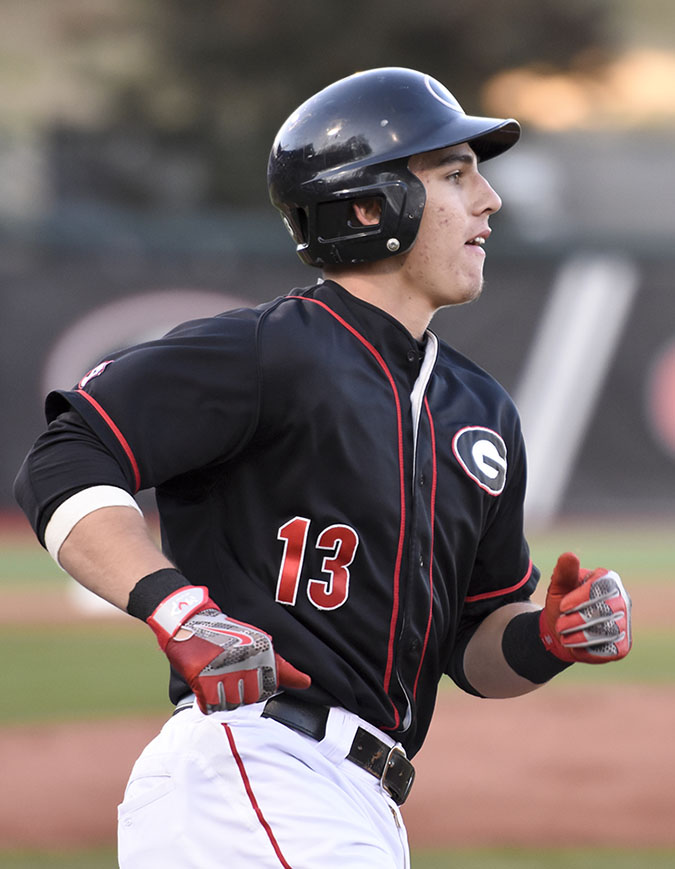 University of Georgia catcher Michael Curry has been named a Perfect Game/Rawlings Freshman All-American, the organization announced Tuesday.
A 5-11, 205-pound native of Gainesville, Ga., Curry was named to the second team that featured 10 positions players (including a designated hitter and utility player), five starting pitchers and two relievers.
Curry, who made 50 starts including 43 at catcher in 2016, led the Bulldogs and ranked third in the Southeastern Conference (SEC) with 11 home runs. He batted .262 and finished second on the club with 34 RBI. He posted a .990 fielding percentage in 395 total chances. Earlier this month, Curry was named a second team Louisville Slugger/Collegiate Baseball Freshman All-American.
Curry's home run total ranked fifth nationally for freshmen and was the most by a Bulldog rookie since 2004 when first baseman Josh Morris tallied 16. Last month, Curry was named to the Freshmen All-SEC team as voted on by the league coaches. During the season, he earned National Player of the Week honors from Collegiate Baseball/Louisville Slugger and twice was a recipient of SEC Freshman of the Week honors as voted on by the league office.
The Perfect Game/Rawlings first-team freshman All-America catcher was Cal Raleigh (Florida State) who batted .301 with 10 home runs and 50 RBI.
Currently, Curry is playing summer baseball in Virginia for the Strasburg Express of the Valley League. He is batting .304 (21-for-69) with five doubles and seven RBI, and they are leading the North Division with a 14-6 record. Also in the Valley League, rising junior third baseman Mitchell Webb is suiting up for Charlottesville and is batting .267 with three doubles, home run and six RBI in 17 games.
Meanwhile in Savannah, Bulldog brothers Drew and Logan Moody along with pitchers Addison Albright and Adam Goodman are playing in front of record crowds for the Bananas (12-9) at historic Grayson Stadium in the Coastal Plain League (CPL). They are averaging close to 4,000 fans with nine sellouts to date.
Drew, a rising senior pitcher, is 3-0 with a 3.08 ERA in four starts and batting .400 (2-for-5) with two RBI. Logan, a rising sophomore outfielder, has appeared in 18 games with 14 starts and owns a .373 batting average with eight RBI and seven stolen bases. Goodman, a rising sophomore, is 1-0 with a 7.59 ERA in six relief appearances covering a span of 10.2 innings while Albright, a rising sophomore, is 0-2 with an 8.52 ERA in four appearances including two starts. Rising sophomore first baseman Adam Sasser is playing in the CPL for the Lexington County Blowfish. Sasser is batting .197 with five RBI in 17 games, and they are 15-10.
Georgia outfielder Keegan McGovern, a rising junior, and left-hander Kevin Smith, a rising sophomore, are teammates in the Cap Cod League with the Orleans Firebirds (7-8). McGovern is batting .188 (6-for-32) with three doubles, a home run and four RBI in 12 games while Smith is 1-1 with a 0.81 ERA and one walk and nine strikeouts in 11 innings pitched.
In the New England Collegiate Baseball League (NECBL), rising sophomore Patrick Sullivan is playing for the Northern Division-leading Keene Swamp Bats while pitchers Blake Cairnes and Andrew Gist are members of the Newport Gulls. In 12 games, Sullivan is hitting .140 with one RBI. Cairnes, a rising junior, is 1-0 with two saves in five appearances spanning 6.2 innings. Gist, a rising senior, is 0-2 with a 3.21 ERA and 15 strikeouts and three walks in three games including two starts. In the Southern Collegiate League, rising junior Trey Logan has helped the Piedmont Pride to a 16-5 record, good for first place in the Southern Division. Logan is batting .203 with three doubles, 12 RBI and six stolen bases in 21 games.
Five of the six Bulldogs selected earlier this month in the 2016 Major League Baseball Draft have signed contracts, and four of them have made their professional debut. Robert Tyler, a supplemental first-round pick of the Colorado Rockies, is a member of the Boise Hawks in the Northwest League, and he's yet to make his debut. Outfielder Stephen Wrenn, a sixth-round selection of the Houston Astros, is off to a hot start for the Tri-City ValleyCats in the New York Penn League. Through 10 games, he is batting .311 with three home runs, six RBI and five stolen bases. Wrenn smacked a home run in his first professional at-bat and also played in a 17-inning marathon that took six plus hours and saw his club emerge with a 10-9 win as he went 3-for-8 with a home run and four RBI.
Bo Tucker, a 12th-round pick of the Los Angeles Angels, is 0-0, 2.70 ERA in three appearances for the Orem Owlz in the Pioneer League. Skyler Weber, an 18th round selection of Oakland, is hitting .300 with one double and one RBI in five games with the AZL Athletics of the Arizona League. Heath Holder, a 25th-round pick of the Rockies, has made one relief appearance for Grand Junction in the Pioneer League.
Pitcher Connor Jones, an 11th round pick of the New York Yankees, remains unsigned. The deadline for teams to come to terms with college underclassmen and high school draft selections is July 15.