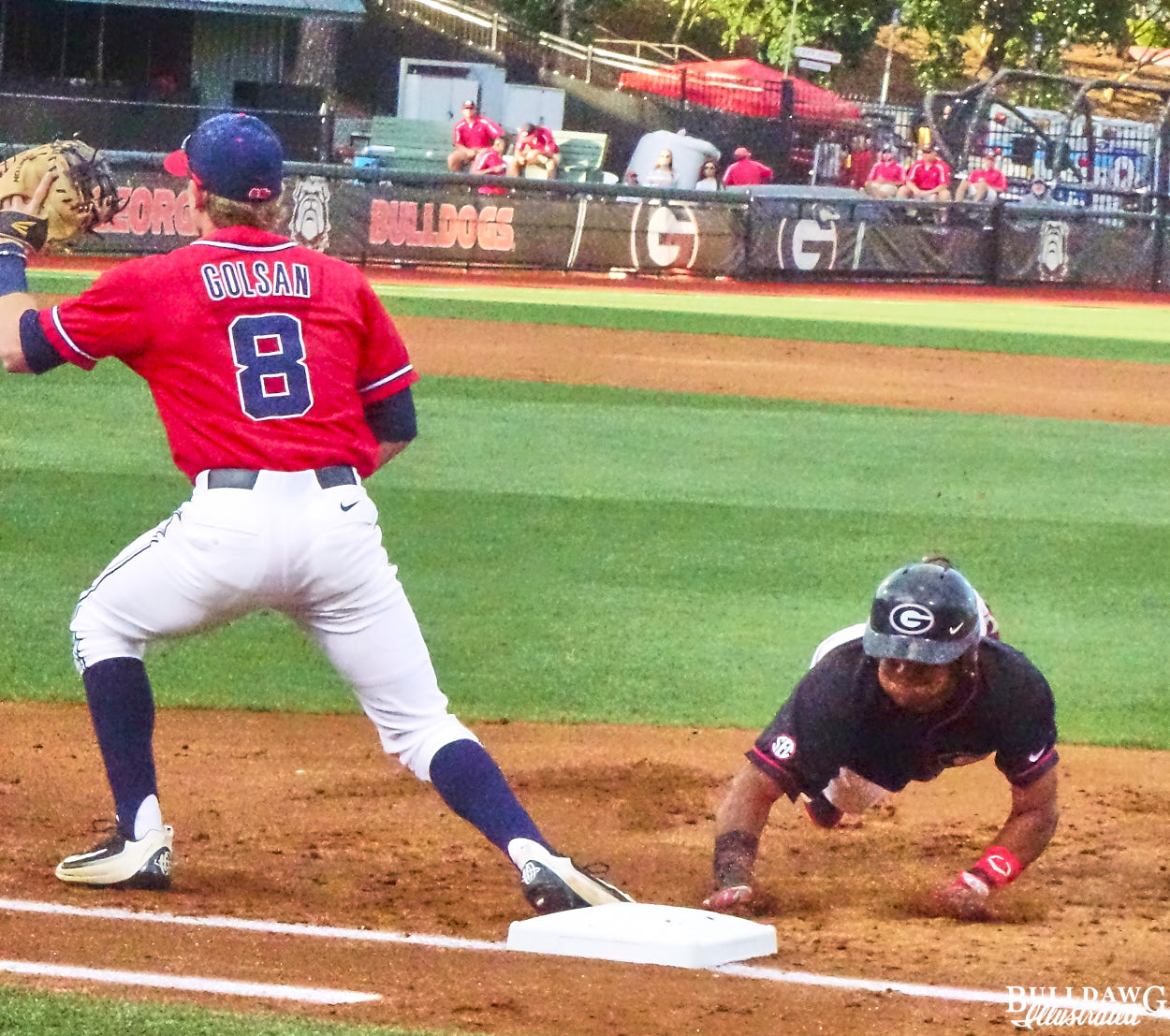 Shortstop Nick King is the latest Bulldog to embark on a professional baseball career, and now he's a member of the Pittsburgh Pirates organization.
King, a two-year starter for the Bulldogs from 2015-16, went undrafted last month after his senior season. Then, he signed with the Schaumburg Boomers, an independent team in the Frontier League. After playing in four games, his contract was purchased by the Pirates who assigned him Thursday to the West Virginia Black Bears, their Class A, Short Season affiliate in Morgantown.
Four of King's teammates from this past season are in their first summer of professional baseball. Centerfielder Stephen Wrenn, a sixth round draft pick of the Houston Astros, is off to a sizzling start for the Tri-City ValleyCats. He leads the New York Penn League in home runs (6) and slugging percentage (.764) while batting .327 with 11 RBI in his first 13 games.
Left-handed pitcher Bo Tucker, a 12th round pick of the Los Angeles Angels, has made four relief appearances for the Orem (Ore.) Owlz in the Pioneer League. He has a 3.38 ERA in 5.1 innings with three walks and eight strikeouts. Right-handed pitcher Heath Holder, a 25th round selection of the Colorado Rockies, also is in the Pioneer League with Grand Junction. He has made a pair of relief appearances for a total of 3.2 innings with no walks and four strikeouts. Catcher Skyler Weber, an 18th round selection of Oakland, is batting .250 with a double and an RBI in six games for the AZL Athletics in the Arizona Rookie League. Right-hander Robert Tyler, a supplemental first round pick of the Rockies, has reported to the Boise (Idaho) Hawks in the Northwest League and has yet to make his debut.
Infielder Gordon Beckham (2006-08) is on a rehabilitation assignment with the GCL Braves after going on the disabled list with a hamstring injury. He began the year with the Atlanta Braves and batted .284-2-16 in 31 games. In related injury news involving former Bulldogs, pitcher Alex Wood (2011-12) began the year in the Dodgers rotation but now is on the 60-day disabled list due to an elbow injury. In 10 starts this year, Wood was 1-4 with a 3.99 ERA and 62 strikeouts in 56.1 innings. Pitcher Justin Grimm (2008-10) is part of the Chicago Cubs bullpen, and he's in his fifth season in the Major League. In 2016, he has made 37 appearances for the Cubs and is 0-0 with a 5.79 ERA.
Former Bulldog standouts Hunter Cole (2012-14), Nelson Ward (2012-14) and Kyle Farmer (2010-13) are posting breakout seasons in Double-A. In his last 10 games for the Richmond Flying Squirrels in the Eastern League, Cole is batting .400 with four home runs and 11 RBI. For the year, the 6-1, 190-pound outfielder is batting .269-9-36. The 5-11, 175-pound Ward is the starting shortstop for the San Antonio Missions in the Texas League. He is batting .230-3-14.
Farmer, a four-year starter at shortstop for the Bulldogs who was drafted by the Los Angeles Dodgers as a catcher, has made a successful transition behind the plate. For the third straight year, he has been named a mid-season All-Star, the latest as a member of the Tulsa Drillers of the Eastern League. In 39 games, Farmer is batting .296-3-18. Currently, he is on the disabled list and was unable to participate in last week's Eastern League All-Star game.
Former Georgia pitchers Josh Fields (2005-08) and Jeff Walters (2009-10) are in Triple-A. Fields began the season in the Majors with the Houston Astros, going 0-0 with a 6.89 ERA in 15 appearances. In 15.2 innings, he allowed 12 earned runs with three walks and 20 strikeouts. Currently, he's registered a 1.50 ERA and one save in 18 innings with six walks and 20 strikeouts for the Fresno Grizzlies in the Pacific Coast League (PCL). Walters is 1-2 with a 7.82 ERA in 33 relief appearances for the Las Vegas 51, the PCL affiliate of the New York Mets.
Infielder Levi Hyams (2009-12), a first baseman in the Atlanta Braves organization, has been promoted to the Triple-A Gwinnett Braves again. This season, he is batting .205-5-17 between Double-A Mississippi and Gwinnett. In early June, he hit just the 11th walk-off home run in 12 seasons for the M-Braves. The three-run blast ended an 11-inning game.
A couple of former Bulldog teammates have been reunited in the Braves organization. Pitchers Sean McLaughlin (2013-15) and Ryan Lawlor (2014-15) are playing for the Class A-Advanced Carolina Mudcats in the Carolina League. McLaughlin is 3-3 with a 1.51 ERA and two saves in 23 relief appearances. Lawlor is 1-2 with a 4.66 ERA in six starts.
Jared Walsh (2012-15) is playing first base for the Burlington (Iowa) Bees, the Class A affiliate of the Angels in the Midwest League and batting .267-0-10. Catcher Zack Bowers (2013-15) is a member of the Salem-Keizer Volcanoes in the Class A Short-Season Northwest League. He is batting .187-0-6 for the San Francisco Giants affiliate. Pitcher Jared Cheek (2014-15) has made five appearances for the Eugene Emeralds in the Northwest League. He has a 3.00 ERA in six innings with one save, no walks and seven strikeouts for the Chicago Cubs affiliate. Pitcher Taylor Hicks (2012, '14-15) has made seven relief appearances this year, mostly for the Connecticut Tigers, the Class Short-Season affiliate of Detroit in the New York-Penn League. Also in the New York-Penn League and a member of the Staten Island Yankees is pitcher David Sosebee (2012, '14-15). He has played for a couple teams in the Yankees system this year. Overall, he is 0-2 with a 3.07 ERA in 11 relief appearances spanning 14.2 innings.
Brandon Stephens (2011-12, '14-15), a four-year starting catcher with the Bulldogs, signed as a free agent pitcher last September with the Seattle Mariners. He has pitched for the Everett AquaSox (Class A Short-Season Northwest League) and AZL Mariners (Rookie, Arizona League) this year, going 0-0 with a 4.15 ERA in three relief outings.
A trio of Bulldogs retired or were released this year by their respective organizations. Outfielder Zach Cone (2009-11) was playing for the Frisco RoughRiders in the Double-A Texas League. He was batting .208-5-26. His professional career spanned 440 games, and he posted a .241 batting average with 56 home runs and 244 RBI. Infielder Curt Powell (2011-13) was batting .182-0-2 in six games for the Lakeland Flying Tigers in the Class A-Advanced Florida State League. The Detroit Tigers farmhand appeared in 293 career games with a .275 batting average, 44 doubles, 15 triples, three home runs and 93 RBI. Pitcher Cecil Tanner (2009-11) saw his comeback bid end in June after seven relief appearances for a couple of Class A affiliates of the Miami Marlins. He played two seasons in 2011-12 and then started a comeback in 2015. Overall, he made 49 relief appearances for a total of 56.1 innings with 86 walks and 67 strikeouts.