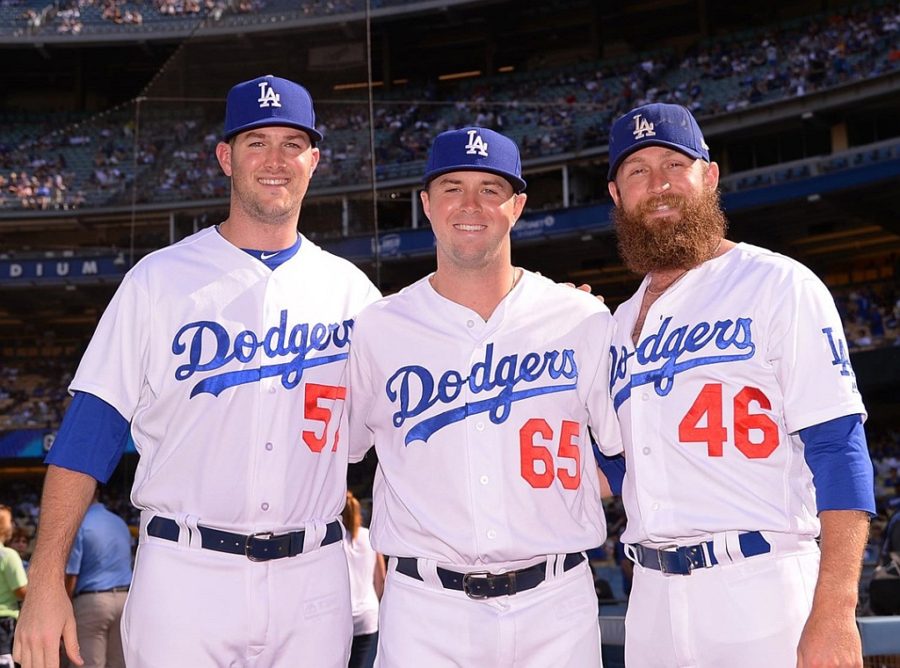 The 2020 Major League Baseball playoffs will feature former Bulldog infielder Kyle Farmer (Cincinnati) and pitcher Alex Wood (Los Angeles) as their teams hope to advance in this year's 16-team field.
Farmer, an Atlanta native who appeared in 32 games and made starts around the infield, batted .266 with three doubles and four RBI. The Reds battle the Atlanta Braves Wednesday at noon on ESPN in game one of a three-game set. Cincinnati is making its first appearance in the playoffs since 2013. They haven't won a postseason series since 1995. Meanwhile, the Braves have been a regular in the playoffs but have endured a tough stretch of late. Atlanta has lost its last 10 postseason round or series dating back to the 2001 National League Championship Series (NLCS).
Farmer was an eighth-round draft pick of the Dodgers in 2013 and made his debut in Los Angeles in 2017. He has played for the Reds the past two seasons.
Wood made nine appearances with two starts and posted an 0-1 record and 6.39 ERA in 12.2 innings in the regular season. He missed a month due to a shoulder injury. Los Angeles posted the best record in the Majors this year at 43-17. The Dodgers face Milwaukee in game one of a best-of-three series Wednesday at 10 p.m. ET on ESPN. These teams squared off in the NLCS two years ago, and the Dodgers advanced with a game seven victory at Miller Park. Los Angeles is seeking its first World Series title since 1988.
Wood was a second-round draft pick of the Braves in 2012 and made his debut in Atlanta in 2013. In 2015, he was traded to Los Angeles and then played for the Reds last season before returning to the Dodgers this year.
First baseman Jared Walsh enjoyed the best season of any Bulldog professional, but his team, the Los Angeles Angels, did not make the playoffs. Walsh will be among the Rookie-of-the-Year candidates after batting .293 with nine home runs, four doubles two triples and 26 RBI. He started 29 games at first base and two in right field for the Angels who finished 26-34. Walsh was a 39th-round draft pick of the Angels in 2015 and made his debut last year. This season, he had a September to remember, smashing nine home runs with 26 RBI while batting .337.
In a lineup that featured All-Stars Mike Trout, Albert Pujols and Anthony Rendon, it was Walsh who made headlines this month. He became the first rookie with both an RBI and a run scored in nine straight games since the RBI became a stat in 1920. Also, of note, he was just the eighth player in American League history to post a nine-game hit streak along with an RBI and a run scored in each game joining the likes of Ted Williams, Lou Gehrig, Joe DiMaggio, Rocky Colavito, Rudy York, Don Mattingly and David Ortiz.
One other Bulldog, pitcher Justin Grimm, made the Milwaukee Brewers team as a free agent out of Spring Training and logged four relief appearances with no decisions before being released Aug. 31. When the season began, he battled a finger issue that sent him to the injury list. Since his Major League debut in 2012, the 32-year-old Grimm posted a 20-23 record with a 5.14 ERA in 310 games including 19 starts. He registered 367 strikeouts in 360.2 innings. He was a fifth-round draft selection of the Texas Rangers in 2010 and made his MLB debut with them in 2012.

Additionally, there were four former Bulldogs who spent the season at their respective Major League teams Alternate Training sites: pitcher Emerson Hancock (Seattle), infielder Aaron Schunk (Colorado), pitcher Kevin Smith (Baltimore) and pitcher Cole Wilcox (San Diego). Hancock, a first-round draft pick this past June, is the No. 3 ranked prospect in the Mariners organization according to MLB.com. Schunk, who was a second-round draft pick of the Rockies in 2019, is rated No. 6 in the Colorado system by MLB.com. Wilcox, who agreed to a record third-round signing bonus earlier this year, is rated No. 8 among the top Padres prospects. Smith is ranked 12th in the Orioles organization. He was a seventh-round draft pick of the New York Mets in 2018 and was traded to Baltimore at the end of August. The Minor League Baseball season was canceled due to the COVID-19 pandemic.

The 2020 World Series will begin on Oct. 23.