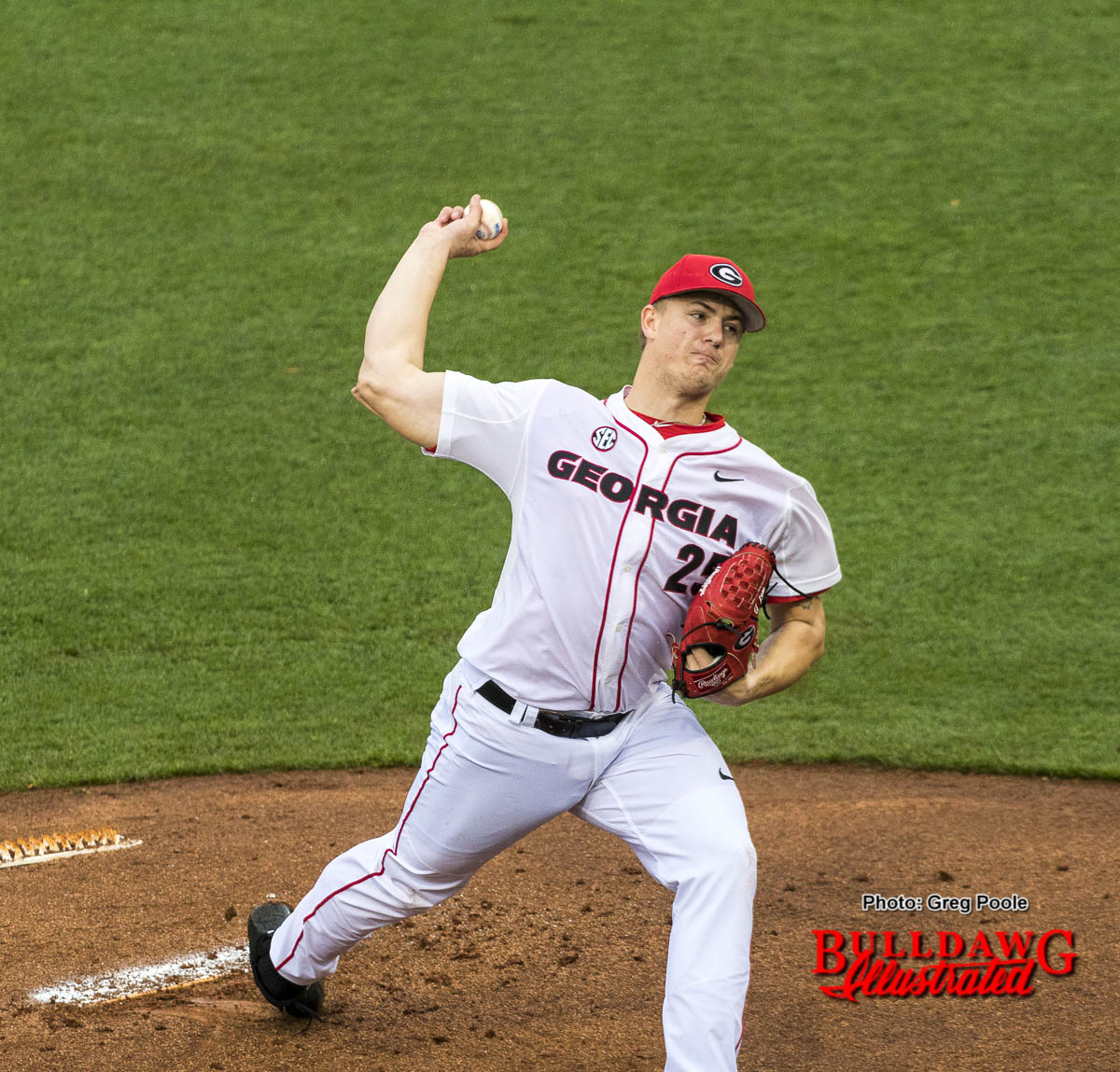 Athens,GA– The (16-6, 3-1) UGA Baseball team improved to pulled off another comeback win and took the first game of their SEC home opening series against (13-9,1-3) South Carolina by a score of 7-5.

The Bulldogs continuously had to fight their way back into this game, but excellent relief pitching and one big inning led to them taking the victory. It was the Bulldogs three-run seventh inning performance that gave them a one-run lead that they would not lose.
"We always play as a team, we always stay together, and we always fight to the end," said Bulldogs pitcher Tony Locey. "Our team is staying together in wins and losses right now, which is honestly really good and it keeps the confidence in the dugout going."
Him him him him him him him
The inning began with three straight players reaching and catcher Mason Meadows would come in to score on a Tucker Bradley double that trimmed the lead to one. With Bradley on second and C.J. Smith on third and no outs, Aaron Schunk grounded out to shortstop, which allowed Smith to come in to score.
Bradley, who represented the leading run, would come in to score on a line drive hit by designated hitter Michael Curry that was dropped by Gamecocks center fielder Danny Blair. Gamecocks pitcher Eddy Demurias would strand the remaining Bulldogs, but it was too late as Georgia had already taken the lead.
The Bulldogs relief pitching should receive a large amount of credit for keeping the Bulldogs in this game as the combined group of Tony Locey, Kevin Smith, and Aaron Schunk gave the team six shutout innings. Locey shined out of this group as he retired the first 10 batters he faced and only allowed one runner to reach base during his four innings of work.
"You know, Tony Locey, that's the best outing he's had since he's been here, four scoreless-hitless innings and he deserved that W and then Kevin Smith and Aaron Schunk shut things down," said head coach Scott Stricklin. "All-around I thought we played a really good baseball game and we found a way to win."
They had to rely heavily on their bullpen as Chase Adkins struggles could not be corrected after a rough third inning. In the third inning, Adkins gave up five runs on six hits and more than doubled his pitch count.
Adkins started off the game with two shutout frames and it seemed like it would be another strong performance for the Bulldogs starter, but his third inning struggles would carry on into the fourth inning leading to an early exit. The Bulldogs will hope to get a better performance tomorrow from starter Emerson Hancock in game two of the series.
Star of the Night: P Tony Locey
This game looked like it might have been lost after Adkins gave up five runs in the third inning, but Locey and the bullpen's ability to come in and shut down the Gamecocks bats for the remainder of the game was huge. Locey was absolutely dominant and having a guy like that who can help eat innings when a starter struggles, is huge. Locey not only ate innings but completely closed the door on the Gamecocks offense and that ultimately gave the Bulldogs the opportunity to win this game from behind.
Quote of the night: 3B Aaron Schunk on team's mentality when behind
"No matter a lead, no matter what it is, we're gonna do it and we're gonna come back. Every game is a winnable game no matter what the score, so we play it like that. We don't even look at the scoreboard when we're in the dugout, we just see it as we're gonna be in there, we know that we're gonna get it back, and we know that we're gonna fight til the end."
The Bulldogs will face the Gamecocks in game two of the series on March 24th at 2 p.m. at Foley Field.