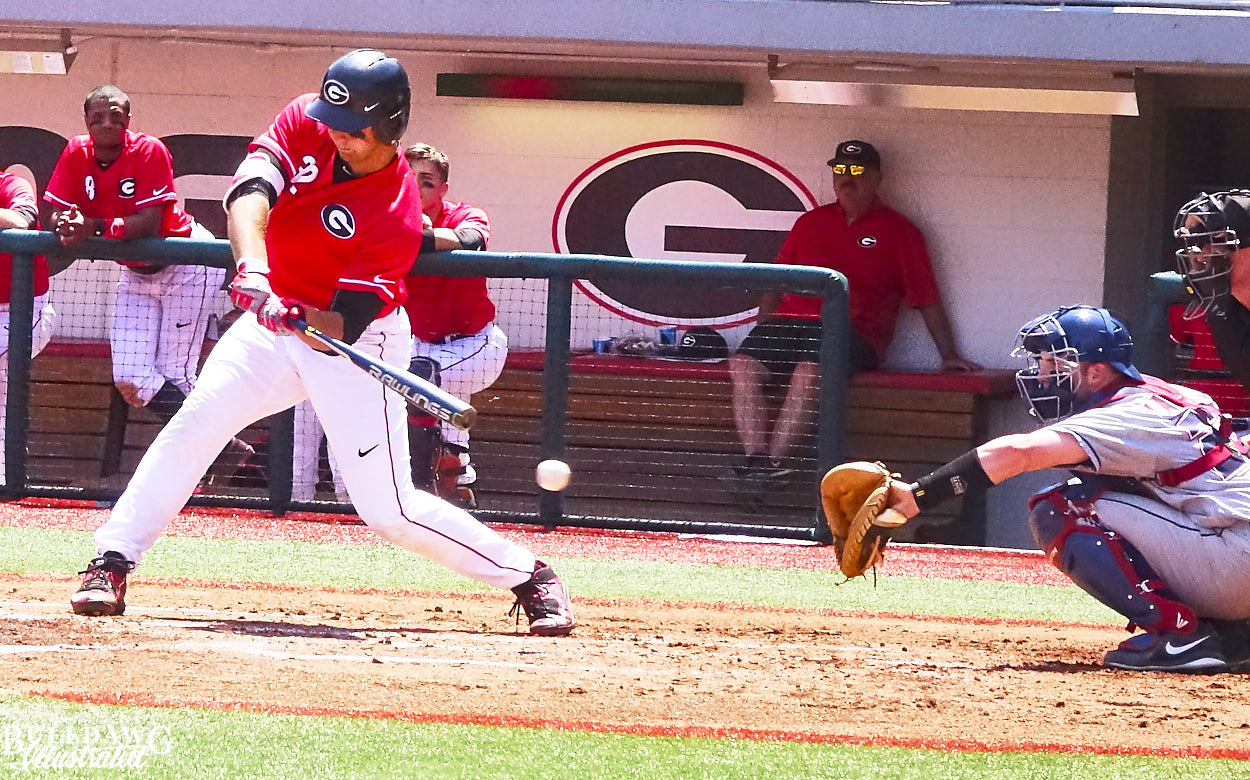 Georgia outfielder Logan Moody along with pitchers Trevor Tinder and Blake Cairnes (pronounced KARENS) have posted sterling summer performances that resulted in All-Star recognition.


Moody, a member of the Savannah (Ga.) Bananas, earned the starting first baseman spot for the West Team in the Coastal Plain League (CPL) All-Star game held last week in Fayetteville, N.C. Although he went 2-for-2 in the contest, the West team lost 4-3. For the summer, he is batting .372 with 16 RBI and eight stolen bases for the Bananas who are averaging more than 3,600 fans per game.


Tinder, who is playing for the Winter Park Diamond Dawgs, struck out the side in his only inning of work in the Florida Collegiate Summer League (FCSL) All-Star game in Sanford, Fla. For the summer, he's 3-2 with a 3.50 ERA in seven starts. He has struck out 43 and issued just five walks in 36 innings.


Cairnes, a member of the Newport Gulls in the New England Collegiate Baseball League (NECBL), pitched one inning during Monday's All-Star game in Newport, R.I. For the summer, Cairnes is 1-0 with four saves and a 0.00 ERA in 12.2 innings. He has not allowed an earned run in 11 relief outings with six walks and 18 strikeouts. Bulldog teammate Andrew Gist is 3-2 with a 3.37 ERA in six games for the Gulls including five starts. In 32 innings, Gist has only six walks with 34 strikeouts. Patrick Sullivan is a member of the Keene Swamp Bats in the NECBL, and he's seen action at first base in 21 games, batting .143 with a home run and three RBI.


Along with Moody, there are three other Bulldogs on the Bananas roster. Logan's older brother, Drew, a pitcher, is 3-2 with a 3.57 ERA and one complete game in six starts over a span of 40.1 innings. Also, Addison Albright has appeared in six games with two starts, going 0-2 with a 6.00 ERA in 12 innings. Adam Goodman is 1-0 with an 8.10 ERA in eight relief appearances covering 13.1 innings. First baseman Adam Sasser is playing in the CPL for the Lexington County Blowfish. He is batting .190 with six RBI in 23 games.


In the Cape Cod League, Bulldog teammates Keegan McGovern and Kevin Smith are part of the Orleans Firebirds. Smith has appeared in 11 games and registered a 3-2 mark with a 2.65 ERA and 21 strikeouts in 20.1 innings. In 25 games, McGovern is batting .161 with three doubles, three home runs and seven RBI.


Catcher Michael Curry is in Virginia with the Strasburg Express of the Valley League (VL). He is batting .283 with seven doubles, one home run and nine RBI in 23 games. Also in the VL, third baseman Mitchell Webb is a member of the Charlottesville TomSox. Webb is hitting .264 with three doubles, one home run and eight RBI in 25 games.


In the Southern Collegiate League, infielder Trey Logan is batting .240 with three doubles, 20 RBI and eight stolen bases in 35 games for the Piedmont (S.C.) Pride. Second baseman LJ Talley is playing for a summer league squad in his hometown of Folkston, and team statistics are unavailable.


All six Bulldogs from the 2016 squad that were selected in the Major League Baseball draft this past June have signed and four (Heath Holder, Bo Tucker, Skyler Weber and Stephen Wrenn) have made their professional debut. The two exceptions are pitchers Connor Jones (New York Yankees) and Robert Tyler (Colorado Rockies). Tyler is with the Boise (Idaho) Hawks in the Northwest League while Jones has not been assigned to a team after coming to terms earlier this month. Wrenn has enjoyed the most sizzling start among the latest professional Bulldogs, leading the New York-Penn League in home runs (8), runs scored (26) and RBI (24) while batting .305 in 29 games for the Tri-City ValleyCats.