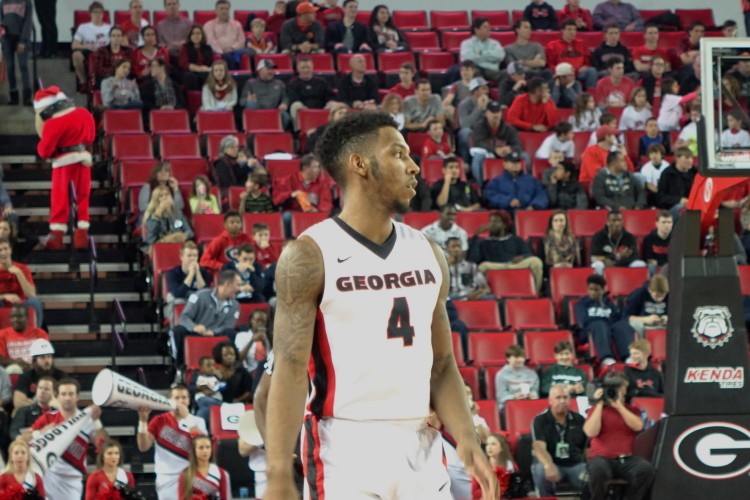 Georgia (6-3) vs Robert Morris (2-10)
Tuesday, December 29 at 7:00 p.m.
Stegeman Coliseum (10,523) in Athens, Ga.
TV: SEC Network (Matt Stewart, PBP; John Pelphrey, Color)
Radio: Georgia Bulldog Network by IMG (Scott Howard, PBP; Chuck Dowdle, Color; Tony Schiavone, Producer) Flagship: AM 750;

The Starting Five
• Georgia won its only previous meeting with Robert Morris, a 99-62 decision on Dec. 22, 1984.
• In the Dec. 28 editions, UGA was No. 36 in the ESPN BPI and No. 41 in NCAA RPI. Both computer ledgers ranked UGA's strength of schedule as the toughest of 351 NCAA Division I teams.
• Both UGA and RMU ended their 2014-15 campaigns with NCAA Tournament Round of 64 losses to eventual Final Four teams in Charlotte on March 20.
• Kenny Gaines is No. 42 among UGA's career scoring leaders but is only 19 points shy of climbing to No. 37 on that ledger.
• Charles Mann is on pace to become UGA's most prolific free throw shooter ever. Mann enters the Robert Morris game 11 FTAs and 42 FTs made from the school records.
Bulldogs Wrap up 2015 With Final Pre-SEC Date Versus Robert Morris 
The Georgia Bulldogs will finish off the pre-Southeastern Conference and 2015 calendar portions of their schedule on Tuesday evening when the Robert Morris Colonials invade Stegeman Coliseum for a 7 p.m. matchup.
The Bulldogs are 6-3 overall and riding a modest three-game winning streak that, most recently, includes consecutive victories over Georgia Tech and Clemson. Those represent Georgia's first back-to-back "Ws" versus ACC competition since UGA defeated Georgia Tech on Dec. 6, 2000 and then bested N.C. State three days later.
The Bulldogs' balanced offensive attack features four double-digit scorers, including three averaging between 15.2-15.9 ppg.
Yante Maten continues to pace Georgia and rank among the SEC's top-10 leaders in scoring (No. 10 at 15.9 ppg), rebounding (No. 8 at 7.6 rpg), field goal percentage (No. 2 at .595) and blocks (No. 2 at 2.1 bpg).
Kenny Gaines, who became the Bulldogs' 46th 1,000-point scorer in their last outing against Clemson, is adding 15.5 ppg, while J.J. Frazier and Charles Mann are chipping in 15.2 ppg and 10.4 ppg, respectively.
Robert Morris, which averaged 22.0 wins during coach Andrew Toole's first five seasons at the Moon Township, Pennsylvania, school, is 2-10 to date. That's a surprising mark considering the Colonials returned four starters from a year ago when RMU lost to eventual national champion Duke in the Round of 64 of the NCAA Tournament.
Rodney Pryor tops Robert Morris on the offensive end, averaging 21.7 ppg and ranking as the No. 17 scorer in the nation through games of Dec. 27.
Elijah Minnie is contributing 12.5 ppg and a team-best 6.5 rpg for the Colonials.
Keeping An Eye On…Entering today's game:
Among UGA's career Leaders
Charles Mann is…
• 34 points from No. 25 Jerry Waller
• 11 FTAs from No. 1 Litterial Green
• 42 FTs from No. 2 Litterial Green
• 43 FTs from No. 1 Alec Kessler
• 21 assists from No. 10 Donald Hartry
Kenny Gaines is…
• 3 points from No. 41 Allan Johnson
• 4 points from No. 40 Bob Schloss
• 14 points from No. 39 Chris Daniels
• 17 points from No. 38 Jarvis Hayes
• 19 points from No. 37 Gerald Crosby
• 21 3FGs from No. 8 Jody Patton
• 1 3FGA from No. 10 Sundiata Gaines
J.J. Frazier is…
• 11 3FGs from No. 18 Jarvis Hayes
• 8 3FGAs from No. No. 19 Jumaine Jones
Series History With RMU
Georgia won its only previous matchup with Robert Morris, a 99-62 decision way back on Dec. 22, 1984.
Cedric Henderson poured in 22 points in just 17 minutes of action in the blowout, while Donald Hartry added 14 and Richard Corhen and David Dunn chipped in 10 apiece. In addition, Chad Kessler, father of current Bulldog junior Houston Kessler, scored eight points and collected three steals.
Last  Time Out
Kenny Gaines became the 46th player in Georgia Basketball history to score 1,000-career points, helping the Bulldogs to a 71-48 victory against Clemson last Tuesday night in Stegeman Coliseum.
Gaines entered the contest with 997 career points and wasted no time upping that tally to 1,000 by drilling a 3-point basket at the 16:47 mark in the first half. 
The Bulldogs were led offensively by Charles Mann with 18 points. The senior was a perfect 8-of-8 from the free throw line. Gaines was close behind with 17 points.
Clemson jumped out to an early 13-5 lead, but the Bulldogs were quick to recover. Georgia ripped off an 11-3 run, tying up the score at 16-16 midway through the first half. The Bulldogs continued their hot play, scoring 12 unanswered points thereafter to build a 28-16 lead with 4:40 left in the period.
After leading 39-24 at halftime, the Bulldogs picked up right where they left off to start the second stanza, going on a 9-2 run in the first two minutes. Georgia used a well-rounded scoring attack during the final twenty minutes as eight different Bulldogs scored.
"That was a really good win for our program," Mark Fox said. "We were so prepared for the game because we have so much respect for Clemson. Coach (Brad) Brownell is such a terrific defensive coach. We really had a great focus and purpose about ourselves coming in. We didn't start the game great and they really showed us in the first five minutes we better start playing like we've been practicing. We were able to flip the switch and play very, very well."
A Brief UGA-RMU History Lesson
Both the University of Georgia and Robert Morris University have pretty strong ties to the formation of the United States of America.
Abraham Baldwin, who wrote UGA's charter and served as its first President, signed the U.S. Constitution. William Few, who was on UGA's Board of Trustees, also signed the Constitution on behalf of Georgia.
RMU namesake Robert Morris signed the Constitution and also became one of Pennsylvania's first Senators.
Baldwin, Few and Morris were among 40 signees of the Constitution.
Computers Like UGA & Its Slate
The two most noted computer rankings hold Georgia and its schedule in high regard.
The Bulldogs were No. 36 in ESPN's Basketball Power Index (BPI) and No. 41 in the NCAA's Ratings Percentage Index (RPI) through games of Dec. 27.
In addition, Georgia's strength of schedule also rated was the nation's toughest in both the RPI and the BPI.

Subtract out their results against the Bulldogs and Georgia's nine opponents so far this season are a combined 70-26.
The Bulldogs are one of only three teams – along with Iowa State and Pittsburgh – in the top-80 on the NCAA's ledger to face only one team with an RPI in the 200s.
2015 NCAA Queen City Cohorts
The 2014-15 campaigns of Georgia and Robert Morris came to an end in very similar fashions. Both teams lost Round of 64 NCAA Tournament matchups to eventual Final Four teams on March 20 at the Time Warner Cable Arena in Charlotte, N.C.
The Bulldogs dropped a 70-63 decision to Michigan State in the first game of the afternoon session.
The Colonials fell to Duke, 85-56, in the opening contest of the evening session.
Gaines, Mann Rewriting Records
Seniors Kenny Gaines and Charles Mann are making their mark on Georgia Basketball's career scoring ledgers.
Mann entered the season at No. 36 on the Bulldogs' points leaders ledger and has climbed to No. 26 with 1,136 points
Gaines became Georgia's 46th 1,000-point career scorer against Clemson and climbed past four former Bulldogs to the No. 42 position among all-time scoring leaders during the victory over the Tigers.
Gaines, Frazier Earn SEC Honors
Kenny Gaines and J.J. Frazier were tabbed SEC Player of the Week on Nov. 23 and Dec. 21, respectively.
Gaines, who shared the honor with Kentucky's Tyler Ulis, was selected after his career-high 35-point outburst against Murray State. Gaines accounted for a school-record 55.6 percent of UGA's points in the 63-52 win, including 64.7 percent in the second half (22 of 34). He also equaled the No. 15 single-game scoring output by a Bulldog, as well as tying marks for No. 6 in 3-pointers made (7) and No. 5 in 3-pointers attempted (14).
Frazier was chosen after he scored 35 points against Georgia Tech, the highest output ever by a Bulldog against the Yellow Jackets. Frazier also dished out four assists, meaning he had a hand in 43 (57.3 percent) of the Bulldogs' 75 points in the contest. He scored 22 second-half points and converted on 8-of-8 attempts at the line in the final 1:29 to ice the game's outcome.
Frazier also earned Player of the Week honors last season after his career-high 37-point explosion at Mississippi State. He is the first Bulldog to secure that recognition in consecutive seasons since Jarvis Hayes did so in 2002-03 and 2003-04.
The last Georgia teammates to be honored as SEC Player of the Week in the same season were Travis Leslie and Trey Thompkins during 2009-10.
A Positive Breakout
Not that the media needs any self affirmation but the folks who predicted Yante Maten would be one of the nation's "breakout" players this season – including those at CBS, NBC and SI – are probably feeling pretty good about themselves.
Most expected Maten to up his contributions following the departure of seniors frontcourt mates Nemanja Djurisic and Marcus Thornton. He's done more than just that.
A year ago, Maten averaged 5.0 points, 4.3 rebounds and 18.2 minutes per game.
This season, Maten has more than tripled his scoring (15.9 ppg), has upped his rebounding by more than 75 percent (7.6 rpg) and is logging a team-high 29.4 mpg. 
Actually, Maten's increased production can be traced to late last season. Over Georgia's last 12 contests, Maten has produced all three of his career double-doubles, all four of his double-figure rebounding efforts and seven of his 11 double-digit scoring productions.
Maten posted four career-high scoring outputs in UGA's first seven games, improving from 13 points entering the season to 17 points versus Chattanooga to 21 points in back-to-back outings against Seton Hall and Oakland and 24 versus Winthrop.
Maten 20-point Streak Snapped
Yante Maten's four-game, 20-point scoring streak came to an end when he only scored 17 points (on 8-of-11 FG shooting) against Georgia Tech on Dec. 19.
Maten opened the stretch with a career-high 21 points at Seton Hall and matched that output against Oakland. He then scored 20 points versus Kansas State before pouring in a new career best of 24 against Winthrop.
That represented the Bulldogs' first four-game 20-point streak since Trey Thompkins recorded five straight 20-point outings in February of 2010.
Despite ending the 20-point string, Maten's efficiency over the past six games has been spectacular. The Pontiac, Michigan, native has connected on 64.1 percent (41-of-64) of his shots from the floor during that span.
Mann's Versatility not Just Hype
It's not uncommon to hear a comment like "Ya know, he could play all five positions."
Charles Mann has proven that isn't idle hyperbole when discussing his game.
Mann, one of two Bulldogs along with Yante Maten to start every game this season, got the nod at four different positions during Georgia's first eight outings. He started at his natural '1' slot in five games but also started at the '2' versus Winthrop, at the '3' against Georgia Tech and at the '5' – yes the '5' – against Chattanooga.
Against High Point, Mann saw action at all five spots during his 31 minutes of PT. Perhaps most impressive was his defensive effort in several matchups with John Brown, the nation's No. 4 active scorer.
"He's been so unselfish and willing to do that and has not complained one time," Mark Fox said.
Frazier, Gaines Pop For 35 Each
Junior J.J. Frazier and senior Kenny Gaines became the first pair of Georgia teammates to score 35 or more points in a game during the same season.
Gaines poured in 35 points against Murray State on Nov. 20. Frazier then matched that output against Georgia Tech on Dec. 19.
Only four times have the Bulldogs had two 35-point performances in a single season, and the other three instances involved a single player doing so.
In 1952-53, Zippy Morocco scored 38 points vs. Tennessee and 37 vs. Alabama. In 1974-75, Jacky Dorsey posted 43 vs. Southern Miss and 41 vs. LSU. In 1990-91, Litterial Green notched 38 vs. UCLA and 35 vs. Florida.
Frazier, who scored a career-high 37 at Mississippi State on Jan. 24, 2015, joins the three aforementioned Bulldogs and Willie Anderson as the only five players ever to score 35 points or more two times for Georgia.
UGA's All-SEC Tandem…
Kenny Gaines and Charles Mann were both named preseason first-team All-SEC in balloting of league coaches, becoming just the second duo of Bulldogs to earn first-team preseason honors since the recognition began prior to the 2004-05 season. 
Travis Leslie and Trey Thompkins were also first-team selections prior to 2010-11.
Mann became Georgia's first-ever two-time first-team preseason All-SEC selection.
…Has Very Strong Ties
The duo of Georgia natives Kenny Gaines and Charles Mann has played a significant role since they arrived on campus in 2012.
Between them, Gaines and Mann have a combined 208 games played, 150 starts and 5,300 minutes played. 
Much of that has been compiled together.
Gaines and Mann have started together for 66 of Georgia's 76 contests since the beginning of the their sophomore year of 2013-14. All told, they have played 1,625 minutes and 43 seconds together at Georgia.