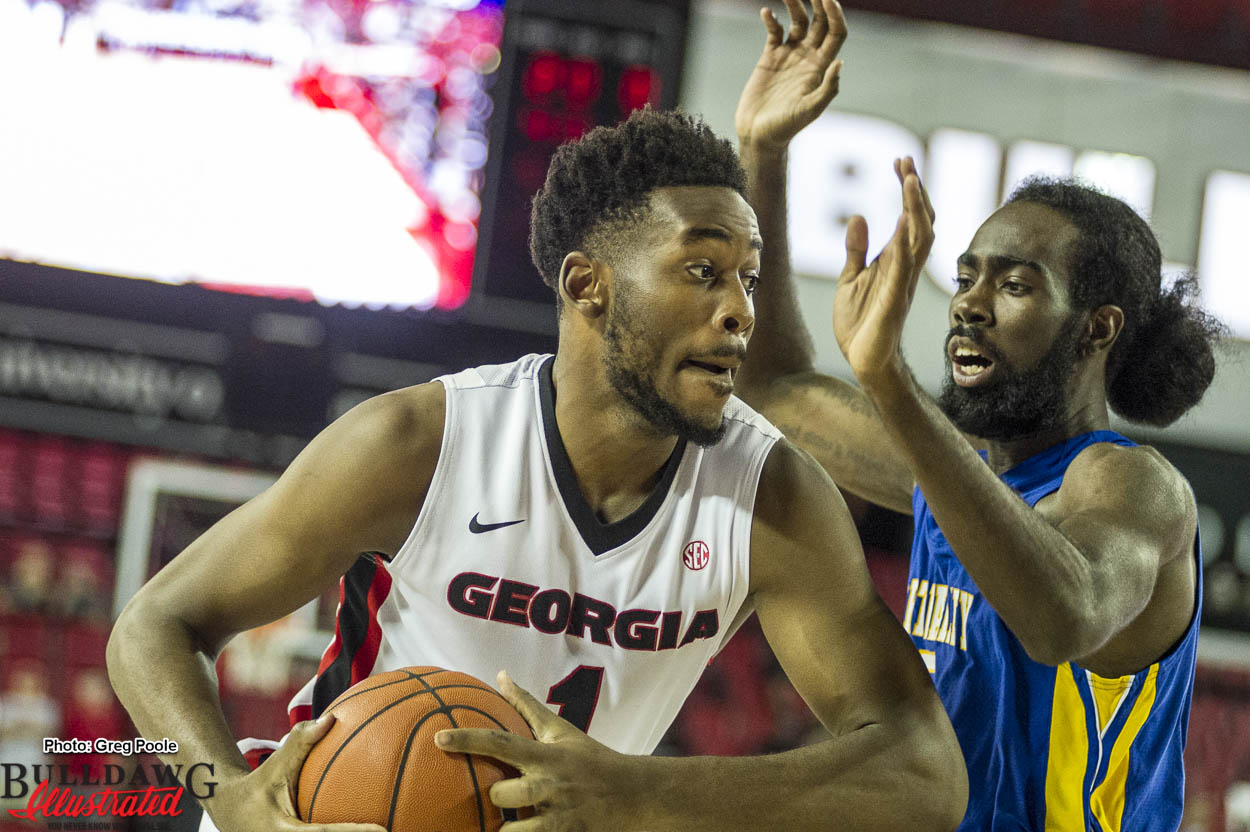 Welcome to the Bulldawg Illustrated Hoops Report. It's like Christmas Eve when your nine. And obviously the entire Bulldawg Nation is ready for this newly christened Basketball School, look at the football season for proof, to tip off the 2016-17 season. From proven vets like JJ Frazier and Yante Maten to possible new superstars Jordan Harris and Tryee Crump, the Dawgs probably have their best top to bottom roster since 2003. Excitement abounds indeed. We open Friday night in Clemson. As Bulldawg Legend Jeff Dantzler says, when the town was founded, it's name was merely Clem. But that didn't sound sophisticated enough. So they added an S for Chivalry, an O for Honor, and a N for knowledge. Clem was a bubble team last year in mid-February and then collapsed like their football team use to. I'm assuming they didn't make a postseason tournament though I really don't care. Let's talk about the Dawgs!
JJ and Yante are players. Both guys are on most every All-SEC first or second team rankings you see. Either player could be consideration for SEC Player of the Year at the end of the season. But we know about those two guys. Let's look at the supporting cast. At center, Derek Ogbeide was considered a bit of a project when recruited. Also, he suffered a preseason shoulder injury in camp last year. So he started off well behind the learning curve. However, by season's end, he was a solid contributor showing major improvement in his skill set and fundamentals. Plus, he's built like a Mack truck. So he will be a solid rebounder and space-eater this year. His backup should be Houston Kessler. Born and bred from a family of DGDs, Houston is very fundamentally sound and will prove a very capable backup. We should be good at center.
The staring power forward will obviously be Maten. Backing him up will be Mike Edwards. Edwards has a solid freshman year but definitely filled with the normal ups and downs. He will definitely be counted on for valuable minutes this year and possibly a starter next year. His only glaring weakness last year was abysmal free throw shooting. He stayed around 30% from the stripe all year and that's got to change if he ever wants to be on the floor at crunch time.
At the small forward, there may be a major surprise. Juwaun Parker, E'torrian Wilridge or Kenny Paul Geno were my contenders for the starting position. They all have their strengths with Wilridge having the most upside in my humble opinion. However, from what I'm reading Pape Diatta has taken control of the position. If that's the case, that's a pleasant surprise and leaves Parker, Wilridge, or Geno with the ability to back up the three and even the four if we want to play small ball. Fox has a ton of options here.


As far as the guard positions, JJ will be our "Point 2". Basically, whether he's listed as the one or two, he can play either. His role will probably be more determine by who's on the floor with him. And the other three guards should be major talents. William "Turtle" Jackson is a sophomore and Harris and Crump are true freshmen. These guys are all three amazingly talented and have the ability to take over a game at any moment. Turtle didn't get as much PT last year as I would've thought, but he was backing up two four-year starters in Charles Mann and Kenny Gaines as well as JJ. So Fox trusted the veterans more than Turtle. This year, Turtle will have ample opportunities to show off his skills. Crump and Harris are a package deal from South Georgia and they are both studs. Usually a coach has a lot of mixing and matching to do when new guys come in to figure out which combinations work best. However, these two know each other well and should mesh accordingly when sharing the floor. So I'd assume JJ and Turtle start with Turtle at the point with Harris and Crump spelling them. But again, options abound.


To summarize, UGA is very talented from top to bottom. They projected fourth in the SEC. However, anywhere from first to sixth would not surprise me at all. Kentucky is extremely talented but young and unproven as they seem to be every other year. A&M and Florida return talent but are both beatable. Also, as we all know based on the number of NCAA teams, the SEC has not really been that good lately. I'm thinking 13-5 in the SEC, a date in at-least the SEC Tourney semi-finals, and a Big Dance birth is the minimum we should expect as fans barring any major injuries. The future is now and the forecast is sunny for this new Basketball School. So go buy some shades. Things could get really bright this year. Go Dawgs!