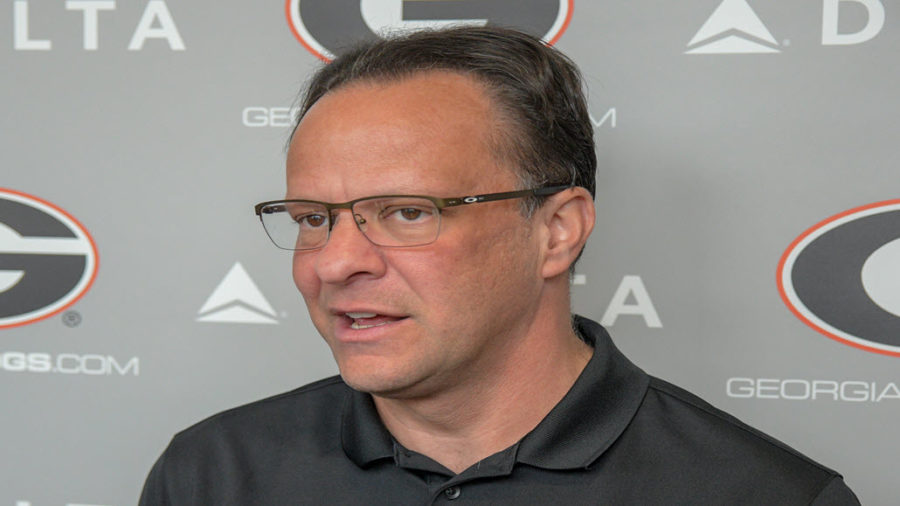 Georgia Basketball Game Notes
Georgia (9-6, 1-2 SEC) vs. Kentucky (12-3, 2-1)
Tuesday, January 15 at 7:00 p.m. ET
Stegeman Coliseum (10,523) in Athens, Ga.
Watch: ESPN (Karl Ravech play-by-play; Jimmy Dykes, analyst; Laura Rutledge, sideline)
Listen: Georgia Bulldog Sports Network Flagship: WSB AM 750 Atlanta; Sirius: 134; XM: 190; Internet: 961. (Scott Howard, play-by-play; Chuck Dowdle, analyst; Tony Schiavone, producer)
The Starting 5…
• Georgia has already sold out 7 games this season, the most sellouts for the Bulldogs since they had 8 during the 2002-03 season.
• Nicolas Claxton is the only SEC player to lead his team in points, boards, assists, blocks & steals in a game this season…and he's done it twice.
• Derek Ogbeide joined UGA's top-10 career rebounding leaders during the Vanderbilt game. He's now 30 from the No. 9 mark.
• UGA's bench has outscored it counterparts in 11 games, with nine of those being by +10 or more. UGA's bench has a +162 scoring margin.
• UGA's coaching staff sports a combined 80 seasons of D-I experience (Crean-28, Scott-27, Dollar-23, Abdur-Rahim-12) with 38 postseason bids
The Opening Tip
Georgia will host Kentucky on Tuesday evening in a "Super Tuesday" matchup at Stegeman Coliseum. Appropriately, the Bulldogs have been relatively super at home this season.
Georgia is 7-1 at the friendly – and increasingly crowded – confines of Stegeman Coliseum this season. The lone setback was a two-point decision to No. 20 Arizona State in a contest the Bulldogs led for 35:19.
Georgia is averaging 8,182 fans at home this season, and the Kentucky contest represents the first of six-consecutive sellouts. The next home outing with tickets available is Feb. 20 against Mississippi State.
Series History With The Cats
Kentucky owns a 126-26 lead in the all-time series between the Bulldogs and the Wildcats, including a 42-17 edge in Athens.
Up Next: Dogs to Host Gators
Georgia and Florida will face off in a CBS nationally televised matinée on Saturday at noon. The contest represents the first of five-straight Saturday home dates for the Bulldogs.
Welcome To The League, Coach
Tom Crean's initiation into the SEC might be considered hazing by some.
Georgia begins league play with six consecutive outings against teams that entered SEC competition ranked in the top-50 of the new NCAA Evaluation Tool (NET) rankings.
The Bulldogs' first half-dozen SEC opponents will be, in succession, No. 7 Tennessee, No. 45 Vanderbilt, No. 18 Auburn, No. 10 Kentucky, No. 33 Florida and No. 27 LSU.
Dogs' Sellout Count Climbs To 7
The Tom Crean regime established some attendance records before the season even began by selling out three games.
In early December, Georgia sold out three more contests. The Bulldogs then wrapped up the 2018 calendar with a capacity crowd against UMass on Dec. 30.
On Oct. 24, Georgia announced sellouts for the Florida and Kentucky games, the earliest sellout(s) in the Bulldogs' history.
Two days later, the Texas contest also sold out. Prior to this year, Georgia never had more than one preseason sellout.
Dates with LSU, South Carolina and Ole Miss also sold out in December, and Georgia hosted its first capacity crowd of the season against the Minutemen.
The last time the Bulldogs had seven sellouts was in 2002-03 when they hosted nine capacity crowds.
It should be noted that the 2,000 free seats reserved for UGA's student body must be filled at those games for capacity crowds of 10,523 to be in attendance at the "sellouts."
A Historic Opener
Georgia christened both the 2018-19 campaign and the Tom Crean era with an impressive evening on and off the court.
The Bulldogs secured a 110-76 victory over Savannah State on Nov. 9, Georgia's most points in the 2000s.
The last time the Bulldogs scored more than 110 points was in a 113-74 victory over Grambling on Nov. 27, 1999.
A crowd of 9,018 fans flocked to the game, the biggest turnout for a home opener since Stegeman's capacity became 10,523 in 1994.
You have to go back to Dominique Wilkins' sophomore year to find a larger crowd for the home opener. That season, a then-capacity crowd of 11,200 saw Georgia top Georgia Tech, 62-61, on Dec. 5, 1981.
"First things first, I want to say 'thank you' to everybody who was here," Crean said. "This is largest crowd on an opening night since they redid Stegeman, and it was fun. It was fun to see the enthusiasm that people have had turn into bodies and live energy and loud fans. That was tremendous."
Bulldogs Are Shot Swatters
Georgia ranks among the nation's top shot-blocking teams.
Entering this week, Georgia ranked No. 2 nationally in blocked shots, averaging 6.5 rejections per game. Individually, Nicolas Claxton ranks No. 3 nationally at 3.3 bpg
Bulldogs To Host Kentucky On "Super Tuesday" Matchup
Georgia will entertain Kentucky in an ESPN "Super Tuesday" matchup at Stegeman Coliseum at 7:00 p.m.
The Bulldogs enter the game at 9-6 overall and 1-2 in the SEC. Georgia sports a much more impressive 7-1 mark at the friendly – and increasingly crowded – confines of Stegeman Coliseum this season. The Bulldogs have averaged 8,182 fans for their first eight home dates, and the Kentucky contest begins a stretch of six-consecutive sellouts.
Sophomores Rayshaun Hammonds and Nicolas Claxton lead the Bulldogs.
Hammonds averages a team-high 13.9 ppg, which is No. 15 among SEC statistical leaders. He also is No. 6 in free throw percentage (.842) and No. 11 in rebounds (6.7 rpg).
Claxton has been a "do-it-all" contributor for the Bulldogs. He is scoring 12.6 ppg and leads the league in both rebounding (9.5 rpg) and blocks (3.3 bpg). Claxton also paces Georgia in both assists (33) and steals (19).
Tyree Crump comes off the bench to provide another double-digit scorer at 10.8 ppg.
Kentucky arrives in Athens at 12-3 overall and 2-1 in SEC action.
Keldon Johnson tops a quartet of double-figure scorers for the Wildcats at 15.5 ppg, while Travis Reid adds 13.2 ppg, Tyler Herro chips in 13.1 ppg and PJ Washington contributes 11.9 ppg.
Series History With Kentucky
Kentucky leads the all-time series with the Bulldogs, 126-26, including a 42-17 advantage in games contested in Athens.
Georgia and Kentucky last met in the quarterfinals of last season's SEC Tournament in St. Louis. The Wildcats secured a 62-49 win to end the Bulldogs' season.
The Wildcats built an early 8-2 cushion, before the Bulldogs followed with an 8-3 run. Georgia obtained its first lead, 23-22, behind a Tyree Crump 3-pointer and two free throws by Yante Maten.
Kentucky ended the first half with eight straight points to hold a 30-23 edge at the intermission and used a 3-pointer on its opening possession of the second stanza to push the margin to double figures.
Georgia breached the double-digit deficit and cut the margin to 58-49 with a minute and a half remaining; however, Kentucky controlled the rest of the way to seal the win.
In the most recent matchup at Stegeman Coliseum, Georgia overcame a knee injury to Maten in the opening minutes and nearly upset the Wildcats before falling, 82-77.
J.J. Frazier scored a season-best 36 points to lead Georgia. Juwan Parker and Mike Edwards added 10 points apiece. Derek Ogbeide snatched a team-high 11 boards.
With 2:22 left, a Frazier 3-pointer gave the Bulldogs a 71-69 lead. Kentucky's De'Aaron Fox answered with a layup, but a pair of Frazier free throws put Georgia back on top.
Fox knotted the game for the 12th time at 73-73 with 1:09 remaining. The Bulldogs' next possessions fell empty and the Wildcats capitalized to gain the lead for good.
Maten, Georgia's leading scorer, suffered a right knee injury in the second minute and did not return.
The Bulldogs shot 50.9 percent from the floor, while the Wildcats sported a 42.6 percent clip. UK outrebounded UGA, 41-26.
Last Time Out…
Turtle Jackson scored a season-high 16 points to lead four Bulldogs scoring in double figures; however, Georgia dropped a 93-78 road decision at No. 11 Auburn on Saturday.
Nicolas Claxton, Tyree Crump and Teshaun Hightower added 15, 14 and 12 points respectively, and Rayshaun Hammonds hauled in a game-high 10 rebounds for Georgia.
The Bulldogs led 28-24 just past the midway point of the first half before Auburn used an 11-2 run to gain control.
Turtle Pops For Season High
Turtle Jackson scored a season-high 16 points at Auburn on Saturday, one shy of his career-high 17-point performance against San Diego State last season.
Dogs Tough On Defensive End
Georgia enters this week ranked No. 25 nationally in field goal percentage defense, holding its opponents to a .395 effort.
The Deflection Objective
The deflection is an extremely key statistic for Georgia. Head coach Tom Crean regularly discusses the deflection and its significance.
"I was told a long time ago – and I don't think you can say it any better – deflections are barometer of active defense. It's any type of activity on the ball. It's a finger tip, a hand, blocked shots, chargers, a steal. That's what we're aiming for. I want our team at a deflection-to-turnover ratio of 3.5-to-1. To me, that is an optimal number."
"You will hear me talk a lot about it," Crean said in his press session following the Sam Houston State game. "Some of you will get tired of it, and some of you will buy into it."
The quote above gives a definition of the stat. The Bulldogs' season totals to date are below. Nicolas Claxton leads the team, including 18 deflections against Sam Houston State.
"I have only coached four other guys, and all four of them played in the NBA, that ever had more than 18 in a game," Crean said.
UGA Deflections
Player Number
Nicolas Claxton 148
Rayshaun Hammonds 56
Teshaun Hightower 48
E'Torrion Wilridge 42
Jordan Harris 40
Turtle Jackson 38
Tye Fagan 34
Tyree Crump 33
Derek Ogbeide 33
Ignas Sarginas 14
Amanze Ngumezi 12
JoJo Toppin 9
Christian Harrison 6
Connor O'Neill 2
Mike Edwards 1
Hammonds Bounces Back
Rayshaun Hammonds rebounded from a scoreless outing at No. 3 Tennessee in the SEC opener to put up a game-high 19 points against Vanderbilt.
It took Hammonds a while to get going, though. He was held scoreless in the first half, missing all four of his shots from the floor including three 3-point attempts.
Hammonds hit a 3-pointer 14 seconds in to the second half and eventually scored a dozen points in the first 7:24 of the period.
Tom Crean asked for more from Hammonds at the half.
"It was quick," Crean said. "It wasn't bad. It wasn't in my top-100 challenges. I've had a few. It was mild, but again, it's like, 'We need more. This isn't good enough.' He comes out in the second half and bangs that first shot, looks good doing it. It's important. He has another gear in him. It's our job to keep pulling it out of him."
Hammonds showed the ability to bounce back from rough outings last season. He went scoreless nine times as a freshman but then followed five of those games with a double-digit performance.
Ogbeide Enjoys Fruitful Stretch
Derek Ogbeide enjoyed most productive offensive three-game stretch of his career against UMass, Tennessee and Vanderbilt.
Ogbeide put up 12 points against the Minutemen, a season-high 17 in Knoxville and 15 versus Vanderbilt…an average of 14.7 ppg while shooting 62.4 percent from the floor.
That marked the second time Ogbeide has had three-straight double-digit outings. He averaged 11.3 ppg while connecting on 58.3 percent of his field goal attempts against LSU, Auburn and Arkansas in the final three regular-season games of 2016-17.
Dogs' Depth Paying Dividends
Georgia's bench has outscored its counterparts in 11 of 15 games…usually doing so by a significant amount.
The Bulldogs' bench has been +10 or more in nine outings. Georgia's overall scoring margin on bench points for the season is an eye-catching +162.
Feel Free To Call Him "Ty-3" Crump
Tyree Crump has scored nearly two-thirds of his career points at Georgia on shots he's taken from 20-feet, 9-inches away from the basket…and beyond.
With a 32 3-pointers this season and 95 for his career, 3-point field goals directly account for 285 of Crump's 463 (61.6 percent) points in Red and Black.
Overall, 66.9 percent (95-of-142) of Crump's made shots from the floor as a Bulldog have been trifectas.
Ogbeide Joins Top-10 Rebounders
Derek Ogbeide began his senior season with 614 rebounds and ranked No. 17 among the Georgia's career leaders.
Ogbeide joined the Bulldogs' top-10 career leaders with nine boards during the Vanderbilt game. He is 30 rebounds away from the current No. 9 tally as outlined below.
UGA Career Rebounds
Rk. No. Player Seasons GP
1. 1116 Bob Lienhard 1968-70 75
2. 923 Terry Fair 1980-83 123
3. 893 Alec Kessler 1987-90 123
4. 889 Yante Maten 2015-18 128
5. 867 Jerry Waller 1964-66 75
6. 840 Charles Claxton 1992-95 116
7. 838 Lavon Mercer 1977-80 106
8. 763 Chris Daniels 2000-04 119
9. 739 Carlos Strong 1993-96 118
11. 706 Derek Ogbeide 2016-19 110
10. 705 Tim Bassett 1972-73 52
12. 693 Trey Thompkins 2009-11 89
13. 684 John Johnson 1959-61 77
14. 674 Sundiata Gaines 2004-08 123
15. 664 Marcus Thornton 2011-15 133
16. 654 James Banks 1981-84 125
17. 633 Ray Jeffords 1966-68 76
18. 588 Dominique Wilkins 1980-82 78
19. 587 Shandon Anderson 1993-96 118
20. 583 Jumaine Jones 1998-99 65