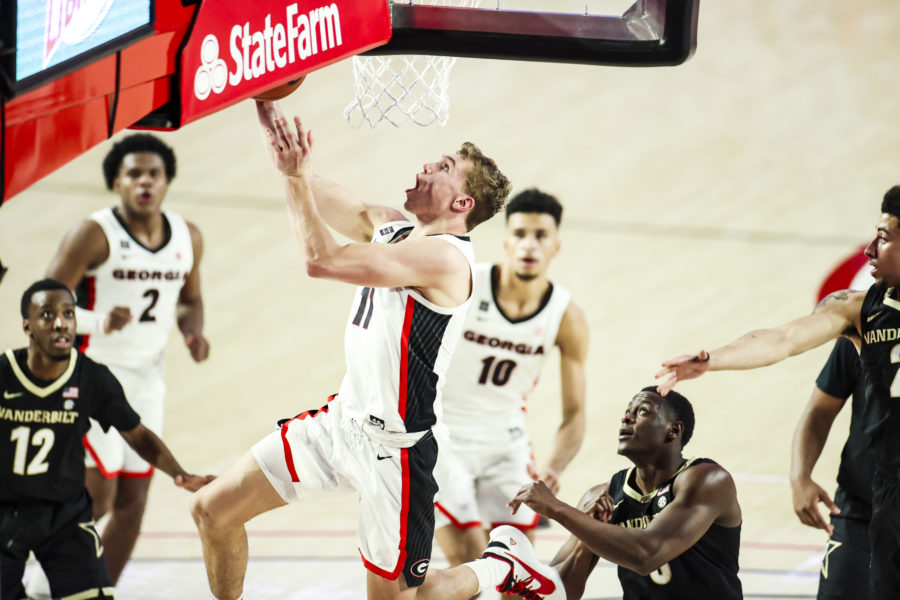 For the first time in Tom Crean's tenure, the Georgia Bulldogs have won three straight SEC games. Georgia defeated Vanderbilt 73-70 on Saturday, which moved the Bulldogs to 5-6 in conference play.
Tye Fagan talked about increased energy in practice following the blowout loss at South Carolina. It was noticeable against Vanderbilt. Although Georgia did not play close to a flawless basketball game, it seems the Bulldogs finally trust the fact that they can win conference games consistently.
"Prognosticators picked us 13th at the beginning of the year, it's hard to win," said Crean. "Any win you get in this league is crucial, and I am confident most coaches would agree with that."
Despite the fact that Vanderbilt entered the contest last in the SEC standings, the Commodores were coming off their first conference win of the season and had a week to prepare for Georgia because their game with Texas A&M was postponed. The Commodores shot the ball well, especially in the first half – 56% from 3-point range – but the Bulldogs never let them control momentum.
The mood in pregame warmups was more energetic than usual. Georgia players were particularly loud and all yelled at once as they threw down dunks before running back into the tunnel before the starting lineups were announced. There were plenty of empty seats at Stegeman Coliseum, but Toumani Camara's block to win the game brought cheers that were as loud as P.J. Horne's game-winning layup against Kentucky.
Watch a fullscreen slideshow
HERE
.
These are the type of win streaks that coach Crean was brought to Georgia for. Sahvir Wheeler shined as he often has this season. The sophomore point guard scored a game-high 16 points and led the game with nine assists as well. P.J. Horne also scored 14 points, which included four 3-pointers made. Wheeler and Horne's 30 combined points were efficient, coming on only three missed shots.
It was the unexpected contributions that put Georgia over the hump, helping secure the win. Ty McMillan and Jaxon Etter, both guys who have played sparingly this season, had their best games as Georgia Bulldogs, according to Crean. McMillan and Etter combined for 15 points and made multiple hustle plays that led to teammates on the bench jumping up and down in excitement.
"Not everybody can be the leading scorer," said Etter. "I feel like a lot of people need to find their role, and I think a lot of guys on this team have found their role. I just so happen to take up the energy-guy spot."
Vanderbilt's Scotty Pippen Jr. came into the game as the SEC's second-leading scorer and second in assists, only behind Wheeler. Georgia forced Pippen into one of his worst games of the season. Pippen only made three of his 12 shot attempts and finished with a modest 12 points. Crean mentioned Georgia wanted to guard him the same way it guarded Auburn's Sharife Cooper – both gameplans seemed to work. 
Georgia will continue to have to work on avoiding turnovers, that was the category that nearly costed the Bulldogs the game. Georgia had 21 turnovers that led to 29 Vanderbilt points. The adversity that Georgia had to battle through all night with those numbers could play to its advantage in the future, though. Being able to fight through weaknesses is a necessary trait for good teams.
Next, the Bulldogs 12-6 (5-6) are scheduled to play at Texas A&M in College Station, TX on Wednesday night at 7 p.m. COVID issues have forced the Aggies to postpone their last two games, but as of right now Wednesday's matchup is still supposed to happen.