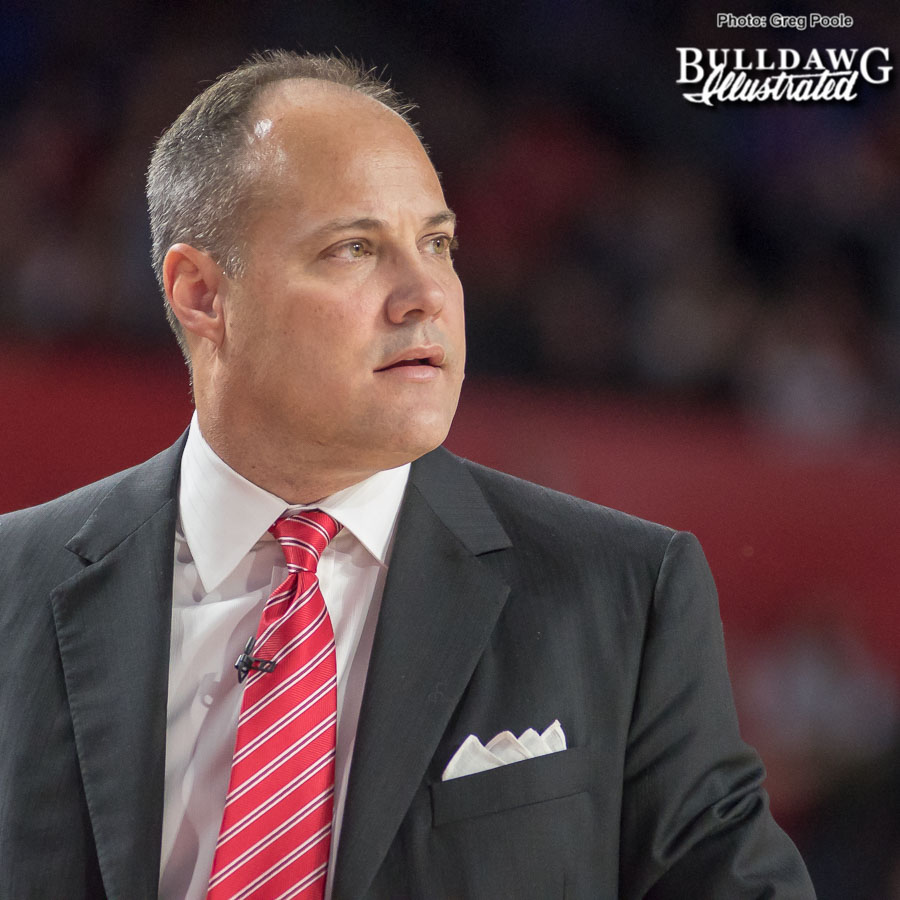 SEC Tournament First-Round
Georgia (16-14, 7-11) vs. Vanderbilt (12-19, 6-12)
Wednesday, March 7 at 7:00 p.m. ET
Scottrade Center (20,948) in St. Louis, Mo.
Watch: SEC Network (Tom Hart, play-by-play; Jimmy Dykes, analyst; Molly McGrath, reporter)
Listen: Georgia Bulldog Sports Network. (Scott Howard, play-by-play; Chuck Dowdle, analyst; Tony Schiavone, producer); Flagship: WSB AM 750 Atlanta
The Starting 5…
Yante Maten  is UGA's first 3-time All-SEC pick in more than 25 years (since Litterial Green '90-92).
UGA leads the SEC and is ranked No. 8 nationally in FG percentage  defense at .394.
UGA has 8 combined "Q1" & "Q2" wins, more than 42 teams ahead of UGA in the RPI.
Juwan Parker, the only DI MBB player with a master's, is now 3rd on UGA's career FT pct. leaders list.
Nicolas Claxton started at Vandy, becoming the 9th current Bulldog to start as a freshman.
Bulldogs Begin SEC Tournament Versus Vandy
Georgia will face Vanderbilt on Wednesday in the opening round of the SEC Tournament at the Scottrade Center in St. Louis, Mo. The Bulldogs and Commodores will christen the 2017 tourney with a 7:00 p.m. ET tipoff.
Georgia wrapped up the regular season with a 16-14 overall record and at 7-11 in the SEC. The Bulldogs dropped two gut-wrenching setbacks last week, falling 61-60 to Texas A&M in Athens on Wednesday and 66-61 at No. 16 Tennessee on Saturday.
Georgia is led by Yante Maten, the SEC's scoring leader both overall and in conference action. Maten's overall average of 19.4 ppg paces league leaguers by more than a full point per game (Alabama's Collin Sexton is second at 18.3 ppg).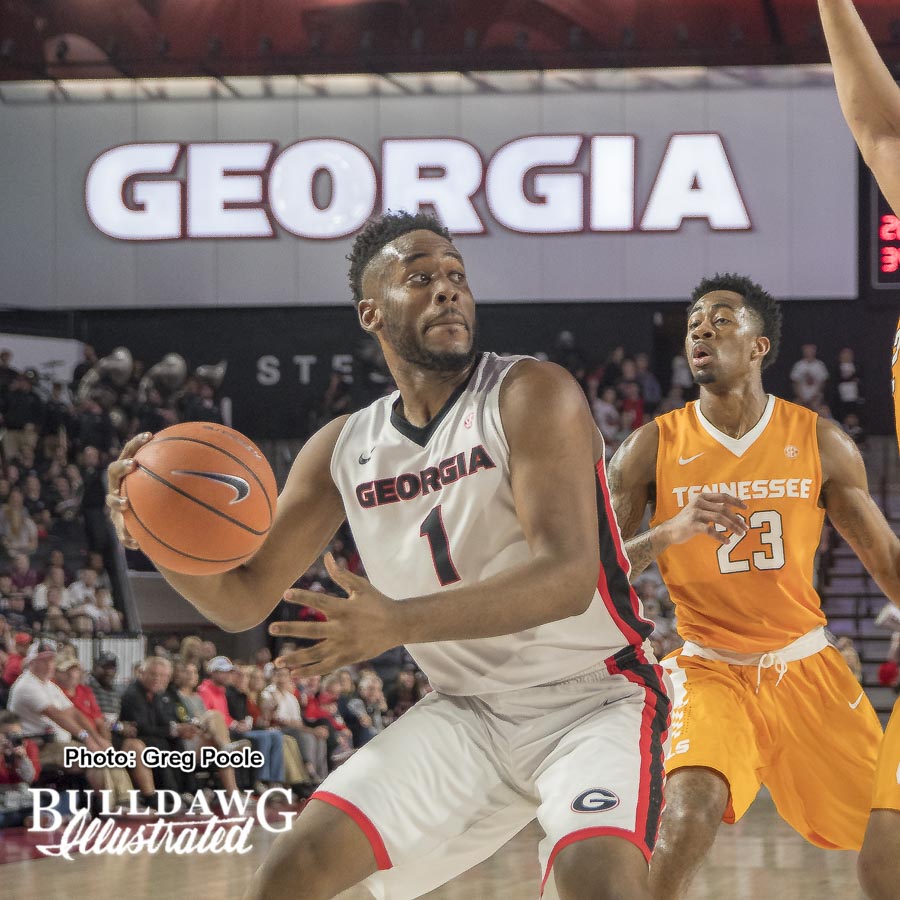 Maten also leads the league in double-doubles (13) and ranks among the SEC's top 10 in rebounding (No. 2), minutes played (No. 2), field goal percentage (No. 7), free throw percentage (No. 8) and blocked shots (No. 10).
Maten has been a picture of consistency for the Bulldogs. In 30 games this season, he has 29 double-figure outings, with 15 20-point performances and 13 double-doubles.
Over 93 games since the start of his sophomore year, Maten has 85 double-digit scoring performances, with 37 20-point and five 30-point outings, and 28 double-doubles.
Turtle Jackson and Juwan Parker are the Bulldogs' second-leading scorers at 8.7 ppg each. Jackson is second on the team with 15 double-digit outings. Parker averaged 9.3 ppg in SEC action, a considerable jump from the 7.4 ppg he put up prior to league play.
Vanderbilt is 12-19 overall and finished 6-12 in league games. 
Jeff Roberson averages team highs of 17.0 ppg and 7.2 rpg. Riley LaChance and Saben Lee also sport double-figure scoring averages at 14.0 ppg and 10.5 ppg, respectively.
Keeping An Eye On…Entering Today's Game Among UGA's Career Leaders
Yante Maten is…
280 points from No. 1 Litterial Green
22 rebounds from No. 3 Alec Kessler
25 FGs from No. 5 Bob Leinhard
47 FGAs from No. 4 Dominque Wilkins
47 FTs from No. 3 Litterial Green
58 FTAs from No. 3 Alec Kessler
55 blocks from No. 2 Charles Claxton
Derek Ogbeide is…
42 rebounds from No. 16 Ray Jeffords
Among UGA's Season Leaders
Yante Maten is…
2 points from No. 13 Willie Anderson ('88)
7 points from No. 12 Jacky Dorsey ('76)
8 points from No. 11 Zippy Morocco ('53)
9 points from No. 10 Kentavious Caldwell-Pope ('13)
13 points from co-No. 8s Bob Lienhard ('69) & Vern Fleming ('84)
15 points from No. 7 Alec Kessler ('89)
29 points from No. 6 Alec Kessler ('90)
32 points from No. 5 Walter Daniels ('79)
6 rebounds from No. 13 Terry Fair ('80)
8 rebounds from No. 12 Yante Maten ('16)
19 rebounds from No. 11 Jumaine Jones ('99)
31 rebounds from No. 10 Jacky Dorsey ('75)
11 FTs from No. 4 J.J. Frazier ('17)
19 FTs from No. 3 Charles Mann ('14)
23 FTs from No. 2 Alec Kessler ('90)
34 FTs from No. 1 Zippy Morocco ('53)
3 FTAs from No. 7 Charles Mann ('15)
5 FTAs from No. 6 Murphy McManus ('55)
11 FTAs from No. 5 Charles Mann ('15)
23 FTAs from No. 4 Murphy McManus ('55)
Series History With The Dores
Vanderbilt currently possesses a 91-52 lead in the all-time series between UGA and VU, including a 6-1 mark in SEC Tourney action.
Earlier this season on Feb. 7 in Nashville, Vanderbilt defeated Georgia, 81-66, at Memorial Gymnasium despite a game-high 20 points from Yante Maten. 
The Commodores scored the game's first nine points during the opening 3:18 and never trailed the rest of the way.
Vanderbilt led 48-38 with 15:58 remaining before the Bulldogs mounted a comeback. Maten and Turtle Jackson scored all the points in a 9-0 surge that closed the gap with 48-47 at the 13:20 mark.
The Bulldogs gained possession down 53-51, but Maten missed a 3-pointer that would have given Georgia the lead and Joe Toye converted a three-point play on the Commodores' next possession.
During the contest, Maten ascended two spots – from No. 6 to No. 4 – among the Bulldogs' career scoring leaders. He passed Walter Daniels at No. 5 and hall-of-famer Dominique Wilkins at No. 4.
Georgia and Vanderbilt last met in the SEC Tournament in 2012. The 11th-seeded Bulldogs upset sixth-seeded Mississippi State, 71-61, before falling to third-seeded Vanderbilt, 63-41, in the quarterfinals.
Georgia led that contest 25-24 at halftime before the Commodores outscored the Bulldogs 39-16 in the second stanza.
Last Time out
Tennessee rallied in the waning moments to surge past Georgia en route to a 66-61 victory in both teams' regular-season finale last Saturday.
The Bulldogs led by four points with 3:10 remaining following a Yante Maten 3-pointer but could not hold off the Vols.
All told, Georgia led for 31:14 of game, including an 11-point margin twice late in the first half.
Tennessee closed the gap to one at 45-44 with 13:44 remaining, but did not take the lead until a Lamonté Turner 3-pointer that made it 55-53 with 6:23 remaining.
That was the first three ties and three lead changes the rest of the way. The Vols took the lead for good with 1:01 left.
Georgia's SEC Tourney History
Georgia sports a 45-55 all-time record in 57 editions of the SEC Tournament. 
The Bulldogs have compiled a 36-36 record in SEC Tournament action since the event resumed competition in 1979 following a 27-year hiatus from 1953-79.
The Bulldogs won the 1983 and 2008 SEC Tournaments and finished as runners-up in 1940, 1981, 1988 and 1997. Georgia has reached the semifinals 15 times, including three straight seasons from 2014-16.