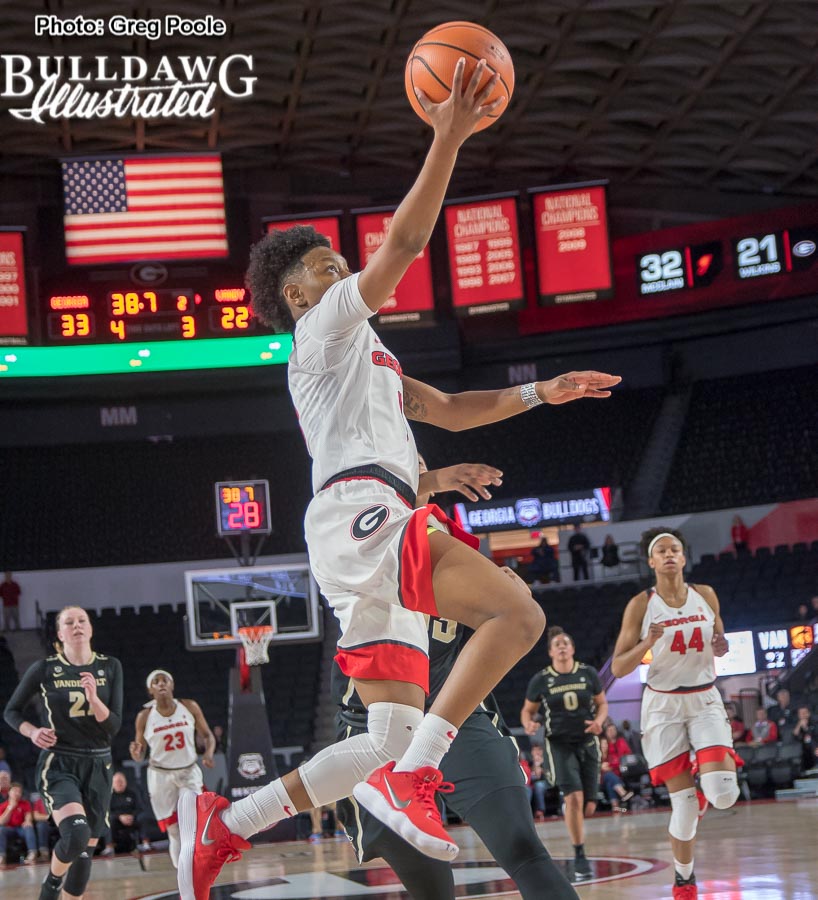 The No. 18 Georgia Bulldogs women's basketball team's aggressive defense and ball movement led to a lopsided 67-55 victory against the Vanderbilt Commodores.
The Lady Dogs distribution of scoring gave a clear shot of how their depth is a major strength for this team and the play of the team from top to bottom led to this win. The Lady Dogs had three scorers reach double digits with Mackenzie Engram and Taja Cole leading the way with 11 points each.


Taja Cole really shined in this game and her play on both sides of the ball was a major factor in the team's success. Cole led the team in multiple categories including steals with 5 and assists with 7. Her active defense and ball distribution was outstanding throughout the night and played a pivotal role in the victory.


"My job as point guard is to find my teammates," said Cole. "I want to put them in the best position to score, and I look to do that every night."


The Lady Dogs had 10 different scorers on the night and they consistently moved the ball to find the open shot. With Caliya Robinson struggling as she finished 3-14 from the field, having multiple players step up was a major key.


The Commodores had 20 turnovers in the contest and gave up 28 the last time they played the Lady Dogs. Playing aggressively on the defensive side of the ball was a focus for the team and it paid off well for them in this game.


The Lady Dogs overall did a great job on the defensive side of the ball, but the Commodores Kayla Overbeck gave them trouble throughout the contest as she finished with 21 points which is a career high for her.




Overbeck seemed to consistently find open space and was a consistent force in the paint from the start of the game. Although Overbeck gave the Bulldogs trouble, the defense did a good job of shutting down the rest of the Commodores offense as not a single other player reached double digits in scoring.


The Lady Dogs next contest will be on February 11th at 3 p.m. as they take on the No. 11 Tennessee Lady Volunteers on the road.