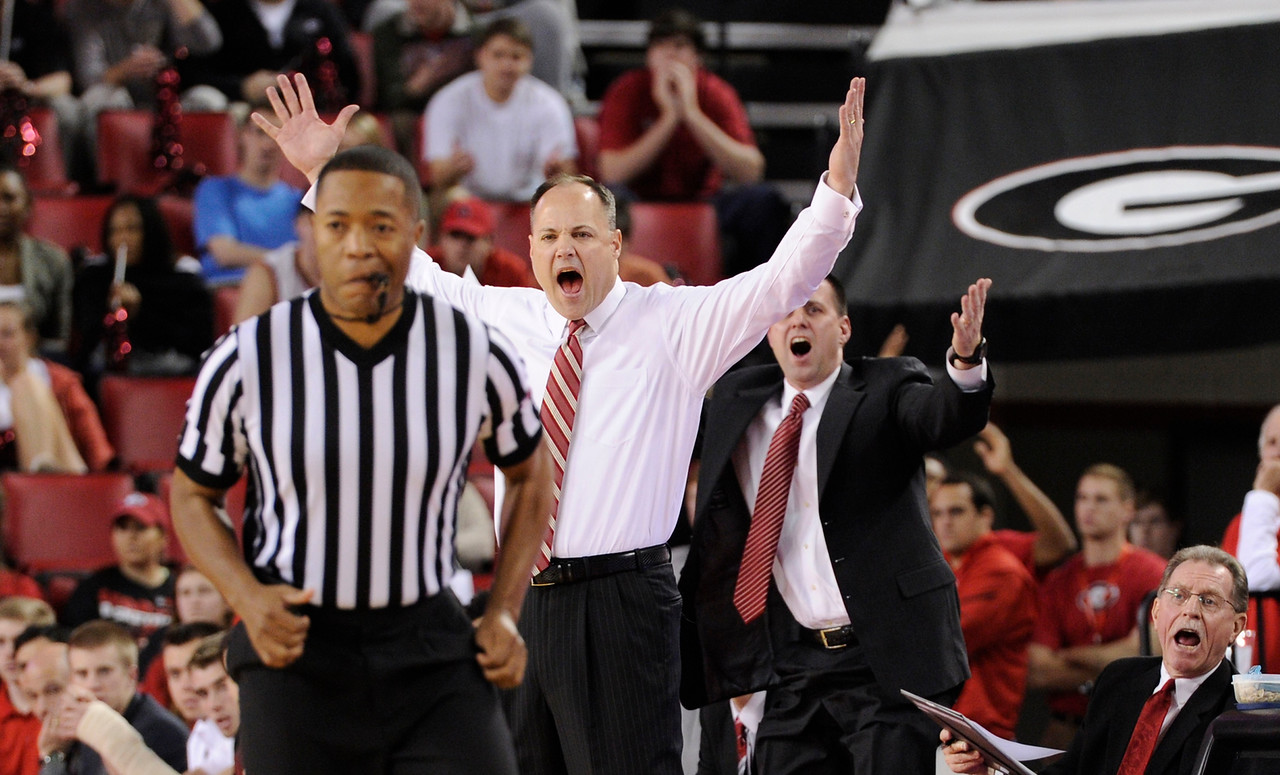 [break]
Welcome to the Bulldawg Illustrated Hoops Report. It's like being stuck in a tunnel but seeing some light. Right now our Dawgs are seeing some light after setting up their season for a major disaster after beginning the SEC 0-2. We somehow found a way to piece together enough points to beat Ole Miss Tuesday night. We weren't at our best, but a win is a win. If we win 10 conference games, we're in the tournament. You can take that to the bank. We just need to get to ten as soon as possible and then maybe even improve our position. However, the only way you do that is take it one game at a time. So we've now won three tough games in a row and are heading to Mississippi State. The Bizarro Bulldogs are still in a rebuilding mode and this sets up to be a very winnable game. However, we all know nothing is easy on the road in conference play and getting out of Starkvegas with a fourth win in a row could come down to the final moments again. But let's figure out how the heck we beat Ole Miss before strategize for Miss State.
[break] [break]
The game tipped off last Tues at 7 p.m. and the Dawgs showed up about 8. We were sleepwalking through the first half and are really lucky we didn't get blown out early. Marcus Thornton had a monster half. He scored 11 of our first 16 points and finished as our leading scorer with 16. Somehow we were only down six, 31-26, at the break. Both teams came out hot in the second half and the Dawgs took an early 40-39 lead on a Thornton jumper and stretched it to four by following that with Kenny Gaines' three. From that point on, it was basically the Dawgs vs Stefan Moody. The guy had 26 and was near unstoppable at certain times. When UGA expanded the lead to five, they came back and tied it at 51. While we shot poorly overall at the FT line again, we did have a couple advantages. We hit out last seven straight to ice the game and we had 31 attempts to Ole Miss' 14. If we'd shot the same percentage they did, we'd won by 19. How bout that? On a side note, another issue was 14 turnovers. While I love Charles Mann, he is now good for at least two charges a game. Most of the time they wipe away baskets as well. He's got to correct that. But hey, let's quit whining over a win and talk about a Mississippi road trip!
[break] [break]
Mississippi State is 177 in RPI. So while this is a road game, it would also be labeled a bad loss. They're not good offensively. They don't pass the ball. They turn it over 15 times a game. And they shoot about 42% the floor. If you think you're a tournament team, you go in and get up early. No more sleepwalking. Our defense should keep them below 60. For any point they score above that, Coach Fox should add a lap of stadium steps to the team at Sanford Sunday morning. This could very well be another ugly game where both teams struggle to combine for 120. However, again it's very winnable. Now I know there's going to be one or two games a year in conference where a bad team has a great game at home. We can't let this be one of them though. The Dawgs are in the middle of a four game stretch where they need to go at least 3-1 before UK pops up on the schedule. This is very doable if we beat Miss State. Limit the turnovers and make the easy layups we love to blow, and we're looking good. I'd also say make your FTs but I've given up there. My hope is we just shoot twice as many as the other team and outscore them at the stripe that way.
[break] [break]
Here we are with a really good shot at the Big Dance. My analysis, that I steal from much more sophisticated websites, has us at 68% chance to make the tourney. We've done a great job avoiding bad losses the last couple of years with the exception of a really pitiful ACC program. So we can't fall into that trap this weekend. I would say let's put together a road trip but I honestly have no idea where the hell Starkville is located. So on Saturday around lunch, here's your todo list. Go hookup with some rowdy friends. Go get get a few beers. Go get a little fired up. And Go Dawgs!