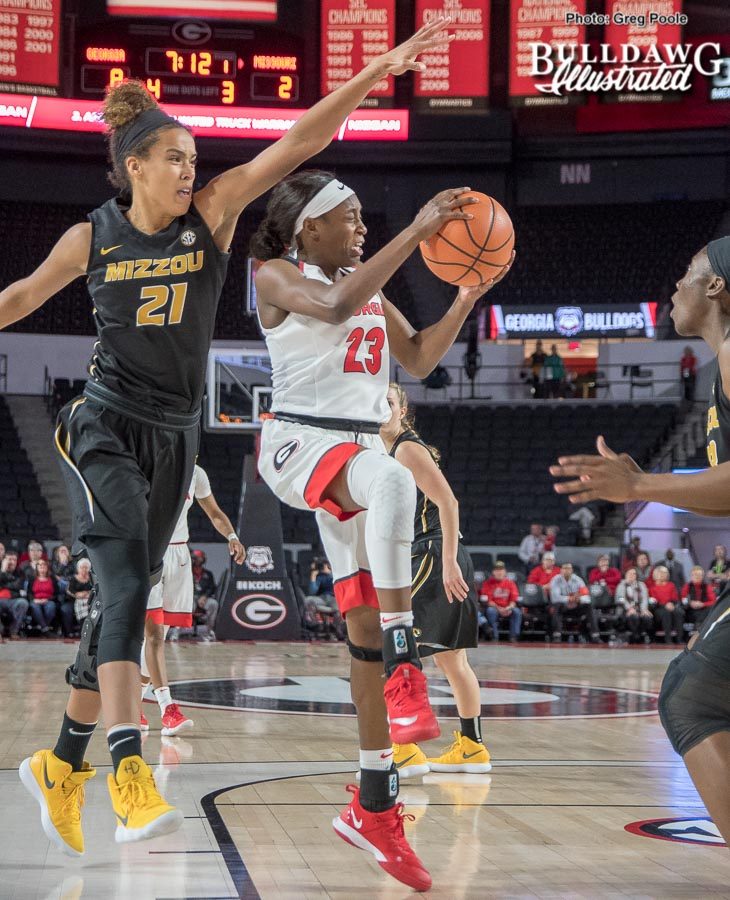 The Georgia women's basketball team held one of the top offenses in the SEC to 23 points below their average in their 62-50 victory over the No.11 Missouri Tigers.



This Tigers team averages 73.2 ppg, but the Lady Dogs were consistently disruptive and active on defense and this led to their opponents' offense stagnating in their lowest point scoring effort of the season. The Lady Dogs were able to force 18 turnovers which is the second most the Tigers have given up all season long.


Although there was not a true standout player for the Lady Dogs, The effort of Haley Clark is most definitely notable. Clark was second on the team in points with 14, third in rebounds with 7, while also having one block, three assists, and one steal. She seemed to provide the Bulldogs with an extra spark whenever the game started to slip.




Clark was not alone in her outstanding performance as both Que Morrison and Caliya Robinson were effective in their own way. Morrison seemed to have an easier time scoring baskets on the night and she was relied on heavily as she led all Lady Dogs scorers with 17 points. She also did a good job of earning rebounds as she tied for third on the team with seven.


It is hard to say Robinson was struggling on the night as she was able to find a way to finish with a double-double with her 13 points and her team-leading 11 rebounds. However it was clear that Robinson struggled to get the ball in the basket as she shot 26.3% from the field, but her efforts on the defensive side of the ball were outstanding as she also led the team steals, with 2, and blocks, with 3. Although Robinson was not her dominant scoring self, her play on defense definitely made up for her offensive deficiencies.


The defensive pressure that the Lady Dogs applied played a pivotal role in helping them earn the victory and head coach Joni Taylor highlighted their defensive pressure as one of the keys to the game in her post-game press conference.


This is most definitely a key victory as Missouri was on the brink of being a top 10 team. The Lady Dogs will look to continue to build on their momentum as they now have won six in a row and will face the Florida Gators on the road on Saturday.




---
Recent Articles by Michael Pope


[pt_view id="b8629e37y8″]