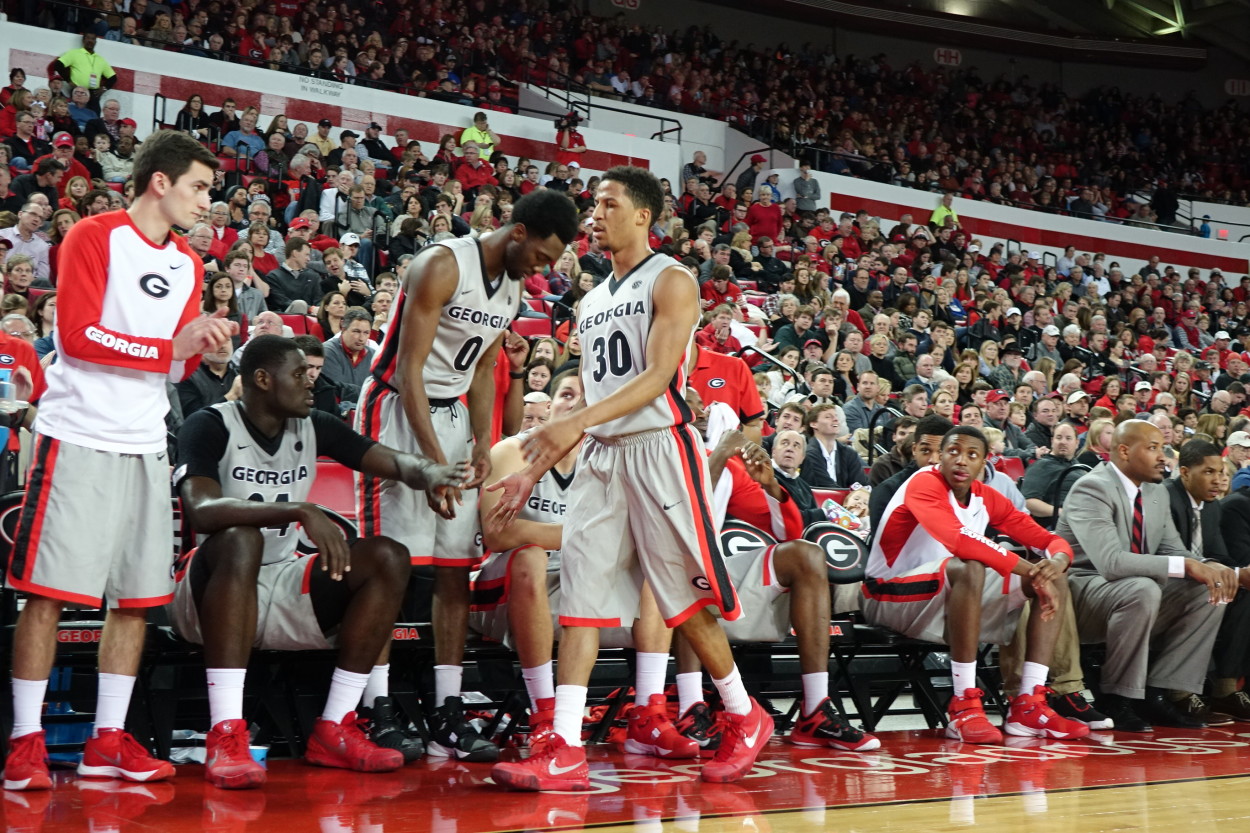 [su_spacer size="40″] Welcome to the Bulldawg Illustrated Hoops Report. It's like winning $800 on FanDuel but your wife finding out you spent $1150 to do it.
[su_spacer size="40″] Well, times are tough in Athens right now for men's hoops. That's right! A guy that's always found the positives in most everything Mark Fox does cannot see the light at the end of tunnel right now. For the first time in three years, I don't think the Dawgs will, nor should, make the NCAA Tournament. If you hear someone say we shouldn't because we lost to Chattanooga, just know that's a person that skims headlines and listens to the misinformed. If someone says it's because Fox can't recruit and there's no talent, just walk away slowly. The Dawgs don't deserve it right now because they're not playing inspired basketball. Sorry for the cliche but it is what it is. Oops, I did it again. But I digress. We turn it over, we're inconsistent, we seem to miss free throws at crucial times, and we can't hold big leads. All of those issues were on full display Saturday night as we hung on for dear life to beat Arkansas in OT. It was a quality win but should've never been that close.
[su_spacer size="40″] Up next, at LSU. Actually, at LSU and at Baylor. The reason I mention both games is the Dawgs must win at least one to make the tournament in my humble opinion. To win either game, they'll have to play inspired basketball. If we lose both, our odds to make the tournament, which currently sit at 7.2%, will probably go below 3%. But before we get ahead of ourselves, let review Arkansas.
[su_spacer size="40″] Sixteen for thirty. That's what the Dawgs shot at FT line. That's 53%. JJ Frazier, a career 85% shooter I'd guess, was 6-10. Charles Mann and Kenny Gaines both went 0-2 in the final minute of OT to give Arkansas life. It was depressing to watch. We really deserved to lose. Luckily, the Hogs missed nine FTs themselves to help give us the W. On the positive side, JJ poured in 26. Yante Maten continued his outstanding play going for 17 and 12. We also pulled down 46 rebounds as a team. But all in all, we were lucky to win.
[su_spacer size="40″] Now we head to LSU to play Ben Simmons. He averages around 20 and 13 and it's all-world. Luckily, LSU is still sort of trying to put it together. A win would move the Dawgs from sixth to fourth in the SEC. The line opened at 6 and has moved to 6 1/2. So the early money likes the Tigers. This is a chance to notch your first quality road win of the year. Heck, maybe our first quality win period. Plus, we just beat one bubble team. Beat another on their home court and you've got the tiebreaker at the end of the year. But things must change quick. At this point, Eight Ball says outlook not so good and I'm sort of leaning that way myself.
[su_spacer size="40″] The optimist in me has gone for the first time in three years. However, let me be clear that we aren't done yet. While the pieces are there, we are not playing 40 minutes a game. We have major lapses in most games. These are things that can be corrected with the proper leadership. And this isn't an indictment of Mark Fox. This is on the seniors. Mann and Gaines are two of my favorite Dawgs ever. It's been my pleasure to watch them the last four years. They were preseason All-SEC. Unfortunately, neither has played like it consistently. JJ and Maten are really the best players so far and are showing leadership by example. We need Charles and Kenny to step up right now. The Tourney is still there for the taking. If we win Tuesday night, the train is right back on the track. If we lose, it's another missed opportunity. Either way, I'll be glued to the TV for every second. I just hope my gut feeling is wrong. Go Dawgs!
[su_spacer size="40″]
---
[su_spacer size="40″] [su_spacer size="40″]