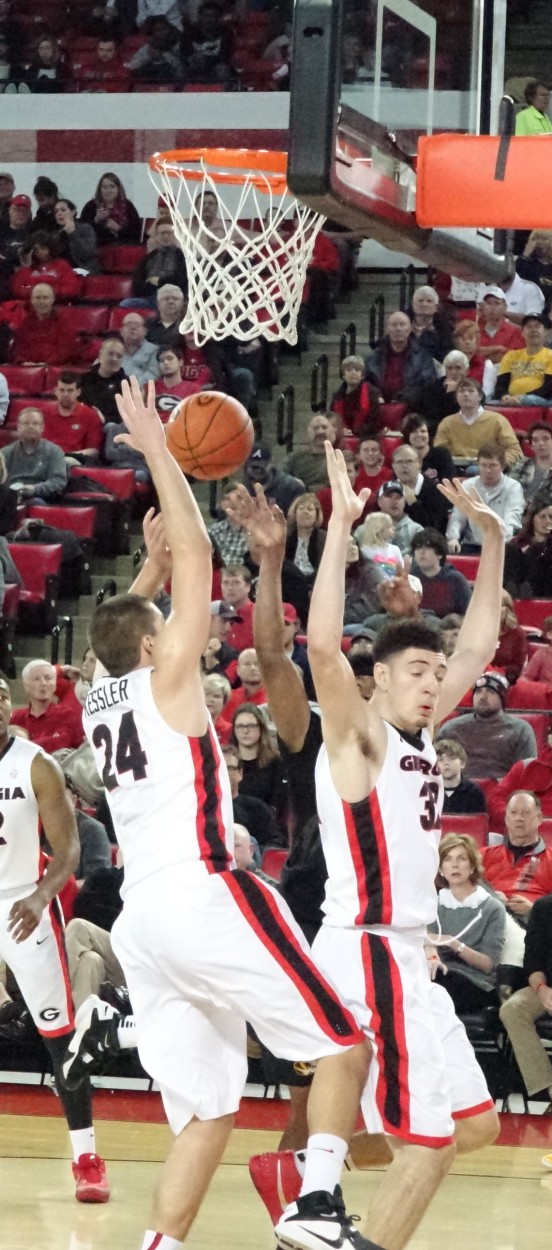 Welcome to the Bulldawg Illustrated Hoops Report. Its like a second piece of chocolate marble cheesecake. You know you shouldn't but you just help yourself. The Dawgs evened up their SEC record with a 77-59 blowout of Mizzou. It was a name your score type game. The Dawgs decided 77 sounded good. Compare and contrast that and their first SEC game vs the Gators and you'll see the epitome of life in the SEC. Things go good at home but are always tough on the road. Although Mark Fox is a combined 10-8 in the SEC on the road in the last two years. Kentucky and Florida are the only other teams that have a better record. And UF is only 11-7. Funny how you always hear the Hoop Dawgs are so bad on the road. But I digress. My point is, life on the road is brutal. And it's not getting any easier because up next? At Ole Miss.


The General Akbar Black Bear Rebels are, on paper, the closest matchup the Dawgs could have all year. This would be a huge win for the Dawgs and I honestly have no idea how things will shake out. But before we get too far ahead, let's look back at Mizzou.

The Dawgs jumped out to a 10 point lead. You want me to stop here because I can? The game was over three minutes in. Unfortunately for you, I get paid by the word so please indulge me for a few more. The Dawgs got 56 points and 18 boards from their Four Horsemen Wednesday night led by J.J. Frazier with 16 and six. The benched chipped in with 19 after a disappointing nine points in Gainesville. Everyone was hot. We shot 56% from the floor, 58% from three, and 80% from the FT line. Again, we had too many turnovers with 16, but everything else went so well it didn't matter. If someone could bottle that and sell it, they'd be donated money to Zuckerberg on Facebook. Up next, I'm not sure what to call them.

As I said before, on paper Ole Miss is the most even matchup in the conference. Even Vegas thinks so. The line at every casino is 2 1/2 to 3 points, which is what you give a home team as all degenerates well know. The money line is even closer. It's -110 for both sides. While the matchup is very even, each team gets it done in a different way. Ole Miss is mostly a one-man band lead by all-world scorer Stefan Moody. The guy is electric and can go for 30 on any given night. After him, there's only one other guy that averages double digits. Usually, I'd say let Moody get his and shut down everyone else. That may work. But I think being on the road, we need to go after Moody. We have two guys that can matchup with him on both ends of the court. Luckily, I'm not smart enough to coach. So we'll have to see what Coach Fox does. But I can tell you this for sure. Road wins in the SEC are coveted. You must have at least four or five every year to make the Big Dance. But keep in mind, all the pressure will be on Ole Miss. They're the home team. Every game you lose at home, means you have to steal one more game on the road than you needed the day before.

This Dawgs are in a good position right now to make the NCAA Tourney. They've played a tough out of conference schedule and are one of the better teams in the SEC. I always break the SEC season into four quadrants if you will. The first quadrant is games 1-4. This year the Dawgs need to be at least 2-2 after four. So you can understand how important Saturday night is with Tennessee coming to town after blowing out UF. Though as I said last week, UF is not that good in my opinion and I think the season will bear that out. Anyway, we need it Saturday night. Ice down the cooler, turn on the TV, and turn up the volume. Rock your house and roll your hood. This is big. So go crazy and Go Dawgs!!!

---
---