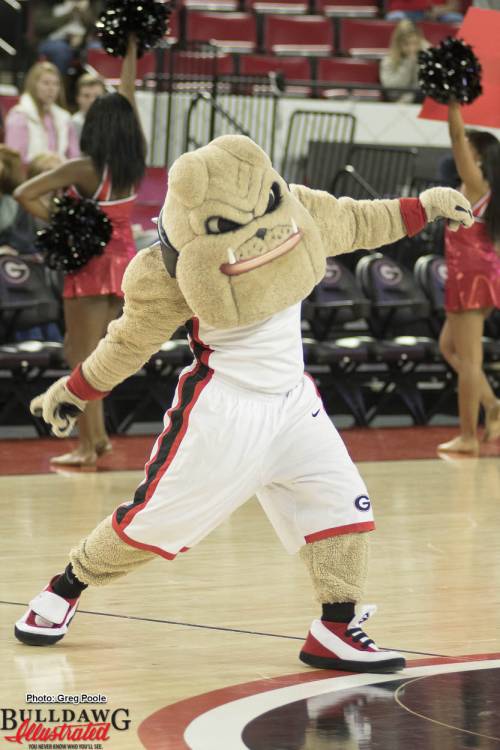 Welcome to the Bulldog Illustrated Hoops Reports. It taste like chicken. Just like the southern fried, bantam weights that will roll into Athens Wednesday night with revenge on their minds. If you took UGA off the Lamecocks schedule last year, not only do they make the NCAA tourney, but they're probably a six seed. However, going 0-3 vs the Dawgs bounced them to the NIT. The Gamecocks had been Champions of the NIT back to back in 2005 and 2006. Sadly, at that point I believe it was the only national title the school had ever won, other than the natty for Most Unsubstantiated Enthusiasm trophy they've won every August. If I'm wrong and they had won a natty before that, don't correct me. It would skew my mental image of the school. Though, it couldn't get any worse. Anyway, I digress. Before we make more fun of the Cocks, let's rehash the week that was in UGA Hoops!


The Dawgs went to Awburn last Thursday night. The Tigers were fresh off impressive road wins at Oklahoma and UConn. The Dawgs were kind of struggling to be honest. I didn't really feel good about it. However, Mark Fox decided it was time to flip the switch. I never dreamed we'd hang 96 points around their necks. I must admit, I wasn't even sure we could win. Auburn is good. We play them twice this year and we had to at least split. The road win means we're playing with house money at the moment. Yante Maten poured in 31 and J.J. Frazier added 27. Those two were also a combined 19-20 from the line if my memory serves. Jordan Harris and Juwan Parker added 12 and 10 respectively. I feel it had to be one of the best played games of the Mark Fox era. J.J. and Yante showed the firepower they have and the supporting cast stepped up. While I would like to see more minutes and contributions from Turtle Jackson and Tyree Crump, I can't complain about an impressive road win. Plus, you have to contribute to get the minutes. Coach Fox seems intent that Parker is going to get the majority of the minutes because he trusts him more than the other two. If we put up 96 points each game, I won't complain. I'll continue to defer to Coach Fox's wisdom.


Speaking of Foxes, they sure do love to eat chickens. And Coach Fox's record again the Lamers is downright eye-popping. My guess is he's 11-4 against them since he arrived in 2009. However, USCe has a good coach and plenty of returning talent. Plus, they really owe the Dawgs for what we did to them last year. So this won't be easy. The Lamers are the one team we consistently play twice each year. Just like with Auburn, we have to at least split the two games. So this game is quite crucial. If we win, it thrusts us into a major position of power in the SEC. If we lose, then we forfeit the momentum we from the Auburn win and are back fighting tooth and nail to make the Big Dance. And don't forget this nugget. SEC home teams are 0-5 so far this year.


So here we are … it's early and it's critical. Our Dawgs need support. You can help propel these guys to greatness. It's not just for them, either. You put that on your resume. Position: Dawg Booster and Rabid Fan. Employers love crap like that. Doctorates and community service are severely overrated. So show up loud and show up wild. Grab your wife for Pete's sake. She needs a night off. Just bring someone and crank up the volume. Oh, and if you're hungry, may I suggest a pre-game meal of chicken wings. Go Dawgs!