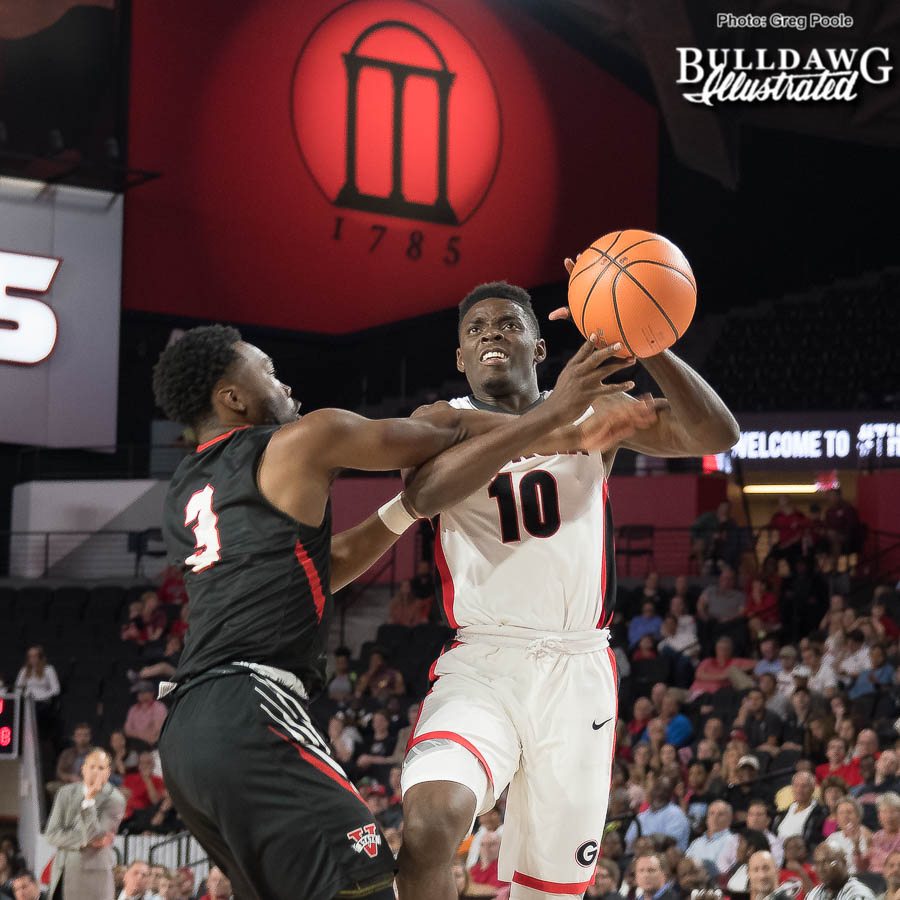 Welcome to the Bulldawg Illustrated Hoops Report. It's like loving your job. And that's exactly what Mark Fox does. As soon as he's on the way out the door, things get real. All of a sudden the Dawgs have won back to back games in the SEC Tourney in as many days. Up next, is Big Blue! Kentucky is Kentucky. They crank it up in March. They're preparing to make a run to the SEC Championship game and padding their resume for a higher seeding. They're not sneaking up on anyone. So we know what we're getting. But before we worry about them, let's talk a little about the Missouri game.
This game wasn't pretty. It played out exactly like a plethora of games over the past two seasons that the Dawgs lost. Play great for 35 minutes and collapse in the last five. However, some how, some way Mizzou missed a wide open three at the buzzer and the Dawgs walked away with a 62-60 win. Yante Maten was again the best player on the court and in the SEC with another double-double. But it was all about defense. The Dawgs held the Tigers to 24 first half points. This was a team that was red hot offensively the last two weeks and had possibly the number one pick in next year's NBA draft coming back. Oh, and the game was in St. Louis. The game spelled disaster for the Dawgs. But they pulled a rabbit out of a hat. Survive and advance.
Now here's the deal about UK. We know it's March. But this team has had some head-scratchers this year. It's impossible to know how really good or mediocre they are. Will I put UK in my Sweet Sixteen bracket? Yes. Can they win the SEC? It's very possible. Do I like the Dawgs' chances? Absolutely! Now I'm sure we're going to be tired. I'm sure we were tired in 2008 when we won three games in approximately 25 hours to take home the title. Just like '08 with Sundiata Gaines, we have a leader that doesn't like to lose. If we don't turn the ball over and play another game of solid defense like we've done most all year, we can get it down to another five minute game. That's what happened on New Years Eve in Lexington and we came up on the short end of the stick. But we showed we can play with them and there's no fear. We're also a desperate team and desperate teams are dangerous.
So here we go. We faced UK in the same round of the 2008 Conference Tournament. We won it in OT. UK had much less talent and a much worse coach that year. But the Dawgs are much better in both aspects as well. And we're desperate! We've felt the pain of losing a dozen games over the last two years to really good teams that we outplayed most of the contests. We finally had one go our way against Mizzou. It felt good. So let's tip this thing off. It's just another day at the office for Coach Fox and his guys. And this coach loves his job. Go Dawgs!!