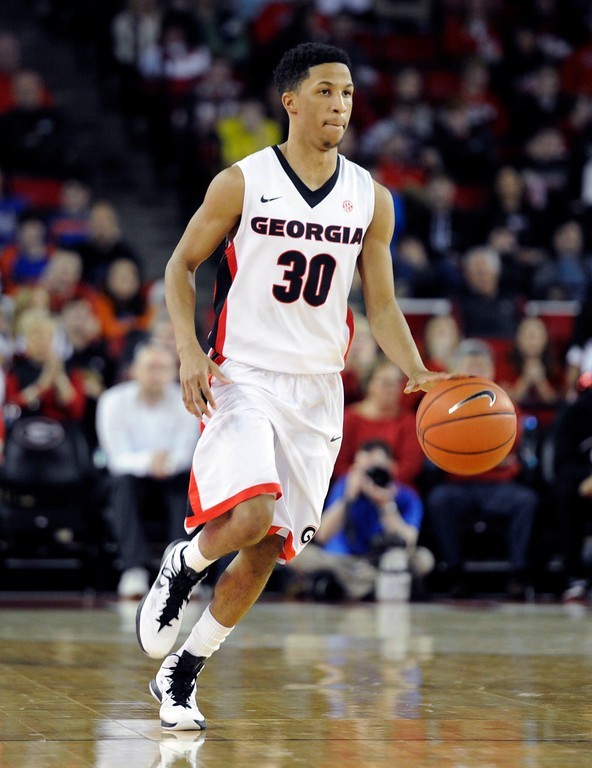 [break]
Welcome to the Bulldawg Illustrated Hoops Report. It'a like Good Times with JJ Walker. Except our JJ is 
Frazier
 and he is dyn-o-mite!
[break] [break]
If I'd ask you how the heck UGA beat Mississippi State on Saturday, you'd probably give me the obvious, "We scored more points than they did". That's the answer Bobby Knight gave Hannah Storm on his first ever post-game interview. But the second answer would have to be "We have JJ Frazier". What he did this past Saturday will go down in UGA history. He scored 37 which was the most scored by a UGA player since 'Nique scored 37 in 1981. He was 12-14 from the floor and 7-7 from the three point line. That three point perfection tied a UGA record with Ezra Williams. The 37 is also the most points scored by a SEC player this year. He shouldered the load on a day when no one else had more that 10. The win put UGA in a five-way tie for second in the conference. With the next two games consisting of Vandy at home and South Carolina on the road, the Dawgs need to at least split the those two. As long as we can do that, the worst we'll be in conference is 5-3 heading to UK and looking good for the Big Dance. Due to our strength of schedule, 9-9 in SEC would almost certainly put us in the field of 68. Right now, our 

cumulative

 percentage to make the tournament is currently 73%. But before we get ahead of ourselves, let's review what transpired on Saturday.

[break] [break]
Miss State is not a really good basketball team. However, most road games in the SEC are tough. So when The Bizarro Bulldogs came out red hot last Saturday, the Dawgs were immediately playing catch up. Even when Miss State missed, we couldn't get the rebound. They beat us on the offensive glass 18-6. Our only saving grace was they shot 33.8% from the floor. Somehow, we caught them and took 30-29 lead late in the first half. They then hit a layup to take back the lead. Then Frazier and Charles Mann hit back-to-back threes and we amazingly had a 36-31 halftime lead. The second half was all JJ Frazier. He score the first 12 points of the second half and paced the Dawgs to a 48-36 lead. It appeared at that point the Dawgs were about to take control and then the roof caved in. State hit a three and Kenny Gaines, who was the only other Dawg in double digits with 10, was called for a foul off the ball. So State got it right back and hit a guy diving to the basket for a five point play. Then we turned it over on the next position for a breakaway dunk with 14 minutes left. Again, they had all the momentum. Then to make matters worse, we picked up our 10th foul with 12 minutes to go. With a thin bench, life on the road was getting difficult. But we had JJ Frazier and State had no answer. The lead ebbed and flowed from three to eight down the stretch. With UGA up 69-66 and Frazier at the line with :29 to go, he missed a FT. However, that's not a problem because the littlest man on the floor got his own rebound in the land of the giants. He ended up hitting three of his last four to ice the game and the Dawgs got another huge road win 72-66. Up next, Vandy!
[break] [break]
Vandy has one really good player and a very underrated coach. So they're always tough. We have to figure a way to stay out of foul trouble. If we can do that, we're a tough matchup for them. We played a very mediocre game up there two weeks ago and still won somehow. Riley LaChance score 21 but struggled when Gaines was on him. If we can keep Gaines on the floor and out of foul trouble, then that will hopefully limit LaChance. Once again, the Dawgs have to limit the turnovers and make the easy ones. We blow a lot of layups and offensive rebounds. I've about giving up on shooting over 75% from the stripe. We just need to shoot a lot more FTs than our opponents. That's our only chance there because we shoot mediocre as a team. We play solid defense and good team basketball. Vandy should be a win for us, but it won't be easy.

[break] [break]
So with UGA tied for second, we need some home team support. Get out to the Steg on Tuesday and get fired up. While we're not playing the prettiest games in the country, we're finding ways to win. Eventually, I think we will put it all together. We've been hit by injuries all year long, but keep figuring out ways to win one game at a time. At some point, our talent is going to start breaking through. Once that happens, this will be a really good team. We're still sort of feeling our way at the moment. While we played a great game vs Florida, we're not yet clicking on all cylinders. A raucous crowd on Tuesday night might well be what the doctor ordered. So tell James, Florida, Michael, and Thelma that you and JJ will be turning it up at the Steg on Tuesday. And I'm hoping again JJ will be Dyn-o-mite! Go Dawgs!!