Year in and year out, avid supporters of Georgia Basketball hit the reset button, excitedly wiping the slate clean in anticipation of a "fresh start." Sure, there have been misleading glimpses of hope over the past twenty years. Boy, was it fun watching Dennis Felton's scrappy 2007-08 squad catch fire in the SEC Tournament's "tornado year," capturing the conference title in a four-day mad dash that culminated with a trophy hoist on Georgia Tech's home court of all places? Under Mark Fox, two Dawgs teams (2010-11 & 2014-15) snuck in the NCAA tournament. Outside of those outliers, however, one would be hard-pressed to find another power-5 men's hoops program that so accurately defines the word underwhelming. No SEC team has had fewer wins or a lower win percentage over the past two decades than Georgia.
Yet, there's reason to anticipate an ascension from the doom and gloom that has been UGA Basketball. Hope is rising, as are expectations. The leash for new coaching regimes in Athens is indeed getting shorter. Mark Fox was given nine seasons. Tom Crean was given four. Just last year, A.D. Josh Brooks announced the hire of new Head Coach Mike White, who has pledged a commitment to a greater emphasis on in-state recruiting and talent development. White is younger and seemingly more willing to plant roots in Athens than his predecessors. We've seen a similar theme with other new hires across Georgia athletics. Brooks has done a remarkable job of generating excitement across the athletic department. Until proven otherwise, one would be unwise to doubt the results will be anything other than worthwhile.
Watch a fullscreen slideshow
HERE.
Just this month, Brooks announced a revamping of seating in Stegeman Coliseum set to take place beginning in the 2023-24 season. The new plans would feature a strong emphasis on students, with the introduction of new court-level student sections. A similar trend has been seen around the SEC and college basketball as a whole. Raucous student sections are featured on ESPN and the like throughout the season, accomplishing two key objectives: an increased home-court advantage and greater publicity for the featured schools. It's not difficult to fill in the blanks of the potential effects on recruiting. Today's most talented players want to play in the best atmospheres that demand the largest number of viewers on a weekly basis. For the past several years, Georgia has lagged behind its Southeastern Conference counterparts in the arms race that is basketball infrastructure. Perhaps the new on and off-court changes being realized in Athens provide evidence of an uphill trend for the Hoop Dawgs; and, with it a renewed sense of excitement for the future of UGA Basketball.
---
---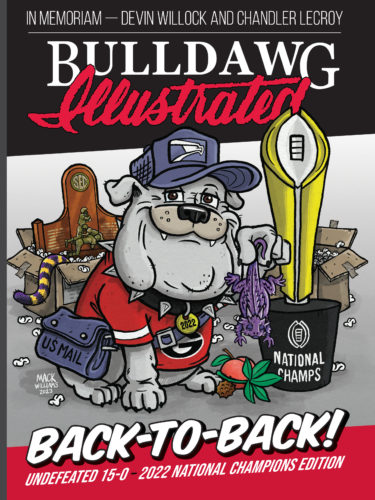 Purchase your print copy of our 2022 Bulldawg Illustrated National Champions Edition now. Or get a back-to-back set, which includes both the 2021 and 2022 Bulldawg Illustrated National Champions Editions.
The mega-editions includes game, scene, fan, and final perspective content, plus over 150 fan photos from the games and the epic National Title campus celebrations in Athens.
Available in singles and 5-packs. All orders include sales tax and shipping.
Order 5 copies of 2022 National Champions Edition $70.00 – Click HERE
Order a single copy 2022 National Champions Edition $28.00 – Click HERE
Order 5 sets of both the 2021 and 2022 Nat. Champions Editions $99 – Click HERE
Order one set of both the 2021 and 2022 Nat. Champions Editions $50 – Click HERE