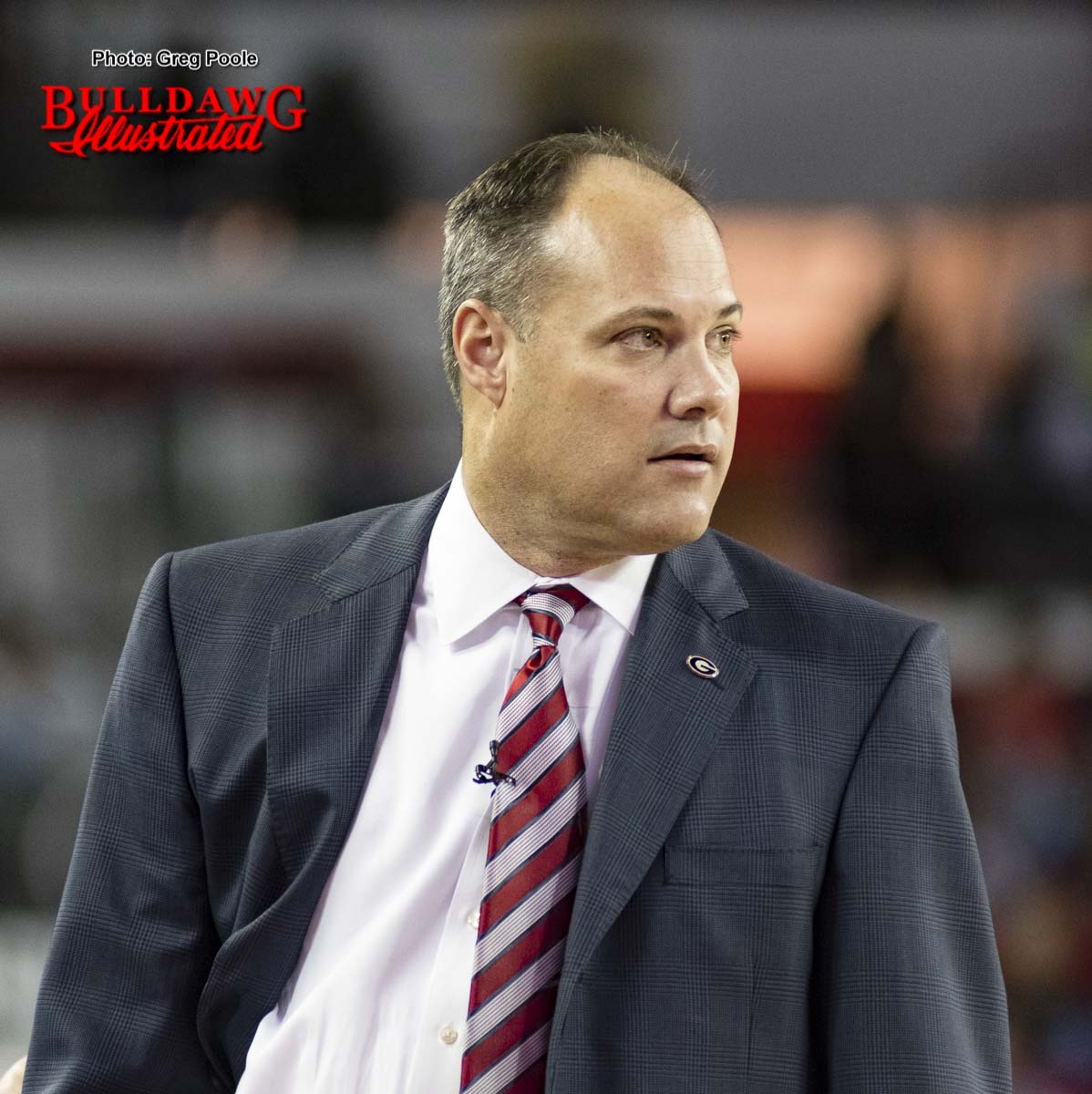 Lovely downtown St. Louis, where a much-anticipated men's basketball tournament began. 13 seed Vanderbilt coming off a 55% shooting game in their last meeting with the Hoop Hounds, but that was in Nashville. Somewhat similar cities but light years away for these two programs, in much different predicaments.
Vandy simply in a rebuild and retool year with a top fifteen recruiting class coming in, after a strong NCAA tourney team the season prior. Georgia much more dramatically playing for head coach Mark Fox's job.
The Dawgs started the game shooting just 1-of-5, young Rayshaun Hammonds with a nifty inside basket. As SEC Player of the Year Yante Maten connected on his first three-pointer, Georgia went up 7-0.
It's been fool's gold to watch first halves, as UGA has faded in so many seconds, including dropping three of the last four contests. When Fox most needed regular season wins – after a brief but glorious glimmer of hope provided by huge, consecutive wins over Florida and Tennessee – the league losses mounted, instead. The home game win over LSU I attended, which featured UGA's bigs dominating inside to complete a season sweep, was the only victory over that tough streak. UGA lost by one at home to my grandaddy's school Texas A&M, in a Senior Night game they should have won. Georgia almost denied the Vols a share of the SEC regular-season title, before going quiet late at a loud indoor Rocky Top.
Vandy missing their first seven shots boded well, though, in the de facto play-in opening Tuesday night of a long SEC weekend. Maten rattled in another top of key three for a 10-0 lead, still sounding like a football score in the Show Me State. The Commodores with absolutely nothing over a full five minutes, to start.
Then, the 'Dores awakened somewhat with a couple buckets. Maten hit a pair of free throws, and at 12-4 it was already clear Vandy would have no answers for the all-star this time around; Maten in full awareness that he is playing for a continuation of, not only his stellar college career, but the probable coaching tenure of his head coach.
Tyree Crump with a two, it was 14-6. At 16-6, Georgia completely controlled the boards and looked in command. Mizzou on the horizon, the Big Blue behind them on Friday should UGA win and keep winning. 18-8 was still ten, around the record-number of SEC entrants who'll get in the Big Dance, six being the notably low previous record.
The Bulldogs had an excellent shot at a huge year, this season, starting with the best record (10-2) of the Fox now-nine year tenure. It went south.
Wondering if Georgia can defy the odds that go with being a 12 seed and advance. The team is surely more talented than the seeding, in a league where this year any team could beat any team. I had even thought that, perhaps, Georgia could barely enter the NCAA tourney by winning all but the final. But at 7-11 to end the regular season that would leave them at .500 in all league meetings played. A final's loss would mean sub .500 in-league and probably out. So, the Dawgs simply have to win five games and qualify automatically.
A couple of threes and the lead surged to two full touchdowns, at 24-10. Then, the onslaught continued. 32-13 Georgia at 5:00 left in the half, Nicolas Claxton with a hoop. Showing off his length, Claxton added a dunk, and at 34-13 I started scouting explosive and essentially home-standing Mizzou.
That game, (3 p.m. Thursday) in essence doesn't matter big picture, though, as beating fabled Kentucky after would much more awaken the league to the fact that these Dawgs were ready to make a serious run at the league, and therefore, the bigger tourney.
At the break, it was UGA 43, Vandy 22. If it had somehow gone the other way and not been over, the Fox era surely would have been. 2011, 2015 too little and too far between.