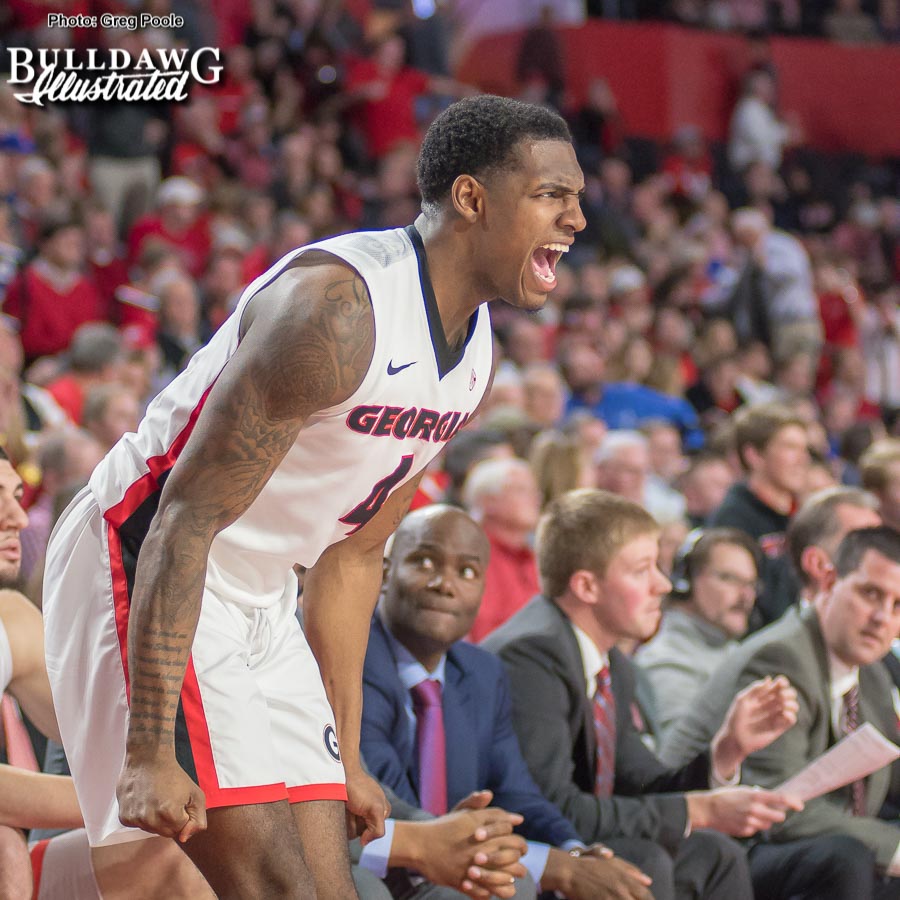 Han Vance on Georgia Men's Basketball: The hardwood Dawgs earned easily their biggest win of the season by whipping Florida, as the chants of "Just Like Football" finally lifted a stagnant, lately, Stegeman Coliseum. That's the way it goes when you are a football school marred in a basketball losing streak of three games and have dropped 5-of-6 overall.

The energy just isn't there. It actually takes clear momentum for the fans to get behind the basketball team with any excitement. More than it should. We have a good team this year and are playing in a very tough league, impressive how the SEC has risen in level of play and national recognition.
The previous loss at Kansas State was a game UGA looked to win late, as part of the Big 12/SEC Challenge. Instead, it was K-State's fourth-straight win. The Arkansas double-overtime defeat was the Hogs only road win of the year. In the end of that game, everything aligned right and our best player had the ball under their basket, down a point at home, and got packed. We also blew a 16-point first half lead, after blowing before that a 16, again, halftime edge at Aubie. Both Georgia and Arkansas were projected in the NCAA tournament at the time of their tilt, and the Dawgs remain on the bubble now. Having five wins over the Top 50, tied for best there in the SEC after the last win, is Georgia's best resume-builder at this point. February generally when basketball seasons get serious.
Haven't heard unwarranted hot seat talk or anything, but Fox is coaching for his basketball future and finding a way to best Florida was what I hope will be a defining moment in the volition of the program, getting another top-tier win to go with the early victory over ranked St. Mary's away from home. Plenty of big-win opportunity on the horizon.
The SEC tourney is way up and over in St. Louis this year, with the top four teams getting the double-bye. Georgia may enter needing total wins added much more than auto-advancement. We may need at least a few wins.
Former High School All-American Turtle Jackson is starting to show signs of maturation and guard skills, while Juwan Parker is playing with the measured hoops education belying a man going for his second master's degree. Yante Maten is the best player in the SEC, bar none. And suddenly young Clax – whose father I've tailgated with fairly recently and who I used to play with over summers in Athens when he played for Georgia – is the future. He was almost the off-the-bench hero complimenting Maten in the frontcourt perfectly late versus Arkansas. Then, the Florida win was his one-man world's smallest cocktail party, with shot blocking and savvy play. He's tall.
The future is now but three of four games are to be played on the road over another tough scheduling stretch, with only first in the SEC Auburn visiting Athens. The Hump of Miss State and at the weird home of Vandy in Nashville – where the coaches actually coach from under their baskets and the floor is elevated, theatrically – are unusual basketball settings but the teams aren't at their peak. At Florida, on Valentine's Day there will be no love spared.
Maten was right in saying, "We've got to make sure we string some wins together," but we've been okay at home and bad on the road. Therefore, I don't see us with a clear pre-tip edge in any of the next four games. A record of 2-2 with an upcoming 3-of-4 at home stretch after that seems fairly manageable. Then, if we can peak at the right time, we would still be dancing in March. Every win is crucial at this stage and we can't afford bad losses.
---
Recent Articles by Han Vance
[pt_view id="9a9402f8n5″]