Coach Mark Fox is still coaching for this basketball season. Huge Dawgs win 72-69 in overtime at the O-Dome of The Swamp.


Looking around the nation, I saw that his former school Nevada was ranked, with Georgia well outside the Big Dance bubble looking in, coming off three straight losses. Speaking of three, Fox coached Nevada to three straight NCAA tournament entries before getting the major conference gig he coveted, at Georgia. Over eight years, he had our Dawgs in only twice.


After Georgia's last win – an early February home victory over these same Gators – the Dawgs appeared to have enough life to at least make an NCAA tournament push even if it did fall short. But the losses kept coming.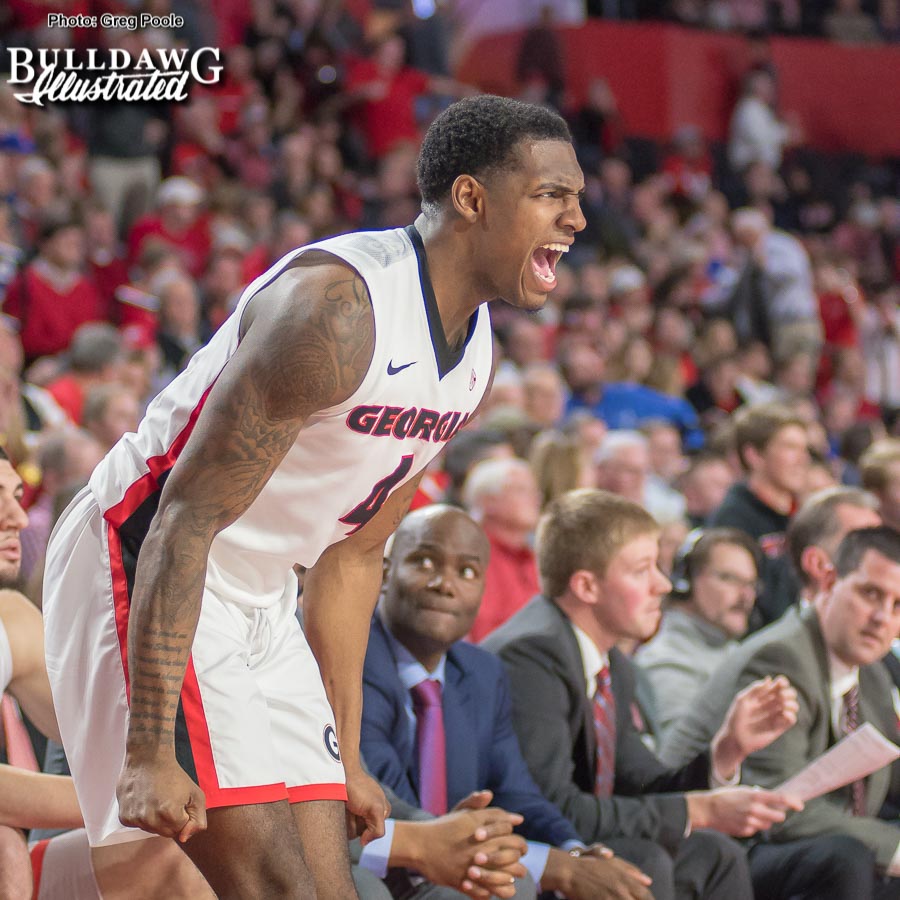 As the season continued to slip away, Georgia suddenly went on an 11-1 run to draw within one, at 51-50, no Gators with hoops for a full eight minutes. A signature Fox game is keeping the opponent's score low, and ball pressure was the clear key to the epic comeback.


When young Tyree Crump (13 points, 5 rebounds, 5 assists) hit his second three-pointer, the Gators Rice-transfer marksman Koulechev answered, again. Then Maten had an inexplicable inside drop on a would-be dunk, but the Gators were up just 57-53.




Maten's scoring surged up to sixteen, as he hit a rare non-top-of-key three, their lead cut to 59-56 with 15.8 seconds left on the clock. They traveled on the inbound pass catch, after airtight defense forced a timeout. Maten went to nineteen on another three dead on, playing like the future SEC Player of the Year that he is. Could the year be salvaged?


It was 61-59, Dawgs, after Crump got it inside to Maten to start the extra period. Somehow, Georgia still lived. After a crushing Crump OT three, UGA was up six. The Gators choking and missing free throws on their home court. Maten pushed his scoring to twenty-three (with 10 rebounds).


Cocktail party: "Just Like Football" (42-7), again in the Sunshine State, Florida had no answer for Georgia's grit and fight. "We just wanted to keep competing," Mark Fox said after the first UGA two-game sweep of Florida since 1996-1997.


We have fourteen wins with this schedule remaining:
Tennessee in Athens Sat 2/17 (6p)
at S Carolina Wed 2/21 (6:30p)
LSU in Athens Sat 2/24 (2p)
Texas A&M in Athens Wed 2/28 (8:30p)
at Tennessee Sat 3/3 (6p)



If we can simply win the Athens games that would push us to seventeen total wins. Get another on the road, most likely at South Carolina, and that would be eighteen. Win a couple in the SEC tourney in St. Louis – which is possible with Maten not wanting to leave school without a serious fight – and that's twenty.


Georgia has reached the twenty-win plateau in three of the last four years (20, 21, 20, 19). Considering this season's key wins over St. Mary's (#15), Florida (twice) and Tennessee (if we can win one-of-two versus the currently 18th-ranked team) that should get the Dawgs dancing for the third time in the then-nine year Mark Fox tenure, which would surely continue to ten.