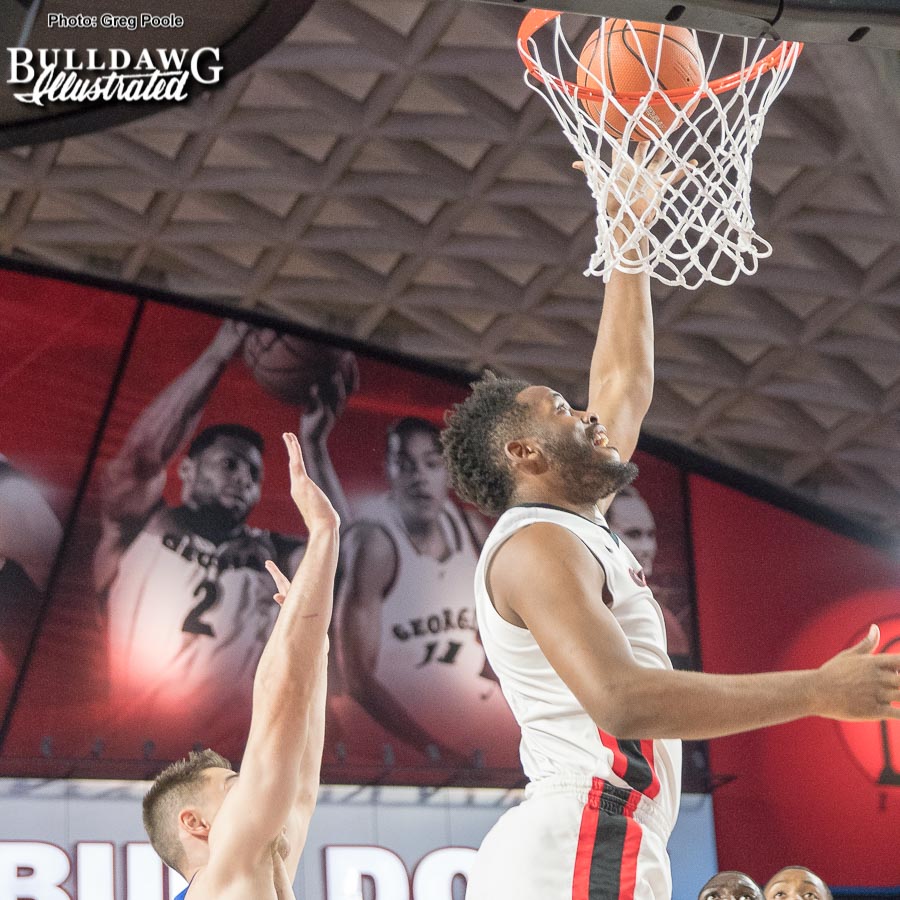 Han Vance on basketball: The Georgia men's basketball team faces the Vanderbilt University Commodores in the Music City of Nashville, Tennessee Wednesday night at 8:30 p.m. (EST). While Vandy is having the worst season of any program in the SEC, they are generally a tough out at home. As I mentioned recently, the coaches actually coach from under the baskets, not the side court. The court itself is elevated like you are watching a play in the theater.

Vandy always has marksmen, usually highly-intelligent ballplayers who can really shoot the lights out. On this team the guy to watch out for is Riley LaChance, who you can't miss because he's a white guard with a classic Tennessee duster mustache. Vandy – like Kentucky, Missouri, Arkansas – is a basketball school. The other ten schools in the SEC clearly favoring football. So, folks get into it and it's a somewhat affluent urban and suburban Nashville crowd, more versed in the ins-and-outs of roundball nuance than what you may experience at say Auburn or South Carolina.
Dawgs have dropped 6-of-8 and can't take another bad loss here, as Vandy's inferior record makes them a lower quadrant loss. Those are, in a big way, held against you by the NCAA tournament selection committee.
The following three games are against the current top three teams in the league, so It'd be of essence to go ahead and eke out a second league road win now. Our last outing at The Hump of Miss State featured zero first-half baskets by starters Yante Maten – still the leader for SEC Player of the Year; Juwan Parker – who should be mature enough to play better off Maten's double and triple teams; and former High School All-American Turtle Jackson – our starting point guard couldn't even put one in before the break, with all the focus on Maten.
Let's glance at all of the Southeastern Conference teams, as the league is at a historic peak, and how they relate to Georgia. We are a bubble team needing to get hot at the right time. The talent is on hand in Athens, and again, we do have the best player in the whole league. Getting six in was huge for your father's SEC, this is not your father's SEC. Ten could get in.
Newsflash: Kentucky is not the top team in-league this year. In fact, they just lost the season series in a sweep by Tennessee. Georgia opened league play at Kentucky on the last day of 2017, losing only our third overall at the time, to nine wins. Then, we beat Ole Miss in our only scheduled meeting.
The SEC tournament will be played in St. Louis, Missouri starting Wednesday, March 7th. The top four teams get double-byes, by the way. We played at Mizzou on January 10th, taking a whipping from the tough Tigers. That was our only scheduled meeting, but, of course, we could see any of these teams in St. Louis, which is definitely a cool city to visit.
We won at LSU mid-January, catching a tough loss in a game we almost won against South Carolina the game before. But, that would become more the trend than the exception. Arkansas also took us out in Athens, in extra periods. We went to K-State in the SEC/Big-10 Challenge and let one get away. Back to league play, we get the Bayou Bengals in Athens for a 2 p.m. game on February 24th. We go at South Carolina on February 21st, trying to avoid the sweep against a strong defensive unit. We don't see the Hogs again.
We played Bama in basketball right before the football CFP final, getting a better outcome in the Classic City. That's that for the neighboring schools. We finally play my paternal grandfather's school, Texas A&M, on the last day of February, having never met as league foes in football.
Okay, let's talk top three. Kentucky is young as usual and down to fourth, and we only saw them in that opener. Number one in basketball is Auburn. I know, it just sounds weird. We went up by sixteen at the half, at The Jungle, then they smoked us. They visit Athens this Saturday at 3:30, which doesn't sound weird at all.
Tennessee looks to be the second-best team in the league, Georgia hosting the Vols at 6 p.m. on February 17th and then visiting the indoor plumbing of Rocky Top on March 3rd, again at 6:00. Hopefully, we will be a tournament team before that March meeting, in our final regular season game.
Sandwiched between home games against the top two teams in our league is a love fest at The Swamp on Valentine's Day. That's a tough spot. We beat the Gators in our biggest win, fans chanting "Just Like Football" …but in hoops you may get a rematch in the regular season. They will be out for Bulldog blood and bombing threes from all over the court, I'm sure.
---
Recent Articles by Han Vance
[pt_view id="9a9402f8n5″]