Han Vance reporting from Athens: Came to press right before Senior Night, so this could be released as part of our proper salute to SEC Player of the Year-to-be Yante Maten, here at Bulldawg Illustrated.
There is a Mark Fox and Yante Maten billboard saying "Commit to the G" way outside of town on 316. It's amazing how polar different the current perception of these two gentlemen is, while essentially doing the same undertaking in terms of current body of work. Yante is beloved, Fox embattled.
Fox is on the hot seat in the Classic City per the big newspaper out of Atlanta, and while I may have been the first to issue a "hot seat watch" when UGA dropped 6-of-8 games, nothing negative has come down from the Athletic Department. A.D. Greg McGarity has generally spoken so admirably of Fox. With a (reported) 30+ schools and some supposed big names in big trouble with the feds currently, running a clean program is clearly at an all-time premium.
Coming into the Texas A&M game, the Hoop Hounds needed to win two in St. Louis, I figured, plus win out the two remaining games of the season, including at Tennessee. Any losses just equating to more wins needed in the SEC tournament, because considering that long stretch of poor play midyear, UGA probably needs twenty wins to get in the Big Dance.
Recall, Fox has only made it twice, exiting in the first round to Washington when their program had a recent peak and then to Michigan State, in a tough draw as the Spartans were a physical Tom Izzo-coached Final Four team.
I think Georgia's wisest move would be to keep him, though, based on the credential that he was the only coach to win twenty-or-more games in three straight seasons at UGA, then followed it with an exciting nineteen-win team last season. That team had limited size in rotation, compared to the long, talented 2017-2018 team. This season has had its share of excitement, off to the best start in the Fox regime, with the biggest win a neutral-site victory in California over ranked St. Mary's. But down the stretch, this year's team has lacked the outside shooting to compete when league play has gotten tough. The SEC is to put a record number of teams in this season, with the previous league gold standard just six teams selected to the tournament.
J.J. Frazier is sorely missed this season more as an outside shooter and scorer than facilitator because Turtle Jackson has done a nice job there. A High School All-American out of Athens, he hasn't been a big scorer at Georgia. Crump can shoot when he is on, Diatta had a game where he drilled a few. Hightower can connect. But none of these names compel the opposition to prepare, and Fox has gone deep into the rotation late in the year looking for a spark. Late in road games and in close games when it gets tight, shooting and superior guard play are generally what separates the sides.
This iteration has seen Yante Maten, who went out in the NIT last year, desperate for a chance to dance. After passing on an early shot at pro riches, he is complete in all aspects of his game as a senior. While he will never be tall for an NBA post player at 6-8, his fundamental development can be attributed directly to hard work and the coaching of Fox. Across college basketball in the coaching ranks, Fox is respected as a player development guy. Looking at his various teams at UGA, he has done better when he didn't have the single top-tier best player in the league. With Kentavious Caldwell-Pope and Yante, Fox has coached two of only three SEC Players of the Year ever at Georgia. Dominique Wilkins went out early after earning the honor, and Georgia made its only run to the Final Four the following year. Fox's team leaders have been different guys through the years, and he has been able to maintain a positive direction for Georgia basketball as a program by becoming a consistent postseason team, that should blossom into a perennial NCAA tournament team. But that hasn't been the reality yet for Fox at Georgia. They just haven't been able to get over the hump and succeed on the level the fans and alumni wish for at the school, though they have not been bad.
Yante Maten can crown in threes, at this late stage of his college career. But with no consistent viable second and third options, the team is steadfastly unable to benefit from all the attention Maten gets down low from the opposition. Two-three-four guys filter to Yante as he calls for and gets the ball, more often than not with fundamentally sound positioning. He either scores or doesn't, but Georgia can't burn teams for leaving their post or man. Resultant, Fox has been nowhere near settled in rotation, playing as many as a full dozen, with little continuity of those in the game, who are unable to get into a flow. They crank up shots; they miss shots. They go back to the pine. While these players are young, the coaching regime approaches completion of nine full seasons in Athens. Georgia basketball should be having a better decade, by now. In fact, Mark Fox sat just .500 for his career in SEC league play entering the Texas A&M game.
I talked to some folks in Athens to hear their sentiments toward the men's basketball program and athletics at the school as a whole.
In the sun, the scalpers were fanning royal flushes of available tickets to scalp, and the empty seats spoke volumes about how the season had gone, an on the books home sell out of Stegeman Coliseum was nowhere near capacity.
Alex Drag, an English major from Snelville, was saying to his girlfriend's parents early at the LSU game, "I guess this might be Mark Fox's last game." Of course, Fox would coach out the season and the Dawgs are still competing in the SEC tournament for the league and for the NCAA tourney, as the calendar turns March. And of course, the Bayou Bengals were to have no business with the Dawgs, as we had four big men with huge games including a double double for Derek Ogbeide and Rayshaun Hammonds biggest game with twenty-one. "Yandelobro" as he is known on socials, had lots of dunks and this line: 26 points, 1 assist, 11 rebounds, 6 blocks. His defense, underrated.
Mr. Drag continued (to me): "I don't know where he is in his contract, but this is a season that does not bode well for Fox." I asked about the Athletic Department. Mr. Drag replying, "Football has always been a big deal. They've done a great job with that. With all the renovations," as he gestured around the arena with his arm, "the Athletic Department is trying make this a football and basketball school. We are starting to get some better recruits. Hammonds is an amazing player. The point guard coming in next year." (Note: Fox since received a decommit from PG Ashton Haggis).
Two pair of my brothers and sisters in-law were in Athens for a country concert and some delicious Weaver D's soul food, which I had joined them in enjoying before the game. Alumni Johnny Vance (1990 BBA Finance-Honors) of Marietta spoke to me on UGA Athletics and Mark Fox at the half saying, "Football is king. And when we're rolling, it provides cover for everyone. He runs a clean program and I used to play basketball with his assistant, Matt Bucklin, at YMCA a decade ago. I say give him another year."
I spoke briefly with Matt Stinchcomb of Georgia football fame and SEC media, who I went to school with at UGA. And afterward got a warm "Good to see you" and handshake from Charles Claxton (father of Nicolas) of Georgia basketball fame, who I have tailgated with fairly recently and used to play pickup with, in summer.
The school allowed free entry to the second game of a Georgia baseball double header with a basketball ticket, and it was a gorgeous sun shining late winter day that was reminiscent of springs past. Matt Fasick, a resident of Oconee who enjoys taking his young daughter to see college baseball and is a friend I know from Marietta (and Athens tailgating) said, "Well, it's not football but always good when the other Dawg teams are competitive."
At the Roadhouse bar downtown early evening, Michael Ciucevish (Athens native), William Hartman of UGA lore's grandson, spoke to me of his granddaddy on his mom's side and Georgia sports, as he prepared to depart by bus for a family camping trip on Little Tybee.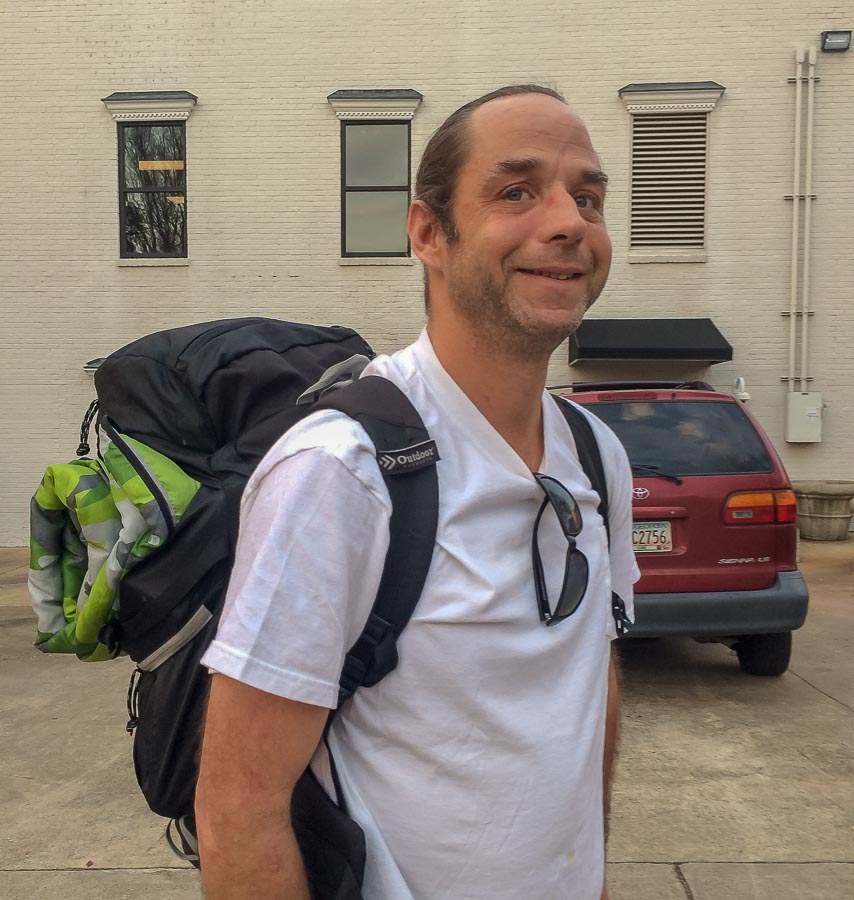 "Great guy, this is the most humble person I've met in my life. I remember when he was dying, he'd tell us every game. Just like that. LSU, Auburn or Clemson. When he was on the field, 50-yardline giving an award. Uga got under his feet. He fell. My mom thought he had a heart attack."
"How do you feel about the Athletic Department?" I asked.
"I think it's very strong. I think we are building a [football] team, once we get everything together we should win it. Next year, we should win the national championship. They just got tight…King Kirby's got some good players coming in. Basketball they are just okay. As far as other sports: I just found out it was baseball season, when my friend told me. Athletics as a whole is an art. It's how well the players play. If the art is that good, it gets rewarded, with a win, a championship."
At the Manhattan Cafe, Johnny Idol (Athens native) who graduated with an early MIS degree from UGA in 1985 said, "I figured this year with J.J. Frazier graduating they'd have a tough year with the guard play, the turnovers. With all the corruption cropping up right now and McGarity saying 'we love the way he runs the program,' it gets back to Mark Richt. From a football perspective I thought that a change needed to be made to get to the next level. I think Mark Fox maybe should go. But all this cheating stuff coming down and Fox saying, 'it's the tip of the iceberg.'"