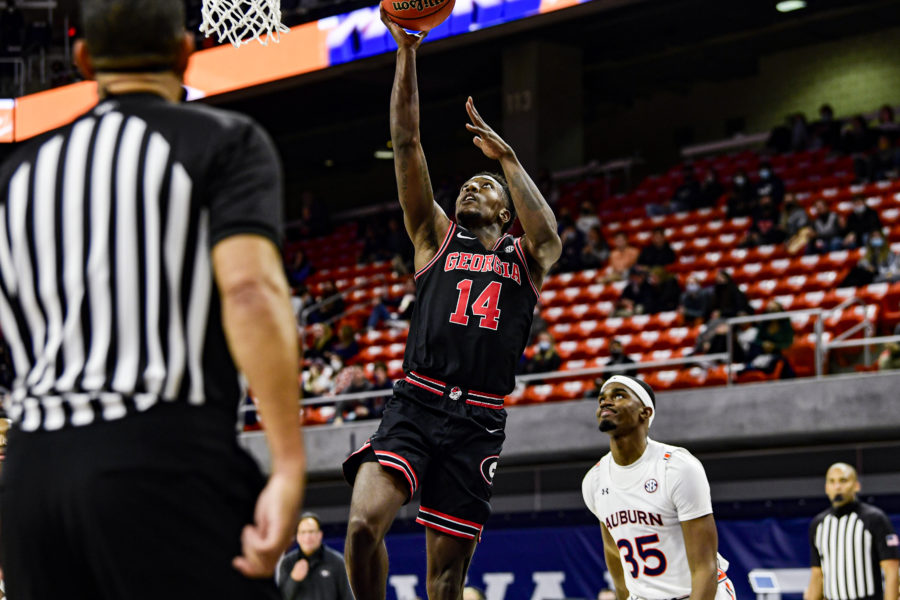 It was less than three weeks ago, when the Auburn Tigers traveled to Stegeman Coliseum and dominated Georgia in a game that made the Tigers look like men amongst boys in the paint. Georgia returned the favor on Tuesday night though, winning 91-86 at Auburn Arena in one of the Bulldogs' best offensive performances of the season. 
What started as a second half with both teams trading baskets eventually turned into a 14-2 Bulldogs scoring run, which gave Georgia a 15-point lead. Auburn tried to cut that lead down, but never got within four points. Georgia had six players score in double-figures for the second time this season, a testament to head coach Tom Crean's offense and his foundation of collectiveness.
Tye Fagan led the Bulldogs with 16 points, seven of which came before the first media timeout. Fagan's fearless slashing and finishing ability at the rim helped set the tone for the Bulldogs, who led for over 39 of 40 minutes in Tuesday's contest. Georgia outscored a normally physical Auburn team in points in the paint by a 52-34 margin.
"They came in believing that they would win," said Crean on his team. "We were very focused. We had very good energy and they were very locked in, and I think it showed in the way we played. It was as detailed of a game as we have played with what we wanted to do in coverage."
Watch a fullscreen slideshow
HERE
.
The most important aspect of Georgia's performance tonight though, is that the Bulldogs finally started to correct the mistakes that have plagued them at times this year. For most of SEC play, Georgia's biggest weaknesses have been turnovers and rebounds – things that were even apparent in the win on Saturday against Ole Miss.
Georgia won the rebounding battle 40-32, which included a 13-7 margin on the offensive glass. Toumani Camara was able to stay out of foul trouble for the most part and finished with a game-high 12 rebounds. It was no coincidence that having the team's leading rebounder on the floor significantly helped in that category.
Georgia only turned the ball over 13 times, which was impressive for two reasons. First, they average 17 turnovers on the season, so even in wins, there have been times where the turnover numbers are way higher than 13. But also, Auburn is a team that likes to match the high-speed pace that Georgia normally prefers to play at. When both teams are sprinting back and forth with guards as fast as Sharife Cooper and Sahvir Wheeler, the game sometimes becomes prone to turnovers. Georgia made sure that was not the storyline tonight.
"We didn't try to make plays that weren't there," said Crean. "The biggest key offensively was to trust the next pass when we get around the rim."
It is hard to say Georgia stopped Sharife Cooper. The Auburn freshman sensation scored 19 points and finished with a game-high nine assists. However, the Bulldogs' defense limited Cooper when necessary by putting multiple defenders on him to show him different looks. When you compare the 28 point, 12 assist performance that Cooper put on the first time these teams met, Tuesday night's statline looked modest.
The Bulldogs have now won two in a row, improving to 11-6 (4-6). They now have some momentum heading back home to face a Vanderbilt squad who only has one conference win this year. If Georgia can win that game, it will be the first time since 2017 that Georgia has won three straight conference games.
Defending Scottie Pippen Jr. (21.7 PPG) will not be an easy task, but for the first time during conference play, Georgia basketball fans should have something to be excited for.