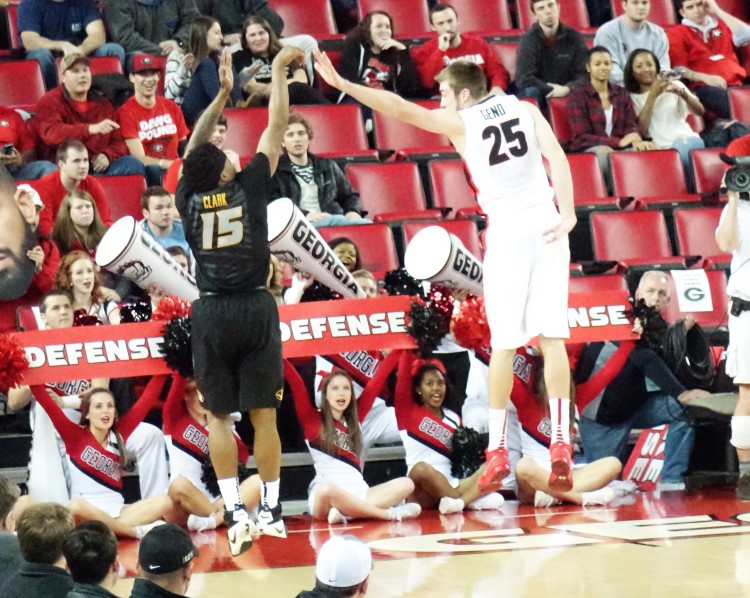 The Georgia men's basketball team (8-4, 1-1) downed the Missouri Tigers (7-7, 0-1), 77-59, Wednesday night at Stegeman Coliseum shooting a season-high 54.7-percent from the floor to earn its first Southeastern Conference victory of the season.
With the win the Bulldogs and Tigers are now 4-4 all time, however, Georgia owns a 3-1 edge in games played at Stegeman Coliseum.
The Bulldogs were led offensively by guard J.J. Frazier with 16 points, which included Frazier hitting his 100th career three-point basket. Yante Maten and Charles Mann joined Frazier in double figures with 15 and 14 points, respectively. Mann became UGA's all-time free throw attempts leader in the contest with 748 career attempts.
"We certainly started the game very well," head coach Mark Fox said. "I thought that we had a good focus about us. We played well at both ends to start the game. We certainly played very well on the defensive end to start the second half. It was good to play from in front."
[foogallery id="74504″]
Georgia raced out of the gates to a 10-0 lead just 3:39 into the first half. After starting the game with three-point baskets from Frazier and Kenny Gaines it was all Maten for the next several minutes. The sophomore scored 11 consecutive points for the Bulldogs over the course of the next five minutes. The Tigers closed the gap with a couple three-pointers of their own to bring the score to 24-18 at the 8-minute media timeout. Georgia responded scoring an additional 21 points in the final seven minutes to score a season-high 45 points in the first half for a 45-32 lead at the break
The Bulldogs forced the Tigers to miss their first 11 field-goal attempts of the second period. UGA's defense never allowed Mizzou any comfort in its offensive sets, holding the Tigers without an offensive field goal for the first 7:22 of the second half. The Bulldogs continued to hold their own on the defensive end, holding Mizzou to a mere 23.1-percent shooting on the half. UGA spread out the wealth on the offensive end with eight different Bulldogs scoring in the period. Georgia never trailed at any point during the contest.
The Bulldogs head to Oxford, Mississippi on Saturday, January 9 to take on Ole Miss at 8:30 p.m. ET. The game will be televised on the SEC Network.