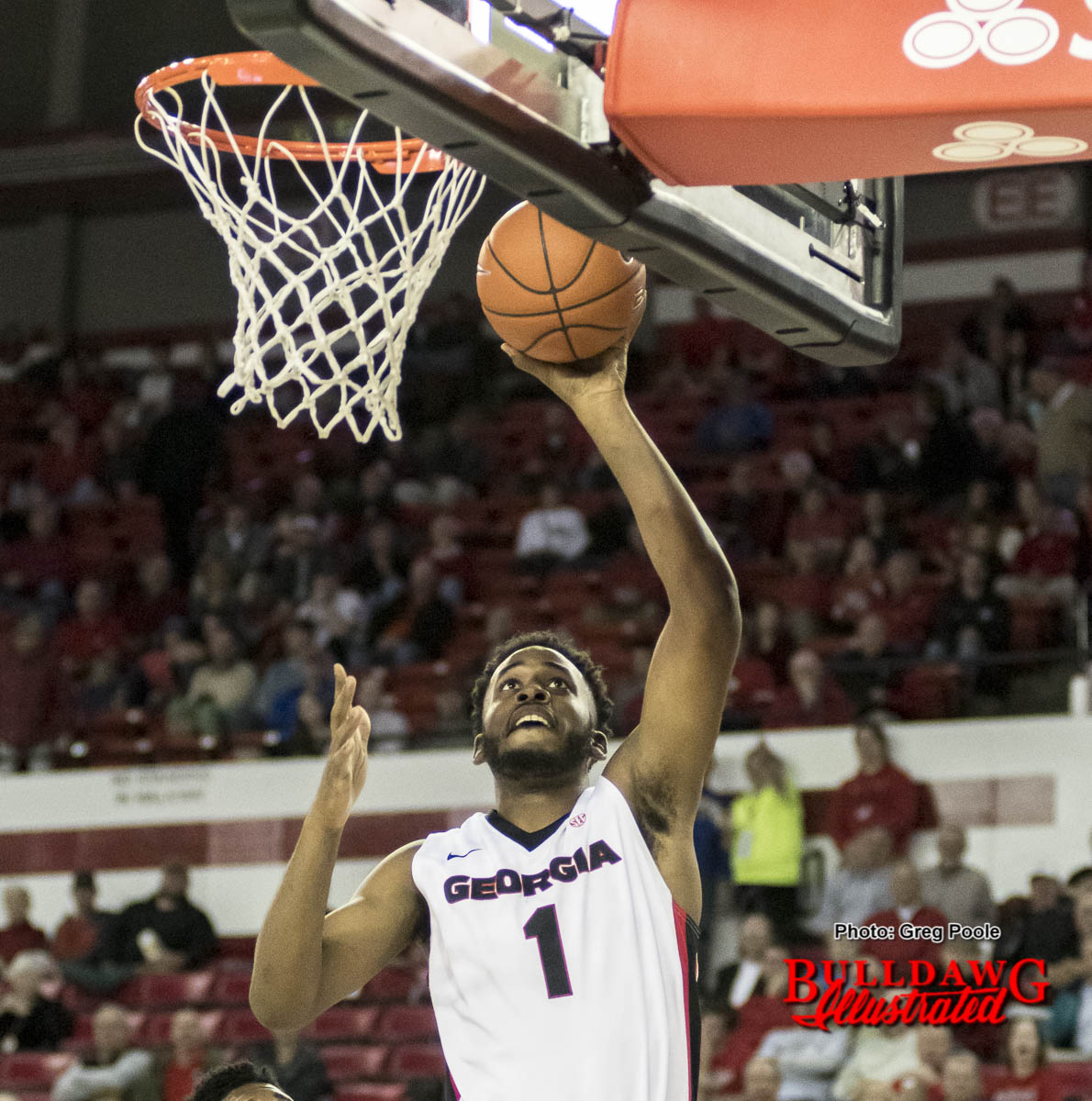 Georgia (16-13, 7-10) vs. No. 16/17 Tennessee (22-7, 12-5)
Saturday, March 3 at 6:00 p.m. ET
Thompson-Boling Arena (21,678) in Knoxville, Tenn.
Watch: SEC Network (Mike Morgan, play-by-play; Dane Bradshaw, analyst)
Listen: Georgia Bulldog Sports Network. (Scott Howard, play-by-play; Chuck Dowdle, analyst; Tony Schiavone, producer); Flagship:WSB AM 750 Atlanta
The Starting 5…
• Yante Maten is all but certain to become just the fifth UGA player to lead the SEC in scoring.
• UGA leads the SEC and is ranked No. 8 nationally in FG percentage  defense at .394.
• UGA has 8 combined "Q1" & "Q2" wins, more than 47 teams ahead of UGA in the RPI.
• Juwan Parker, the only DI MBB player with a master's, is now 3rd on UGA's career FT pct. leaders list.
• Nicolas Claxton started at Vandy, becoming the 9th current Bulldog to start as a freshman.
Dogs Conclude Regular Season With Rematch Against Tennessee
The Georgia Bulldogs wrap up the regular-season campaign on Saturday evening when they trek to Knoxville to face No. 16/17 Tennessee at Thompson-Boling Arena.
The Bulldogs are 3-3 to date against ranked opponents this season, with wins over No. 21 Saint Mary's, No. 23 Florida (in Athens) and No. 18 Tennessee (in Athens).
Georgia is currently 16-13 overall and 7-10 in the SEC. The Bulldogs are tied for 10th in the SEC standings, a game out of eighth. Georgia could be seeded anywhere from No. 9-12 at next week's SEC Tournament.
Yante Maten, a leading candidate for SEC Player of the Year honors, paces the league in scoring, both overall and in conference action. Overall, his 19.4 ppg average is 1.3 ppg more than any other player in the league (Arkansas' Jaylen Barford and Alabama's Collin Sexton are second at 18.1 ppg). Maten also leads the league in double-doubles (13) and ranks among the SEC's top-10 in rebounding (No. 2), minutes played (No. 2), field goal percentage (No. 7),  free throw percentage (No. 6) and blocked shots (No. 10).
Maten has been a picture of consistency for the Bulldogs. In 29 games this season, he has 28 double-figure outings, with 15 20-point performances and 13 double-doubles.
Over 92 games since the start of his sophomore year, Maten has 84 double-digit scoring performances, with 37 20-point and five 30-point outings, and 28 double-doubles.
Juwan Parker the Bulldogs' second leading scorer at 8.8 ppg. He is averaging 9.6 ppg in SEC action, a considerable jump from the 7.4 ppg he put up prior to league play.
Tennessee is 22-7 overall and 12-5 in the SEC. Grant Williams leads a quartet of double-digit scorers at 15.4 ppg, followed by Admiral Schofield (13.2 ppg), Lamonté Turner at (10.7) and Jordan Bowden at (10.0).
Keeping An Eye On: Entering Today's Game
Among UGA's Career Leaders
Yante Maten is…
• 298 points from No. 1 Litterial Green
• 5 rebounds from No. 4 Jerry Waller
• 31 rebounds from No. 3 Alec Kessler
• 30 FGs from No. 5 Bob Leinhard
• 62 FGAs from No. 4 Dominque Wilkins
• 54 FTs from No. 3 Litterial Green
• 67 FTAs from No. 3 Alec Kessler
• 55 blocks from No. 2 Charles Claxton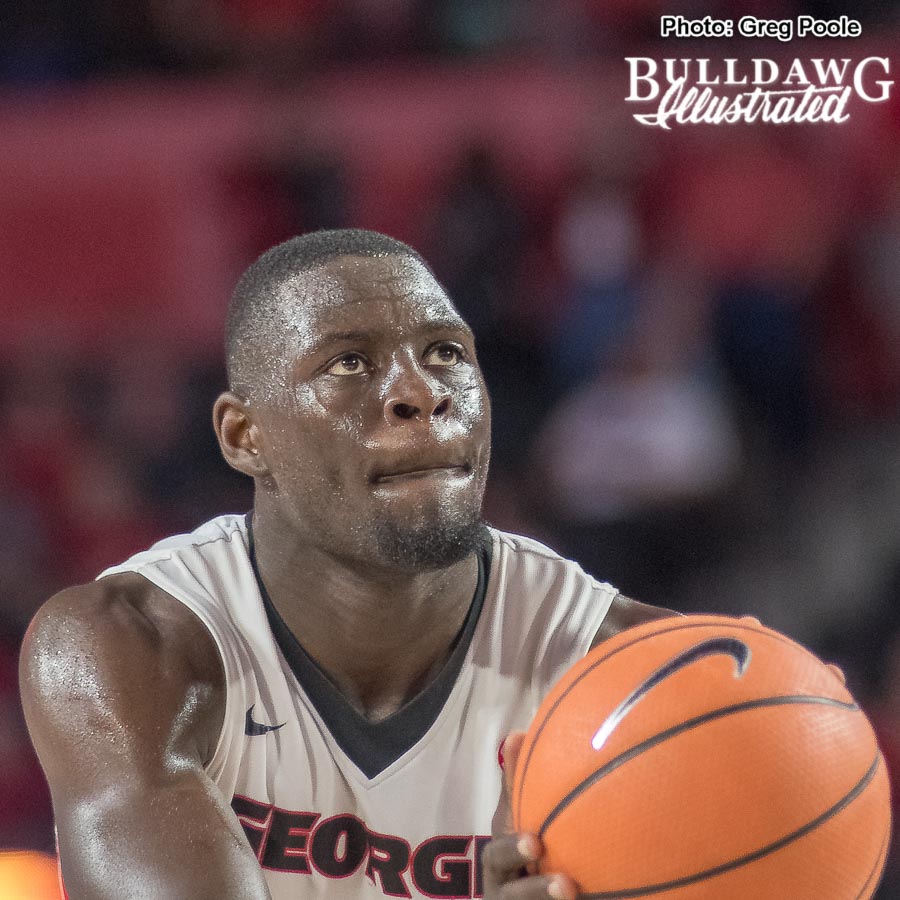 Derek Ogbeide is…
• 3 rebounds from No. 18 Shandon Anderson
• 4 rebounds from No. 17 Dominique Wilkins
• 49 rebounds from No. 16 Ray Jeffords
Among UGA's Season Leaders
Yante Maten is…
• 1 point from co-No. 17s Litterial Green ('92) & Jumaine Jones ('99)
• 10 points from No. 16 J.J. Frazier ('16)
• 12 points from No. 15 Vern Fleming ('83)
• 13 points from No. 14 Litterial Green ('91)
• 20 points from No. 13 Willie Anderson ('88)
• 25 points from No. 12 Jacky Dorsey ('76)
• 27 from No. 11 Zippy Morocco ('53)
• 28 from No. 10 Kentavious Caldwell-Pope ('13)
• 31 from co-No. 8s Bob Lienhard ('69) & Vern Fleming ('84)
• 2 rebounds from co-No. 18s Jerry Waller ('65) & Trey Thompkins ('10)
• 3 rebounds from No. 17 Derek Ogbeide ('17)
• 4 rebounds from No. 16 Phillip Simpson ('61)
• 5 rebounds from co-No. 14s John Johnson ('61) & Anthony Evans ('30)
• 15 rebounds from No. 13 Terry Fair ('80)
• 7 FTs from No. 5 Alec Kessler ('89)
• 18 FTs from No. 4 J.J. Frazier ('17)
• 3 FTAs from No. 8 J.J. Frazier ('17)
• 12 FTAs from No. 7 Charles Mann ('15)
• 14 FTAs from No. 6 Murphy McManus ('55)
Series History With The Vols
Tennessee owns a 94-60 lead in the all-time series between UGA and UT, including at 57-15 edge in Knoxville. 
Georgia has won five straight in the series, the Bulldogs' longest string of success against the Volunteers since winning six consecutive matchups between 1993-95.
Two weeks ago in Athens, Yante Maten's game-high 19 points led five Bulldogs in double digits as Georgia upset No. 18 Tennessee, 73-62, at a sold-out Stegeman Coliseum.
Maten started hot, scoring 11 points in the opening 10:59. That staked Georgia to a 13-8 lead it never relinquished the rest of the way. The margin grew to 21-12 before Tennessee closed the gap to two points at halftime.
The Bulldogs quickly regained control quickly after the intermission, pushing the lead to 38-28 in less than three minutes.
The Vols made is a one-possession game twice thereafter, but Georgia answered each time. After Tennessee pulled within 54-51 at the 5:14 mark, Tyree Crump nailed a 3-pointer to open a 9-3 run that made it 63-54 with 94 seconds remaining.
In the Bulldogs' last trip to Knoxville on Feb. 11 last season, J.J. Frazier scored 29 points and had game-high tallies of six assists and two steals as Georgia pulled out a 76-75 win at Thompson-Boling Arena.
Frazier played 39 minutes and led the way for the Bulldogs, who trailed by as many as 14 in the second half. Freshman Tyree Crump, in the first start of his career, added 13 points.
After leading by two at halftime, Tennessee pushed the margin 14 points early in the second half. Georgia rallied and tied the game at 58-58 on a pair of Frazier free throws with 8:21 to go. The Bulldogs took their first lead of the second half at 63-62 on a Frazier jumper at the 4:08 mark. A 3-pointer from Crump with 2:22 left made the lead six.
Tennessee was able to cut it to two, but Frazier converted on an old-fashioned three-point play to put the Bulldogs up by four before the Vols hit a 3-pointer at the buzzer.
Last Time out
Georgia dropped a 61-60 decision to Texas A&M on Senior Night at Stegeman Coliseum on Wednesday evening.
Yante Maten led the Bulldogs with a double-double of 16 points and 12 rebounds on his Senior Night.
The Aggies closed the first half with a 16-7 run to grab a 37-28 lead at the intermission.
The Bulldogs gradually closed that gap and took the lead at 53-52 on a pair of Maten free throws with 6:08 remaining. Georgia pushed that margin to 59-54 at the 3:05 mark, but A&M closed out the rest of the contest on a 7-1 run.