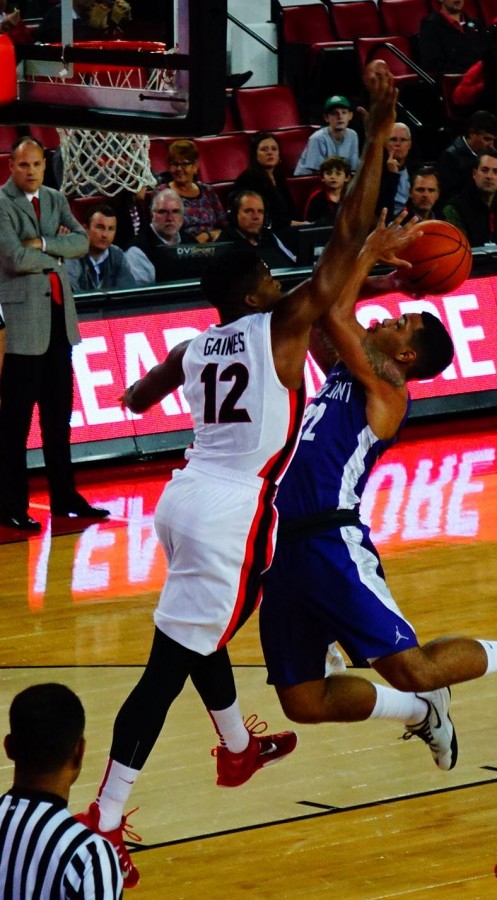 [su_spacer size="20″] Holding off a second-half comeback by the Panthers, Georgia (2-1) pulled out a 49-46 win over High Point (3-2) on Wednesday night.
[su_spacer size="40″] "I have too many moving parts, too many different lineups, and I have coached them poorly offensively," said head coach Mark Fox. "Obviously, tonight, with massive foul trouble, and we really don't have Derek [Ogbeide] and Yante [Maten], we're just trying to patch it together, and we just really did not play well offensively.
[su_spacer size="40″]
[su_spacer size="40″] "But that should take nothing away from High Point's defensive effort. I thought their defense was good. We obviously shot the three well in the first half, did not shoot it well in the second half, and didn't play beautiful. But we won, and we beat a good basketball team."
[su_spacer size="40″] [foogallery id="71758″] [su_spacer size="40″] HPU's John Brown cut the lead to one after a made jumper with under two minutes on the clock, but junior J.J. Frazier brought the score to 46-43 with a basket as the shot clock expired and 42 seconds to go. The Panthers again brought it within a point at 47-46 as 14 seconds remained. However, senior Charles Mann remained calm at the free throw line, hitting two to seal the win for the Bulldogs.
[su_spacer size="40″] Mann led the Bulldogs with 13 points after having an unblemished mark at the free throw line, hitting all eight attempts. Fellow classmate Kenny Gaines followed with 12 points while Frazier notched 10 points. Frazier tied freshman E'Torrion Wilridge with a team-best eight rebounds.
[su_spacer size="40″] Both offenses struggled, going 29 percent from the field, but Georgia's 17-of-20 from the charity stripe and nine defensive blocks propelled the Bulldogs to the win.
[su_spacer size="40″] Behind nine first-half points from each Gaines and Mann, Georgia headed into the locker room with a 33-22 halftime lead. A close game early, Georgia broke away with six minutes to go, as HPU went on a scoring drought of over four minutes, going 0-for-5 from the field during the span. Gaines did his damage behind the arc, as the Alpharetta native went 3-of-4, including a dagger with just over a minute left in the first half to put Georgia ahead by its largest lead of 12.
[su_spacer size="40″] HPU came out of the break to close the gap to five, but a Gaines block followed by a steal and Mann free throws put Georgia back up 37-30. The Bulldog offense stalled, going close to 15 minutes without a field goal, but free throws kept the Bulldogs with the lead, hitting 7-of-8.
[su_spacer size="40″] Georgia hits the road for the first time this season in its next game, as the Bulldogs face Seton Hall on Saturday, Nov. 28 for a 7:30 p.m. ET contest in Newark, N.J.
[su_spacer size="120″]