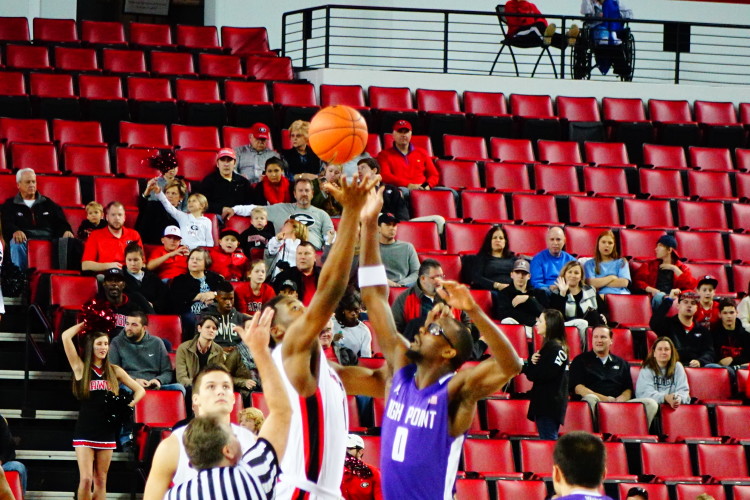 Georgia vs Missouri
Wednesday, January 6 at 6:30 p.m.
Stegeman Coliseum (10,523) in Athens, Ga.
TV: SEC Network (Mike Morgan, PBP; Joe Dean Jr., Color)
Radio: Georgia Bulldog Network by IMG (Scott Howard, PBP; Chuck Dowdle, Color; Tony Schiavone, Producer) Flagship: AM 750; Sirius: 145: XM: 190
The Starting Five
• MU leads the all-time series with UGA 4-3; however, the Bulldogs have won the last three meetings and are 2-1 versus the Tigers at Stegeman Coliseum.
• In the Jan. 3 editions, UGA was No. 51 in both the ESPN BPI and the NCAA RPI. UGA's schedule was ranked as the nation's sixth-toughest in the BPI and seventh-most difficult in the RPI.
• UGA is in the midst of its winningest two-year (23 Ws) and three-season (32 Ws) stretches ever in SEC play and is one of two teams to earn a top-4 seed in the past two SEC Tourneys.
• Yante Maten has recorded 20-point outputs in six of UGA's last eight games, averaging 18.9 ppg in that span.
• Charles Mann enters the Missouri game three FTAs and 33 FTs made shy of UGA's career records in both stats.
Georgia Faces Mizzou In Dogs' SEC Home Opener, Tigers' SEC opener 
Georgia hosts Missouri this evening at 6:30 in a contest that will serve both as the Bulldogs' Southeastern Conference home opener and the Tigers' initial league outing of the 2015-16 season.
Georgia enters the contest at 7-4 overall and 0-1 in the SEC following last Saturday's loss at Florida. 
Yante Maten led the Bulldogs offensively in Gainesville with 20 points, his sixth 20-point performance in the last eight outings. The sophomore continues to pace Georgia and rank among the SEC's top-10 individual leaders in scoring (No. 7 at 16.6 ppg), rebounding (No. 8 at 7.5 rpg), blocks (No. 5 at 1.8 bpg) and field goal percentage (No. 2 at .577).
Maten, J.J. Frazier and Kenny Gaines all scored in double figures against the Gators and each player now has eight double-digit scoring efforts in the Bulldogs' 11 games to date. That accounts for 24 of the 31 double-figure individual outputs by Georgia this season.
Frazier is chipping in 15.1 ppg, while Gaines is adding 14.4 ppg.
Missouri arrives in Athens with a 7-6 record following decisive wins over Arkansas-Pine Bluff and Savannah State to close the Tigers' pre-SEC slate.
Kevin Puryear (11.8 ppg) and Wes Clark (10.1 ppg) lead a balanced offensive attack with nine players averaging 4.7 ppg or more.
Keeping An Eye On…Entering Today's Game:
Among UGA's career Leaders
Charles Mann is…
• 21 points from No. 25 Jerry Waller
• 3 FTAs from No. 1 Litterial Green
• 32 FTs from No. 2 Litterial Green
• 33 FTs from No. 1 Alec Kessler
• 19 assists from No. 10 Donald Hartry
Kenny Gaines is…
• 1 point from No. 37 Gerald Crosby
• 30 points from No. 36 Rashad Wright
• 19 3FGs from No. 8 Jody Patton
• 19 3FGAs from No. 9 Ray Harrison
J.J. Frazier is…
• 6 3FGs from No. 18 Jarvis Hayes
• 1 3FGA from No. No. 19 Jumaine Jones
Series History With Mizzou
Missouri owns a 4-3 edge in the all-time series between the Bulldogs and the Tigers; however, Georgia possesses a 2-1 lead in games contested at Stegeman Coliseum.
The Bulldogs have won the last three games, beginning with a 70-64 overtime decision on Jan. 8, 2014. That victory snapped No. 21 Missouri's 26-game home winning streak.
In the most recent matchup last Feb. 28 in Athens, Nemanja Djurisic scored a game-high 14 points to lead Georgia in a decisive 68-44 rout over the Tigers.
The win was by the largest margin of victory in an SEC contest under Mark Fox and also gave the Bulldogs their 10th SEC win of the season, reaching the plateau for the second consecutive season.
Georgia dominated from the opening tip, scoring 20 points in the first nine minutes and ending the first half on a 21-10 run to build a 41-23 lead at the intermission. The Bulldogs opened the second half on a 14-4 spurt and kept the lead above 20 points for the final 17:49 of the game as every player on the UGA roster saw playing time.
Last  Time Out
Despite a game-high 20 points from Yante Maten, Georgia dropped its Southeastern Conference opener, 77-63, to rival Florida last Saturday night at the O'Connell Center in Gainesville, Florida.
Senior Kenny Gaines and junior J.J. Frazier joined Maten in double figures with 13 and 12 points, respectively.
The Gators entered the game as the league's worst 3-point shooting team at 27.4 percent but in the first half connected on more shots at a better percentage from outside the arc (six at 46.2 percent) than inside (five at 41.7 percent).
"They shot the 3-point shot a little bit better out of the gate than they had been shooting it," head coach Mark Fox said. "That was a factor. We had to play uphill all night. That probably was as big a factor as anything. They have a good team and they played better than we did."
The Gators built a 16-point lead in the first half and were up 38-31 at the intermission.  Georgia trimmed the margin to 43-39 just over three minutes into the second stanza but couldn't get any closer.
Dogs' "D" Consistent In Non-Conf.
Georgia held each of its 10 non-conference opponents under their field goal percentage for the season.
The Bulldogs held four foes to a shooting performance more than 10 percent lower than their season effort. Most notably, High Point, which ranks No. 22 in field goal percentage at .491, shot .297 versus UGA.
During the 2015 calendar portion of the schedule, Georgia's opponents connected on just 36.6 percent (218-of-596) of their shots from the field against the Bulldogs. Subtract out those totals and UGA's opposition made 45.8 percent (3203-of-6990) of their field goals attempted.
UGA In Midst Of Most SEC Success
Georgia entered SEC play looking to expand on its most successful two- and three-year stretches in league play ever.
The Bulldogs finished 11-7 and tied for third in the SEC last season. That followed a 12-6 record in 2013-14 when Georgia tied for second in the league and a 9-9 effort in 2012-13.
The Bulldogs' 32 wins over the past three seasons and 23 during the past two campaign represent UGA's most ever.
Georgia is one of only two teams to secure a top-4 seed to each of the past two SEC Tournaments, along with Kentucky. The Bulldogs and Wildcats also are the only two teams to reach the semifinals of both the 2014 and 2015 SEC Tourneys.
Gaines, Mann Rewriting Records
Seniors Kenny Gaines and Charles Mann are making their mark on Georgia Basketball's career scoring ledger.
Mann entered the season at No. 36 among the Bulldogs' all-time points leaders and has already ascended to No. 26 with 1,149 points.
Gaines became Georgia's 46th 1,000-point career scorer against Clemson on Dec. 22 and climbed past three former Bulldogs to the No. 42 position during the victory over the Tigers. He is now up to the No. 38 slot.
Maten A 20-Point Regular
Yante Maten has notched 20-point performances in six of the Bulldogs last eight games, including a streak of four straight.
Maten opened the stretch with 21 points at Seton Hall and matched that against Oakland. He then scored 20 points versus Kansas State before pouring in 24 against Winthrop. That represented UGA's first four-game 20-point string since Trey Thompkins recorded five straight 20-point outings in February of 2010.
The streak was snapped when Maten only scored 17 points (on 8-of-11 FGs) against Georgia Tech. He followed that with eight points versus Clemson before posting 20 points against both Robert Morris and Florida.
Maten's efficiency over the past eight games has been spectacular, connecting on 60.4 percent (55-of-91) of his shots from the floor and 84.3 percent (43-of-51) of his free throws during that span.
Bulldogs Solid In Computer Polls
The two most noted computer rankings hold Georgia and its schedule in high regard.
The Bulldogs were No. 51 in both ESPN's Basketball Power Index (BPI) and in the NCAA's Ratings Percentage Index (RPI) through games of Jan. 3.
Georgia's strength of schedule was ranked as the nation's toughest in both the BPI and the RPI for a good bit of December. The Bulldogs' slate is currently rated No. 6 in the BPI and No. 7 in the RPI.

Ogbeide Back, Making Strides
Following an injury-induced detour, freshman Derek Ogbeide (pronounced "Ohwg-Bay-Day") is showing signs of becoming an inside presence for the Bulldogs.
Ogbeide enjoyed a very impressive unofficial debut for Georgia. In a Nov. 6 exhibition win over Armstrong State, he grabbed a game-high 10 rebounds, scored four points and recorded one assist, block and steal in 19 minutes of action.
Ogbeide suffered a right shoulder injury in practice thereafter and missed Georgia's first five games of the season.
He finally made his official premiere against Kansas State, checking at the 17:27 mark of the first half versus the Wildcats and playing two minutes in the contest.
"He was just cleared today a little before 2 o'clock," Mark Fox said. "I just wanted to get him 45 seconds here and there just to get him to relax and so he'd been out there before."
The day before the Kansas State contest Fox was asked about what Georgia was missing without Ogbeide.
"He would allow us to impose our size and physicality on people" Fox said.
The Pebblebrook High School product is doing just that.
Ogbeide was limited in his playing time for two games prior to Georgia's 11-day break for Final Exams. In the four games since those restrictions were lifted, Ogbeide is averaging 5.0 points and 5.0 rebounds in 13.3 minutes.
Gaines, Frazier Earn SEC Honors
Kenny Gaines and J.J. Frazier were tabbed SEC Player of the Week on Nov. 23 and Dec. 21, respectively.
Gaines, who shared the honor with Kentucky's Tyler Ulis, was selected after his career-high 35-point outburst against Murray State. Gaines accounted for a school-record 55.6 percent of UGA's points in the 63-52 win, including 64.7 percent in the second half (22 of 34). He also equaled the No. 15 single-game scoring output by a Bulldog, as well as tying marks for No. 6 in 3-pointers made (7) and No. 5 in 3-pointers attempted (14).
Frazier was chosen after he scored 35 points against Georgia Tech, the highest output ever by a Bulldog against the Yellow Jackets. Frazier also dished out four assists, meaning he had a hand in 43 (57.3 percent) of the Bulldogs' 75 points in the contest. He scored 22 second-half points and converted on 8-of-8 attempts at the line in the final 1:29 to ice the game's outcome.
The last UGA teammates to be tabbed SEC Player of the Week in the same season were Travis Leslie and Trey Thompkins in 2009-10.
A Positive Breakout
Not that the media needs any self affirmation but the folks who predicted Yante Maten would be one of the nation's "breakout" players this season – including those at CBS, NBC and SI – are probably feeling pretty good.
Most expected Maten to up his contributions following the departure of seniors frontcourt mates Nemanja Djurisic and Marcus Thornton. He's done more than just that.
A year ago, Maten averaged 5.0 points, 4.3 rebounds and 18.2 minutes per game.
This season, Maten has more than tripled his scoring (16.6 ppg) and also has upped both his rebounding (7.5 rpg) and playing time (29.5 mpg) by massive chunks. 
Actually, Maten's increased production can be traced to late last season. Over Georgia's last 14 contests, Maten has produced all three of his career double-doubles, all four of his double-figure rebounding efforts and nine of his 13 double-digit scoring productions.
Maten posted four career-high scoring outputs in the Bulldogs' first seven games this season, improving from 13 points entering the year to 17 points versus Chattanooga to 21 points in the opener to back-to-back outings against Seton Hall and Oakland and 24 points versus Winthrop.
Putting the "PG" In "KPG"
Don't expect Kenny Paul Geno to bring the ball up the court any time soon but his efforts distributing the basketball of late have been nothing short of stellar.
Geno matched his career high with two assists against Oakland, upped that to three versus Kansas State, doubled that with six against Winthrop and inched that mark to seven versus Robert Morris.
All told, Geno has dished out 24 assists over the past seven contests (3.4 apg) while committing only two turnovers – an almost unfathomable 12.0-to-1.0 assist-to-TO ratio.
Mann's Versatility Not Just Hype
It's not uncommon to hear a comment like "Ya know, he could play all five positions."
Charles Mann has proven that isn't idle hyperbole when discussing his game.
Mann, one of two Bulldogs along with Yante Maten to start every game this season, got the nod at four different positions during Georgia's first eight outings. He started at his natural '1' slot in five games but also started at the '2' versus Winthrop, at the '3' against Georgia Tech and at the '5' – yes the '5' – against Chattanooga.
Against High Point, Mann saw action at all five spots. Perhaps most impressive was his defensive effort in several matchups with John Brown, the nation's No. 4 active scorer.
"He's been so unselfish and willing to do that and has not complained one time," Mark Fox said.
Frazier, Gaines Pop For 35 Each
Junior J.J. Frazier and senior Kenny Gaines became the first pair of Georgia teammates to score 35 points or more in a game during the same season.
Gaines poured in 35 points against Murray State on Nov. 20, and Frazier then matched that output against Georgia Tech on Dec. 19.
Only four times have the Bulldogs had two 35-point performances in a single season, and the other three instances involved a single player doing so.
In 1952-53, Zippy Morocco scored 38 points vs. Tennessee and 37 vs. Alabama. In 1974-75, Jacky Dorsey posted 43 vs. Southern Miss and 41 vs. LSU. In 1990-91, Litterial Green notched 38 vs. UCLA and 35 vs. Florida.
Frazier, who also scored a career-high 37 at Mississippi State on Jan. 24 last season, joined the trio of aforementioned Bulldogs and Willie Anderson as the only five players ever to score 35 points or more two times for Georgia.
UGA's All-SEC Tandem…
Senior guards Kenny Gaines and Charles Mann were both named preseason first-team All-SEC in balloting of league coaches. In the process, they became just the second duo of Bulldogs to earn first-team preseason honors since the recognition began prior to the 2004-05 season. 
Travis Leslie and Trey Thompkins were also first-team selections prior to 2010-11.
In addition, Mann became Georgia's first-ever two-time first-team preseason All-SEC selection.
…Has Very Strong Ties
The duo of Peach State natives Kenny Gaines, who is from Atlanta, and Charles Mann, who hails from Alpharetta, has played a significant role since they arrived on campus in 2012.
Between them, Gaines and Mann have a combined 212 games played, 154 starts and 5,396 minutes played. 
Much of that has been compiled together.
Gaines and Mann have started together for 68 of Georgia's 78 contests since the beginning of the their sophomore year of 2013-14. All told, they have played 1,652 minutes and 59 seconds together at Georgia. 
Small In Stature, Big On Boards
J.J. Frazier grabbed 10 rebounds against Winthrop on Dec. 8. In the process, the junior from Glennville became the most prominent name on a list of Division I players under 6-feet tall.
A year ago, Frazier was among seven players under 6-feet who recorded a double-figure rebounding effort. He hauled in 11 boards against Seton Hall.
With his performance against Winthrop, Frazier joined five other under-6-foot players with 10 or more rebounds this season.
Frazier is the only player in the nation under 6-feet to have a double-figure rebounding performance in each of the past two seasons.
And A Well-Rounded Effort
Along with his 10 boards, J.J. Frazier also scored 15 points – for his first career double-double – and handed out five assists versus Winthrop.
Frazier became just the third Georgia player to post 15 points, 10 rebounds and five assists during Mark Fox's six-plus seasons as the Bulldogs' head coach.
Travis Leslie did so twice, both against Vanderbilt. Leslie had 21 points, 13 rebounds and five assists against the Commodores on Jan. 12, 2011, and also notched 22 points, 10 boards and five assists versus Vandy on Feb. 25, 2010. In addition, Trey Thompkins had 23 points, 14 rebounds and six assists against Arkansas in the first round of the SEC Tournament on March 11, 2010.
Thanks to stats guru Dave McMahon for compiling the data in the previous two notes on Frazier's feats.
More PT for KPG
Kenny Paul Geno entered the 2015-16 season with a career high of 21 minutes played against Missouri late last season.
This season, Geno is averaging 23.1 minutes of action per game. The Booneville, Miss., native has matched or bettered his previous career-most MP in seven games, including a new career-best of 35 versus Chattanooga.
Geno averaged 3.8 minutes as a freshman in 2013-14. He had earned increased playing time last season before suffering a broken left wrist in the SEC opener against Arkansas and missing 10 games following surgery.
Geno returned to log double-digit minutes in eight of the Bulldogs' final nine outings of 2014-15 and secured a starting nod for six of the last eight games.
Geno started the first seven games this season, compiling a stretch of 13 starts in 15 outings dating back to last season. He has been coming off the bench for the Bulldogs beginning with the Georgia Tech game.