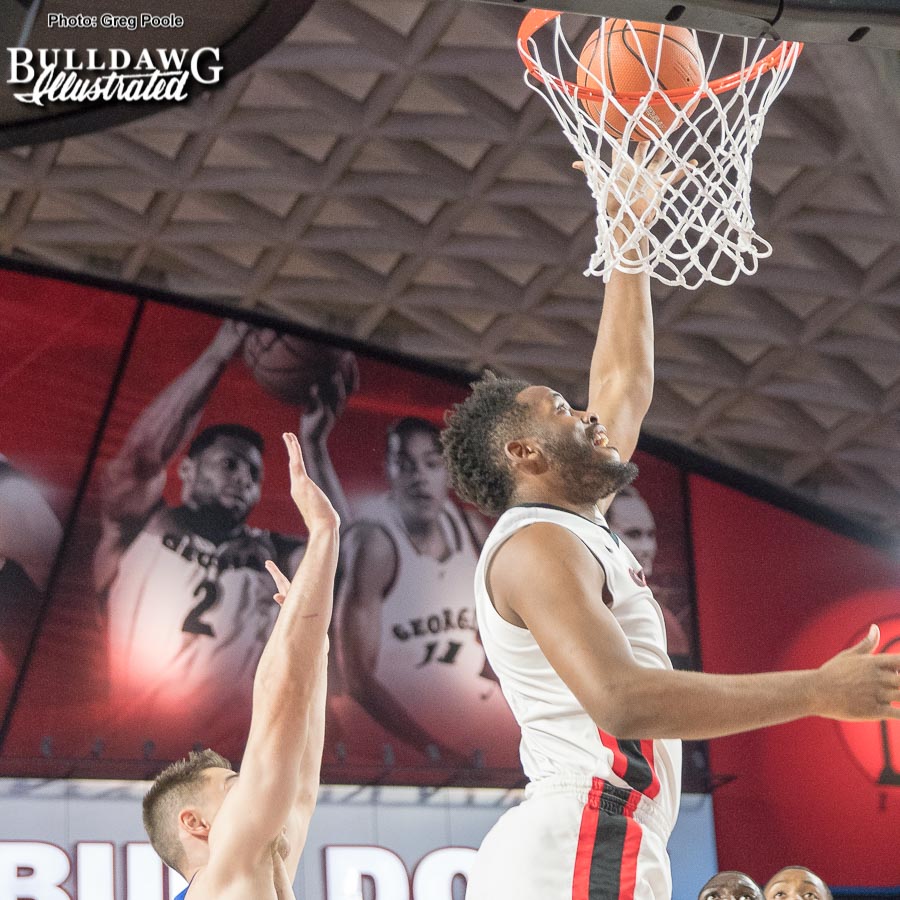 Georgia (14-11, 5-8) vs. No. 18/17 Tennessee (19-6, 9-4)
Saturday, February 17 at 6:00 p.m. ET
Stegeman Coliseum (10,523) in Athens, Ga.
Watch: SEC Network (Dave Neal, play-by-play; Barry Booker, analyst)
Listen: Georgia Bulldog Sports Network. (Scott Howard, play-by-play; Chuck Dowdle, analyst; Tony Schiavone, producer); Flagship: WSB AM 750 Atlanta; Satellite: Sirius 137; XM 190
Game Promotions
• First 1,000 fans will receive a J.J. Frazier bobblehead
• J.J. Frazier will sign autographs from 5:00-5:30 in the Stegeman Coliseum concourse on the Smith Street side of the venue
• First 1,000 UGA students will receive a "Defend The Steg" t-shirt
The Starting 5…
• UGA completed its first season sweep of Florida since 1997 with its win in Gainesville.
• Yante Maten is the only player in the SEC's top 10 in scoring, rebounding, FG pct. & FT pct.
• Five Bulldogs scored in double digits at UF, with double-doubles from Maten & Ogbeide.
• Juwan Parker, the only DI MBB player with a master's, is now 2nd on UGA's career FT pct. leaders list.
• Nicolas Claxton started at Vandy, becoming the 9th current Bulldog to start as a freshman.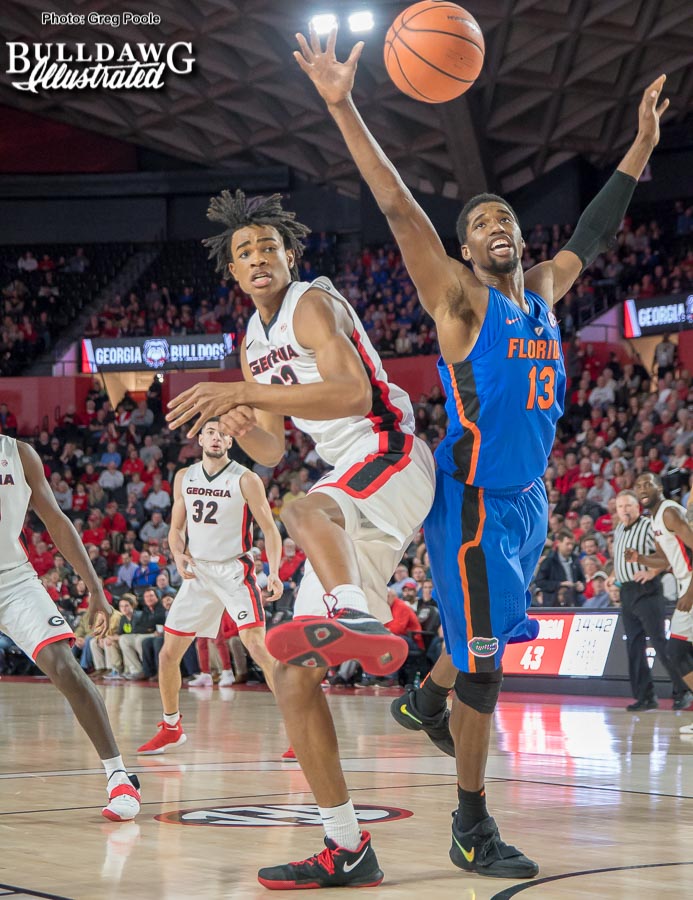 Bulldogs Host Vols In Another Saturday Sellout At Stegeman
Georgia returns to action on Saturday evening to host No. 18/17 Tennessee before a sold-out Stegeman Coliseum. The sellout is the Bulldogs' fourth – and what will become at least five – during the 2017-18 season.
The contest will enhance what already is the Bulldogs' best home attendance mark in several seasons. Georgia has averaged 8,104 over 12 home dates this season, the highest since hosting 8,250 fans per game in 2010-11.
Considering that next Saturday's LSU game also is already sold out, the Bulldogs are a good bet to top 8,000 fans per game for the sixth time in the 2000s. Georgia averaged a school-record 9,857 in 2002-03; 9,064 in 2001-02; 8,619 in 2003-04; and 8,026 in 2000-01.
The Bulldogs improved to 14-11 overall and 5-8 in SEC play with Wednesday's thrilling overtime victory at Florida. Georgia rallied from six points down with 15.9 seconds left in regulation to force the extra period and eventually prevail 72-69.
Yante Maten, a top-10 candidate for both the Senior CLASS and Karl Malone Awards, now leads the SEC in scoring by a full point per game at 19.5 ppg (Arkansas' Jaylen Barford is second at 18.5 ppg). Maten is the only player ranked among the SEC's top-10 in scoring, rebounding (No. 3), field goal percentage (No. 6) and free throw percentage (No. 8)…and also is No. 2 in minutes played.
Maten has been a picture of consistency for the Bulldogs.
In 25 games this season, he has 24 double-figure outings, with 14 20-point performances and 10 double-doubles.
Over 88 games since the start of his sophomore year, Maten has 80 double-digit scoring performances, with 36 20-point and five 30-point outings, and 25 double-doubles.
"Turtle" Jackson and Juwan Parker both average 8.8 ppg for the Bulldogs.
Jackson has 12 double-figure games to date. Parker is scoring at a 9.8 ppg clip in SEC action, a considerable jump from the 7.4 ppg he averaged prior to league play.
Tennessee has won seven of its last eight outings and is 19-6 overall and 9-4 in SEC action to date. 
Grant Williams averages a team-high 16.2 points per game for the Vols, while Admiral Schofield and Lamonte Turner chip in 12.3 ppg and 10.6 ppg, respectively. Jordan Bowden is just shy of a fourth double-digit average at 9.8 ppg.
Keeping An Eye On…Entering Today's Game Among UGA's Career Leaders
Yante Maten is…
• 39 points from No. 3 Vern Fleming
• 50 points from No. 2 Alec Kessler
• 373 points from No. 1 Litterial Green
• 14 rebounds from No. 6 Lavon Mercer
• 16 rebounds from No. 5 Charles Claxton
• 4 FGs from No. 6 Alec Kessler
• 55 FGs from No. 5 Bob Leinhard
• 121 FGAs from No. 4 Dominque Wilkins
• 76 FTs from No. 3 Litterial Green
• 100 FTAs from No. 3 Alec Kessler
• 66 blocks from No. 2 Charles Claxton
Derek Ogbeide is…
• 2 rebounds from No. 23 Jacky Dorsey
• 3 rebounds from No. 22 Travis Leslie
• 6 rebounds from No. 21 Michael Chadwick
• 33 rebounds from No. 20 Nemanja Djurisic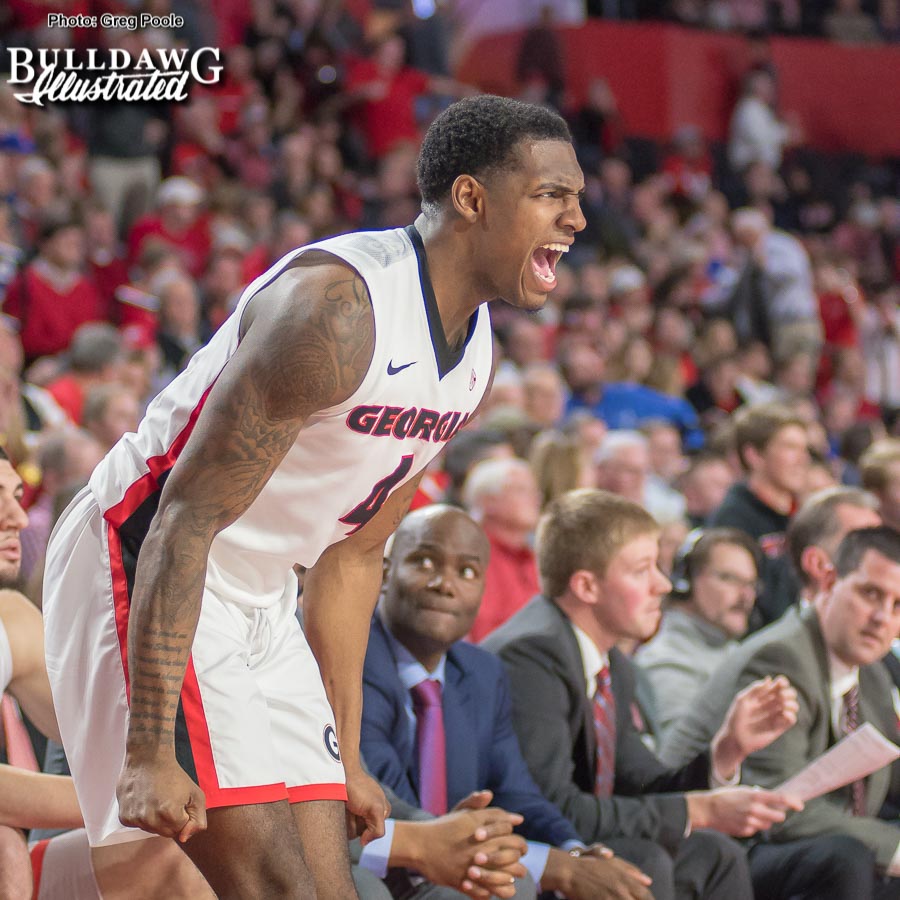 Series History With The Vols
Tennessee owns a 94-59 lead in the all-time series between UGA and UT; however, the Bulldogs do possess a 38-33 advantage in outings here in Athens.
Georgia swept a pair of matchups last season, winning in Knoxville during the regular season and in the SEC Tournament.
In the second round of the SEC Tourney in Nashville, J.J. Frazier scored 17 points and grabbed a season-high 10 rebounds to lead Georgia past Tennessee, 59-57.
Two free throws from Frazier put the Bulldogs up 59-56 with 1:36 to play in the game. The Volunteers used a free throw to cut the lead to two with 22 seconds left.
The Bulldogs missed a pair of free throws on the other end, giving Tennessee a shot to win the game, but the 3-point attempt off of a disjointed possession came up empty and Turtle Jackson swatted away a stickback attempt as time expired.
Georgia also got 12 points from Yante Maten, who played for the first time since a knee injury against Kentucky on Feb. 18.
In the Vols' last trip to Stegeman Coliseum on  Jan. 16, 2016, Frazier and Kenny Gaines combined for 51 points to lead Georgia to an 81-72 victory over Tennessee.
After trailing 43-34 with 16:55 to go, the Bulldogs went on a 29-11 run to seize control. Maten started and ended that stretch with buckets, with Frazier and Gaines combining to score the other 25 Georgia points in between.
Last Time Out: The Thrilla In Gainesvilla
A pair of Yante Maten 3-pointers in the final 16 seconds helped Georgia rally from a six-point deficit to force overtime, where the Bulldogs eased past Florida, 72-69, on Wednesday night in Gainesville.
The victory was Georgia's first over the Gators in Gainesville since 2002 and, combined with their win in Athens 15 days earlier, provided the Bulldogs with their first season sweep of Florida since 1997.
Maten paced Georgia with 23 points and 10 boards, one of five Bulldogs in double figures and one of two double-doubles on the night.
Florida led by seven at the halftime intermission and pushed that margin to 50-39 on a KeVaughn Allen jumper with 10:03 remaining in the game.
Georgia outscored the Gators 20-9 the rest of the regulation.
The Bulldogs pulled within 51-50 with 3:33 left, but Egor Koulechov answered with a three-point play and a 3-point bucket to put the Gators up 57-50 at the 1:29 mark.
Tyree Crump answered with a 3-pointer of his own 21 seconds later.
Koulechov knocked down a pair of free throws with 25 ticks on the clock to push the margin back to six.
Maten canned his first 3-pointer from the right wing with 15.8 seconds left. Following a timeout, Jalen Hudson traveled while receiving an inbounds pass to give the ball back to the Bulldogs. Maten then drained a 25-foot jumper from straightaway to knot the score.
Georgia jumped out to a 66-60 lead in the extra session and held off the Gators.
Bulldogs' 'D' Reappears
For much of the season, Georgia has been one of the nation's best defensive teams.
Entering their Feb. 3 game at Mississippi State, the Bulldogs led the SEC and ranked No. 6 nationally in field goal percentage defense at .386. UGA was holding league opponents to an even more impressive .373. At that point, only three teams had shot 50.0 percent or better against Georgia in 21 games.
Over the next three outings, State, Vanderbilt and Auburn all shot better than 50 percent….a combined 83-of-159 (.522) from the field.
The Bulldogs' defense was much more solid in Gainesville, where Georgia held the Gators to .379 FG shooting.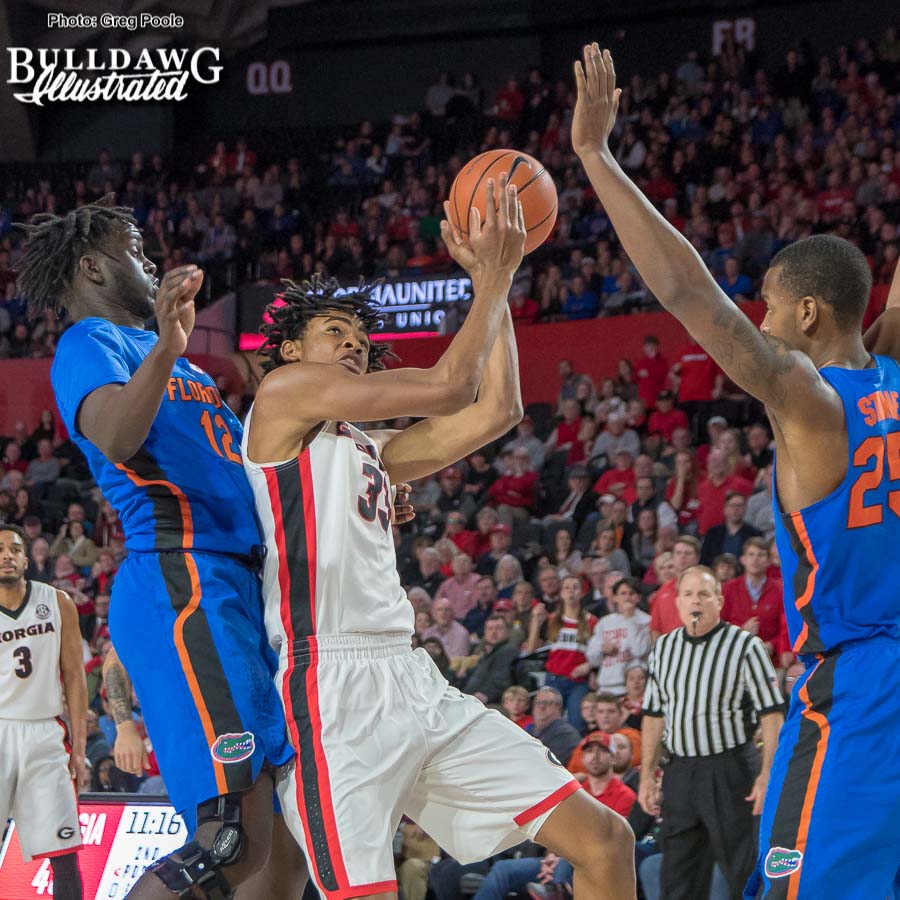 Georgia Sports "Q"uality Wins
Georgia, which was No. 69 in Thursday's edition of the NCAA rpi, sports more quality victories than 37 of the teams ahead of the Bulldogs on that ledger.
Georgia owns a combined eight victories of the "Q1" and "Q2" variety in the NCAA's new matrix of rating victory significance. To find a team with more "Q1" and "Q2" wins than the Bulldogs, you have to search all the way up to No. 54 Florida.
Claxton Joins Freshman Starters
Nicolas Claxton earned his first career start at Vanderbilt on Feb. 7.
Claxton, the son of former Bulldog and All-SEC center Charles Claxton, became the ninth of Georgia's 13 scholarship players on the 2017-18 roster to start at least one game as a freshman. He joined seniors Yante Maten and Juwan Parker, juniors Mike Edwards and Derek Ogbeide, sophomores Tyree Crump and Jordan Harris and freshmen Rayshaun Hammonds and Teshaun Hightower as the Bulldogs' freshman starters.
Maten Tabbed to Top-10 Lists
Yante Maten was named a top-10 candidate for both the Senior CLASS Award and the Karl Malone Award on Feb. 8.
The Senior CLASS Award is given to a student-athlete who makes a positive impact as a community leader. The Karl Malone Award honors the top power forward in the nation.
An acronym for Celebrating Loyalty and Achievement for Staying in School, the Senior CLASS Award focuses on the total student-athlete and encourages students to use their athletic platforms to make a positive impact as leaders. The recipient will be announced during the Final Four.
The other finalists are: Shawn Anderson, Navy; Vladimir Brodziansky, TCU; Jevon Carter, W. Virginia; Angel Delgado, Seton Hall; Rob Gray, Houston; A.J. Jacobson, North Dakota St.; Justin Johnson, WKU; Luke Morrison, Army; and Johnathan Williams, Gonzaga.
The Karl Malone Award, named after Hall of Famer and two-time NBA Most Valuable Player, is one of five position player of the year honors administered by the Naismith Memorial Basketball Hall of Fame. The winner will be honored at ESPN's College Basketball Awards in Los Angeles on April 6.
Joining Maten in the top 10 candidates for the Malone Award are: DeAndre Ayton, Arizona; Gary Clark Jr., Cincinnati; Marvin Bailey III, Duke; Wendell Carter Jr., Duke; Nick King, MTSU; Jordan Murphy, Minnesota; Luke Maye, N. Carolina; Mike Daum, South Dakota St.; and Robert Williams, Texas A&M.
Dogs Take Part In CVC Challenge
The Georgia Bulldogs are teaming up with the National Association of Basketball Coaches (NABC) and the American Cancer Society to take part in the Coaches vs. Cancer 3-Point Challenge over the next month.
During Georgia's last nine regular-season games, every 3-pointer the Bulldogs make will help raise money to beat cancer.
Georgia fans can pledge their donation per 3-pointer made during those games at https://pledgeit.org/cvc18-georgia. Fans have the choice to donate retroactively beginning with the Mississippi State contest on Feb. 3 or just for the remaining games at the time of their donation.
Contributions of $100 or more to any team or to the general fund will earn an exclusive Coaches vs. Cancer 3-Point Challenge T-shirt. Fans also can earn an exclusive t-shirt by creating a personal fund raiser profile on the Bulldogs' page and collecting 10 pledges ($1+ min pledge).
Ratin' Maten A Popular Task
Preseason recognition was consistent and plentiful for Yante Maten.
Maten was ranked as one of the nation's top-25 players by three different online preseason ledgers. CBSsports.com put him No. 22, ESPN.com listed him No. 23 (info below) and NBCsports.com tabbed him No. 24.
Maten was tabbed preseason SEC Player of the Year by the Blue Ribbon College Basketball Yearbook and a panel of SEC and national media. The media named Maten, Texas A&M's Robert Williams and Missouri's Michael Porter, Jr. as co-player of the year.
Maten was included on watch lists for the Wooden Award, Oscar Robertson Trophy, Naismith Trophy and Senior CLASS Award.
Maten also received a good bit of preseason All-America recognition. Jay Bilas included Maten on his first-team All-America ledger. Among others, Maten also earned All-America props from the Blue Ribbon Yearbook (third team), www.collegesportsmadness.com (fourth team) and NBCsports.com (honorable mention).
Bulldogs' Bench Producing
Last season, Georgia's bench outscored its opponents' just nine times in 34 total games. 
This season, the Bulldogs' non-starters have produced more points than their counterparts in 16 of 25 outings.
Georgia's bench finished 2016-17 with a -95 scoring margin. 
This year, the Bulldogs are +55, a massive swing of 150 points from a year ago.
Diatta Returns To Rotation
A significant ankle sprain last summer stymied Pape Diatta's senior season. Diatta practiced and played with a brace through the New Year and spent the next month strengthening the ankle.
After seeing action in just six contests and failing to score in Georgia's first 21 games, Diatta jump started his season on Feb. 3 at Mississippi State with 12 points off the bench. He did so in efficient faction, connecting on 4-of-4 attempts from 3-point range.
Diatta logged a combined 36 minutes during the first 21 outings of the season but then recorded 37 combined MP in back-to-back outings against State and Vanderbilt.