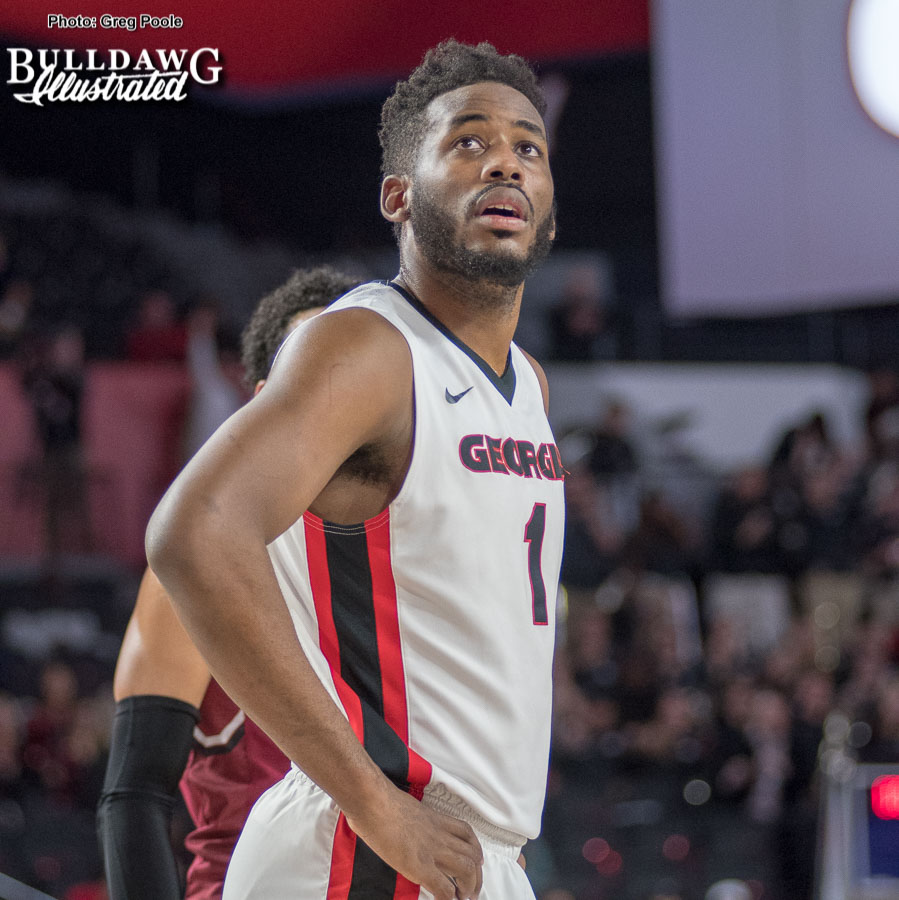 Georgia (13-8, 4-5) vs. Mississippi State (16-6, 4-5)
Saturday, February 3 at 6::00 p.m. ET
Humphrey Coliseum (10,575) in Starkville, Miss.
Watch: ESPNU (Taylor Zarzour, play-by-play; Kyle Macy, analyst)
Listen: Georgia Bulldog Sports Network. (Scott Howard, play-by-play; Chuck Dowdle, analyst; Tony Schiavone, Producer); Flagship:WSB AM 750 Atlanta
The Starting 5…
• In stats for league games only, UGA is No. 2 nationally in FG defense among Power 5 teams.
• UGA is "2nd out" in Joe Lunardi's latest bracketology, but is 5-4 vs. teams included in field.
• Among, UGA career scoring leaders, Yante Maten is 17 points from No. 5 and 26 points from No. 4.
• Yante Maten is the only player in the SEC's top 10 in scoring, rebounding, FG pct. & FT pct.
• Juwan Parker, the only DI MBB player with a master's, is 3rd on UGA's career FT pct. leaders list.
Bulldogs Return To The Road
Georgia travels to Mississippi State on Saturday in a matchup of Bulldogs vs. Bulldogs at Humphey Coliseum.
The contest is the next-to-last outing in a road-heavy portion of Georgia's slate. All told, the Bulldogs will play five of seven games away from Athens, with a trip to Vanderbilt next Wednesday wrapping up the span.
Georgia is coming off an impressive 72-60 victory over No. 23 Florida on Tuesday night in Athens. The Bulldogs improved to 13-8 overall and 4-5 in the SEC.
Yante Maten, one of 25 players on the Midseason Watch List for the Wooden Award, leads the SEC in scoring by nearly a full point per game at 19.6 ppg (Arkansas' Jaylen Barford is second at 18.8 ppg). Maten also is second in the league in rebounding at 9.0 rpg and is the only SEC player ranked among the conference's top-10 in scoring, rebounding, FG pct. (No. 6) and FT pct. (No. 7).
Maten has been a picture of consistency for the Bulldogs.
In 21 games this season, he has 20 double-figure outings, with nine double-doubles and 11 20-point performances.
Over 84 games since the start of his sophomore year, Maten has 76 double-digit scoring performances, with 33 20-point and five 30-point outings, and 24 double-doubles.
"Turtle" Jackson is the Dogs' second-leading scorer at 9.8 ppg, with 12 double-figure games. Juwan Parker is UGA's second-best point producer in SEC action at 9.7 ppg.
Mississippi State is 16-6 overall and 4-4 in league play. Quinndary Weatherspoon leads a trio of double-digit scorers for the Bulldogs at 15.1 ppg.
Keeping An Eye On…Entering Today's Game Among UGA's Career Leaders
Yante Maten is…
• 17 points from No. 5 Walter Daniels
• 26 points from No. 4 Dominique Wilkins
• 115 points from No. 3 Vern Fleming
• 42 rebounds from No. 6 Lavon Mercer
• 92 FTs from No. 3 Litterial Green
• 121 FTAs from No. 3 Alec Kessler
• 68 blocks from No. 2 Charles Claxton
Series History With State
Georgia currently leads its all-time series with Mississippi State, 58-53; however, State owns a 31-18 edge in games in Starkville.
A year ago on Valentine's Day, Yante Maten poured in 24 points to power Georgia past State at Stegeman Coliseum.
The outing marked Maten's 10th 20-point game of the season and the 22nd of his career. J.J. Frazier and Juwan Parker chipped in 17 points and 16 points, respectively.
The game was notched at 54-54 before the hometown Bulldogs scored eight unanswered points. Mississippi State responded with a 3-pointer, but Georgia fired back with a Maten layup and an alley-opp from Frazier to Mike Edwards. The sequence gave Georgia a nine-point lead, 66-57, with a little over three minutes to play.
In UGA's last trip to Starkville on Feb. 13, 2016, Maten put up what was then a career-high 25 points to lead Georgia in a 66-57 victory over Mississippi State. 
Charles Mann dropped a season-high 21 points, and freshman Derek Ogbeide collected a what was then a career-best 13 rebounds for the Bulldogs.
Maten scored six of the Bulldogs' first 12 points. That helped Georgia grab a 16-10 lead midway through the first period, which the Bulldogs extended to 32-21 at halftime.
Maten picked up right where he left off after the break, scoring six quick points and Georgia pushed the lead to 22.
State cut the margin to 10 with 9:40 left, but Maten stopped the run with a bucket.
The game's final margin also was its closest gap since the 1:26 mark of the first half.
Last Time out
Yante Maten posted his 11th 20-point performance of the season – and fifth in SEC play – to lead Georgia in a 72-60 upset over No. 23 Florida on Tuesday at Stegeman Coliseum.
The Bulldogs led 37-32 at halftime before Florida opened the second period on a 12-2 run. Turtle Jackson, who finished with 16 points, thwarted the surge with a 3-pointer, and Juwan Parker, who added 12 points, canned a jumper to pull Georgia within 44-43.
The Bulldogs eventually took the lead at 52-51 on a Derek Ogbeide hook shot with 10:00 left. That was the second bucket in a 9-0 run that gave Georgia the lead for good.
The Bulldogs gradually expanded that margin to 60-53 with 1:35 remaining and pushed the distance to double figures by knocking down 12-consecutive free throws down the stretch. Jackson and Jordan Harris hit both ends of three-consecutive one-and-ones to open the dozen makes.
During the win, Maten inched past Bob Leinhard into the No. 6 spot among UGA's career scoring leaders.
Ratin' Maten A Popular Task
Preseason recognition was consistent and plentiful for Yante Maten.
Maten was ranked as one of the nation's top-25 players by three different online preseason ledgers. CBSsports.com put him No. 22, ESPN.com listed him No. 23 (info below left) and NBCsports.com tabbed him No. 24.
Maten was tabbed preseason SEC Player of the Year by the Blue Ribbon College Basketball Yearbook and a panel of SEC and national media. The media named Maten, Texas A&M's Robert Williams and Missouri's Michael Porter, Jr. as co-player of the year.
Maten was included on watch lists for the Wooden Award, Oscar Robertson Trophy, Naismith Trophy and Senior CLASS Award.
Maten also received a good bit of preseason All-America recognition. 
He also received preseason All-America recognition. Jay Bilas included Maten on his first-team All-America ledger. Among others, Maten also earned All-America props from the Blue Ribbon Yearbook (third team), www.collegesportsmadness.com (fourth team) and NBCsports.com (honorable mention).
Get Ready For Some Scoring
Georgia and Mississippi State are the top-two teams in the SEC in scoring defense, which, as these things usually go, means…get ready for a game in the 80s.