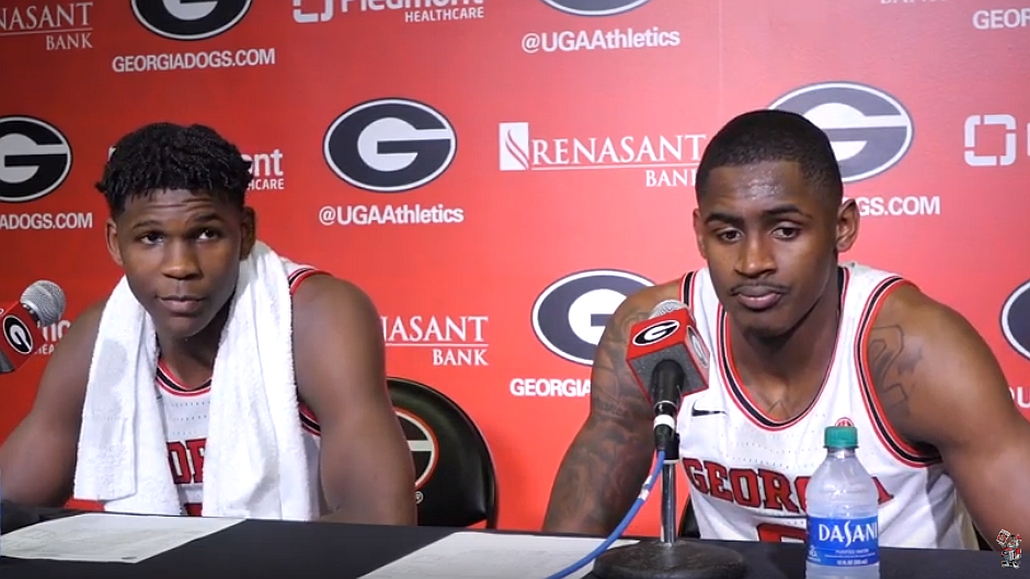 After the Bulldogs lose a heartbreaker to Florida, 68-54, on Senior Night in Athens, UGA men's basketball freshman Anthony Edwards and senior Jordan Harris share their thoughts on the game and what's next for the team.
Jordan Harris | #2 | Sr. 
On Georgia's momentum early in the game:
"It was good. The crowd showed a lot of excitement. It was senior night and the crowd was definitely there."
On what went wrong for the team:
"Florida changed their defense and kept changing it the whole game. It was hard to prepare for it because we did not know what was coming at us. That was the biggest thing, how they played their defense today."
On how Florida messed up Georgia's rhythm:
"It will mess up your rhythm because it will change what you will do. If they change their defense, we got to change our play-calling and what we do. It was definitely frustrating at one point in the game."
On playing your final home game in Athens:
"It was good and a bittersweet moment for me. I had a great four years here. A lot of ups and downs but Dawg Nation has always been behind me. It was definitely a fun ride these four years."
On how the offense was flowing in the game after Georgia's hot start:
"The ball stopped moving. It is that simple. We had guys trying to overdo it some plays and we stopped spreading the ball. I think that had a lot to do with their defense. The ball just was not moving."
Anthony Edwards | #5 | Fr.
On if Florida changed any of their offensive game:
"Like Jordan said, they changed their defense. Their defense gave energy so their offense was able to gain energy too and make shots, it changed everything for them. Them getting int hat zone they were in, and packing it in, it was hard for us to score. We were not prepared for that. It happens."
On if they felt like this game was a step back:
"Yes. I feel like today as a team we did not play as well. We were not prepared. We did not come ready. We did not warm up like we were ready to play. Everyone was looking sluggish. I just felt like we were not ready as a team."
On how tough Florida's game was:
"I mean their defense was great. The zone defense like I said, we had no answer for it. We couldn't do anything for it. We were not prepared for it. There was nothing we could do. If their defense picked up obviously their offense was going to start hitting shots and getting energy and the intensity was going to raise. That is what happens."
On Rayshaun Hammonds' night:
"Rayshaun is a great player. We need him. He is the most important player on the team to me. We do not have a big so, we need Rayshaun every night. For him to come out and play like that is spectacular."
On if it felt like Florida was answering every one of their runs:
"Yeah, I felt like we went a long time without scoring before Sahvir (Wheeler) hit that three. So, we didn't even have a run. Like, we didn't even have time too. We couldn't even score on their zone so we couldn't have a run. They were just scoring that is all it was."
On if they felt like they were looking towards the SEC Tournament/what made them feel sluggish:
"We were just cruising through warm-ups. Normally, we are going hard. We are getting game shots up. Everyone is usually sweating. I feel like no one was sweating, even me. I was missing lay up, playing around, trying to block each others' layups. We were just being young and immature. We had to be ready to play knowing that Florida is a good team. I know they were coming."
On how he feels like progressed:
"I am not big on how I did. I am always about my team. I feel like my team is pushing me to become the best player I can be. I do not ever look at it like it is my last home game. No, not everyone knows what I am doing."