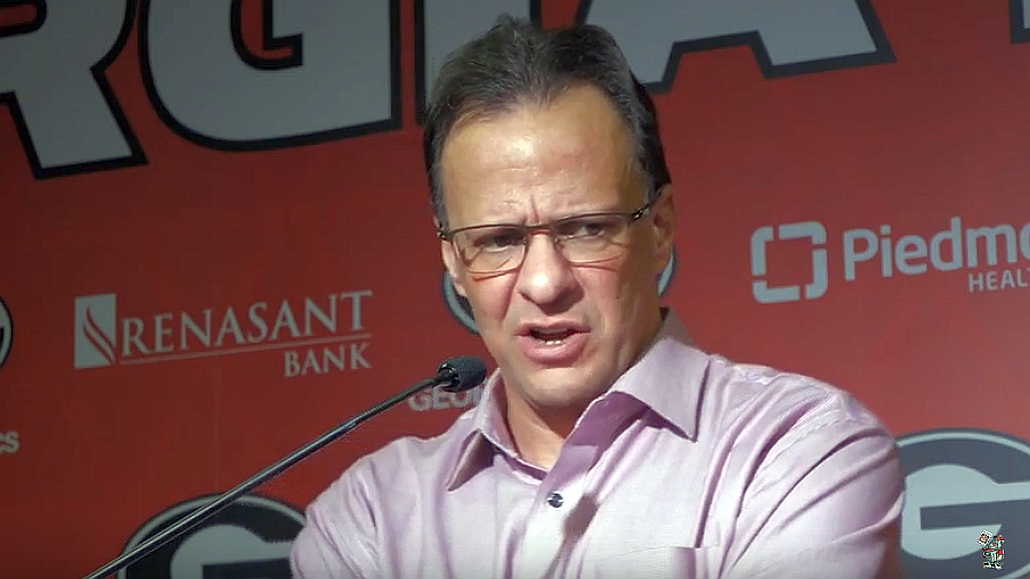 After the Bulldogs fall to Florida 68-54 in their final home game of the season at Stegeman Coliseum, UGA men's basketball head coach Tom Crean talks about the loss.
Coach Crean's opening statement:
"Bottom line, we took a step back tonight defensively. Where our defensive connectivity and togetherness had been really good going back to the Auburn game and when you turn it over, yeah, you're in real trouble, which we were tonight and that certainly skews your defensive field goal percentage. But the bottom line is we had been better taking care of the ball, we had been better defensively, and tonight we definitely took a step back and they took advantage of it. And when you're not getting that defensive connectivity, you're not getting the movement that you have to have on offense either."
"And we didn't have that. We had it early. We didn't have it enough. We tried a lot of different things, zone and man, and we just did not cut hard enough. We said one of the big point of emphasis tonight was going to be screening, whether it was man or zone, we didn't do a good enough job with our screening, by any stretch. We made mistakes defensively that we haven't been making. Leaving shooters, gambling, trying to make plays that weren't there. And that connectivity started with the communication and it just wasn't there. And when it's not there we're certainly not good enough. Our margin for error is certainly not there to be able to overcome it if we're not locked in to where we have got to be on the defensive end. And I think more than anything that's what hurt us."
The Hoop Dogs lost their first meeting with Florida down in Gainesville at the Stephen C. O'Connell Center 81-75 back on Wednesday, February 5th. So what went wrong this second go-around?
"It's always a fear, on Senior Night, that some players try to do too much. The 26 points off of turnovers was a problem for us. We didn't offensively rebound the ball the first time against Florida. We didn't offensively rebound it tonight. That was a problem," said Coach Crean. "We just got disconnected defensively. We were doing things that we haven't been doing…When you're not connected defensively, it's very hard for any of the rest of the game to be connected. We didn't move very well. We scored 40 points in 36 minutes. We didn't score because we weren't connected enough defensively to get things done."
Anthony said he even sensed in warmups that guys were lethargic, including himself. He didn't feel focused. Did you pick up on that?
"No, not as much. But that's good if he pointed the finger and he also pointed at himself, then that's a good sign of leadership. Because I think that the way it's set up with senior day, that changes things, right? But, no, I think it's emotional for senior night, so that's going to play into it. Tyree, Jordan, those guys are a little emotional with it."
"But we've had really good practices and, I don't know, we got off to a good start. We just didn't stay with it as much. But maybe it's just the fact of the matter is, I mean, if he said it he's probably right, but the bottom line is it was a different warmup because of the time being spent out on the court. And that's a tough deal. Yeah, I've never had senior night in my life, other than being in this league, until after the game. But it's a league rule, so that's when we do it. But for 18 years we did it after the game for those very reasons. But we did — whatever we started out with, we didn't stay with. But again, it moved over to the defensive end more than anything else."
As a quick follow-up, is it discouraging that at this stage of the season to still be committing this many turnovers?
"It's disappointing, but we're not a consistent team and we haven't been all year. So inconsistency has been the number one weakness of our team all year. And we have been playing better, but it, the defense and the making the simple passes are a big part of that. And there wasn't anybody on our team tonight that was a great ball mover, cutter, let's really operate. But there also wasn't anybody on our team tonight that took the reins defensively like we had been. So in that sense it's disappointing, but it's part of your immaturity and it's part of our inconsistency."
You almost literally played perfect the first five minutes, 7-7 and I think you only had a missed free throw in that entire time. What changed after that? They seemed to be much more discombobulated after that. And I'm not sure if and when you called a timeout, but was there anything that you saw specifically that they got away from?
"Well, yeah, we stopped cutting as much as we need to cut, whether it was man or zone, right, and cutting, getting the ball into the middle of the zone. Like I said a bit ago, the screening was going to be a huge part tonight, you know, screening man or zone so we create some help situations and make the next kick. But we probably, for a little stretch there, started to think about our own offense, really, than we kept thinking about how much it needed to move and that's the immaturity of this team that comes at times when we get a lead, and we've got to grow through that. That's part of building the program. It's part of getting the culture right, the way we have to have it here because that's the maturity part. It's not about the offense. It's about how much you continue to put stops together defensively, how well you rebound the ball. When we were in transition we were good, right? We were really good. But there were too many times we weren't in transition and we became stagnant. And we've got to continue to grow out of waiting for the ball, right? We're a cutting, moving team. Penetration, kick. And we struggled with that. We struggled with that tonight. So it didn't matter for a bit what we called, we weren't getting enough movement. And but again, all that being said, it comes down to an aggressiveness on both ends of the court and a connectiveness on both ends of the court that starts on the defensive end."
Anthony [Edwards] talked about their zone and them packing it in and saying it was hard because they weren't prepared for it. I'm guessing that wasn't the first time you had seen that?
"That they were or weren't prepared"
He said they weren't.
"Our guys?"
Anthony said…
"We spent the majority of the time on the zone the last two days, because we wanted to move it with screens. And we knew that they would go to the 3-2 or to the 1-3-1. But it is packed in from the top. That's why we have to get the cuts and the drives off of the slots and more movement out of the corners. But again, there wasn't one guy on the team that I would look to and say, Okay, they kept cutting and getting us great movement tonight. But it's top-heavy zone, right?"
"It's a top-heavy zone. That's why, in a 3-2, that's why screening, okay, and then flashing in behind it from the wing area or corner area is what we need to do. And sometimes — we showed them at halftime, there were a couple of cuts that, like — if Nike made 50-pound shoes, a couple guys had them on. And I'm not going to go in — we can't play like that. So again, it's flash to the ball. Right? Flash to the ball, screen the zone, make the next pass. And our immaturity came out in that, and that — bottom line is, like I keep saying, if you're getting stops, we're getting runs, and we're getting runouts and we're getting out and we're going. And we weren't getting enough stops. And because we weren't getting those baskets, that lack of, that lack of cohesiveness on the defensive end caught us."
Talking about not being a consistent team, are you surprised to go from 99 points last game to 54?
"Not when you don't move without the ball, no, no, not really. Not when you don't move as well and when you — the ball's got to move, right? The ball's got to move. Tonight we moved into a little bit, let's wait for the ball, right? Rather than cut and make something happen. But our screening, our screening was atrocious and our screening and our cutting was atrocious. And no matter what, no matter what we were in. And there's really no reason for it. But, but we got to go back and look at the film, because we can't play that way."
Was that 10-0 run in the second half when you felt the game started to turn?
"I don't know, I don't know. I don't have it down in my head that way. I never think route, so I don't think like that. We just, we had our timeouts, we had a way to get back into the game, but we just weren't aggressive. Now they did drop their head a lot earlier tonight. And that was all the way across the board. There's not one guy which, I'm disappointed to say, that I'll look back and say, okay, they, they're locked into this, all right, they have the belief. And that's, that's disappointing, that's disappointing at this point. We got to continue to grow leadership here and we just have to. Leadership does not happen through the course of a couple of good wins or through the course of adversity, it happens because of those things, it happens over a period of time and we're just not there yet."
When you recruited Anthony here it obviously elevated expectations, not just in the big picture, but specifically for this year and potentially a tournament team, as the reality of this season sort of settled in, have you viewed this in any way as sort of a wasted opportunity?
"No, I don't look at it like that. I look at it like we have 10 new players. I'm here every day and I know what we have and I know what we're working with in the sense of what we have to build. So when you have 10 new players you're not quite sure what it's going to be at all. And if I look back at this — I think I said this the other day — but if I look back at and say, okay, what surprises me about this year right now, it would be our lack of shooting, with as much time as we spend on it, really being able to knock down shots. But I don't look at anything as a wasted year."
"We got guys getting better, we just had a good stretch over two weeks where we were three out of four there and could have easily been four out of four and we took a step back tonight. But again it's, it's — all year long it's been when our defense is not where it needs to be or when our cutting and our movement is not where it needs to be offensively. Okay, we can, we can still win if we're not making threes."
"But we cannot win if we're not guarding well and if we're not moving well without that ball, because we're not big. So all of a sudden — we had 18 percent offensive rebound rate against Florida the first time, which is the worst of the year. And we get seven offensive boards tonight, all right. We're not, we're not nearly as aggressive and gritty in those situations as we need to be, as we will be moving forward, but it's all part of learning what you have. But I don't choose to look at it in any type of negative way, I choose to look at it, okay, this is the inconsistencies, this is what we got to continue to work on, this is what we're trying to build, this is where it's got to go and then you make those decisions as you go along."
As Crean has done all season, he did not forget the Georgia faithful that turned out to the Stegeman in force yet again despite the rainy weather dampening The Classic City.
"I appreciate everything wholeheartedly that our fans have done all year. It was a great crowd," said Crean. "We just didn't give them enough to be excited about tonight…Our fans are fantastic, they really are. There's going to be proud of us as we go along. These are growing pains."
What does the future hold for this Georgia team?
"We just have to keep growing, getting better and build the guys we have. [We need to] make sure, as we go through this, we focus on the guys who are going to bring us stability and leadership as we move forward in the program. [We need to] keep growing the guys we have…Real toughness knows it's never easy. Toughness that you're trying to grow has to go through it, and that's where we are."