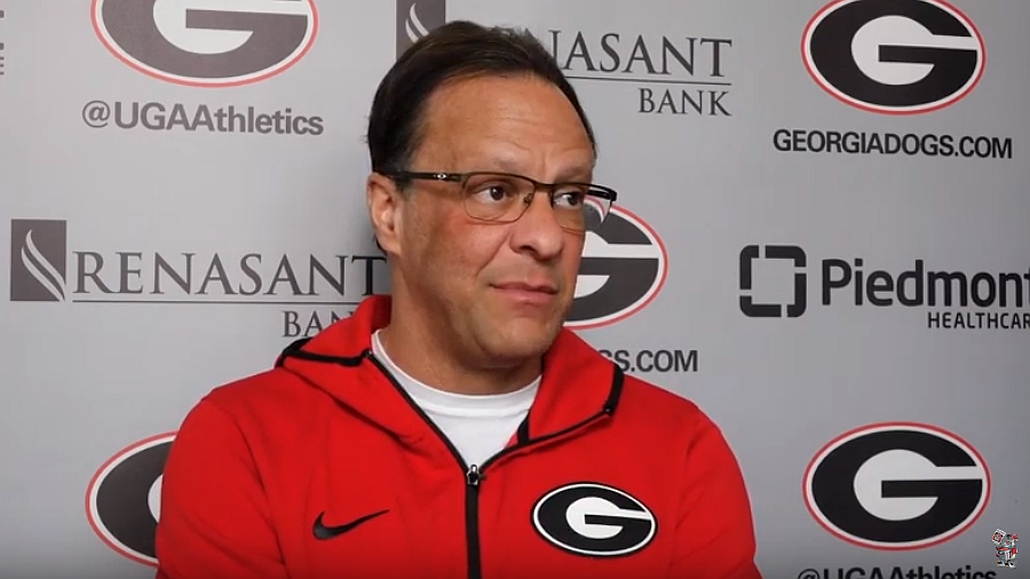 UGA men's basketball head coach Tom Crean discusses the role of his three seniors – Tyree Crump, Donnell Gresham, Jr., and Jordan Harris – have played on the team for the Bulldogs in their 2019-20 season as Georgia prepares to take on Florida.
UGA will host Senior Night on Wednesday for the game versus Florida. Coach Crean spoke about honoring the seniors and their play over the last several weeks.
"I think they've gone up. I think when you look at what Tyree Crump has done over the last, just under the last month—I think the way Jordan Harris has played, certainly in missing those nine games set him back some, set us back some, but I think he's in a really good flow there," said Coach Crean. "I think the key is that are you dependable? Are you ready to go, every time? And can you impact the game? I think those three seniors right now are doing that."
Crean added, "There's no question that they have all participated in winning all year long, especially the last couple of weeks, and they've been huge factors for us. So I think again, when you hope your team is playing its best basketball at the end of the year, it's probably going to be because the seniors are too, and I think they are."
Coach Crean was asked about what he thought of honoring freshman Anthony Edwards along with the seniors if this is his last game in Stegeman:
"I just think you focus on that the most important aspect is getting ready to play the game, and obviously when it senior night you focus on that, but the focus is really, how do we get ready to play Florida—more than anything else."
What type of impact has Tyree Crump and Jordan Harris had on this Georgia team?
"Well, I think that they come in they bring a high level of energy to practice every day. I mean they really do, and they have really, really worked to build leadership qualities as seniors. And again, I mean where we sit right now they're playing good basketball, I mean they really are."
"Tyree Crump, since the Florida game, is shooting 46% from three, you know he's getting better, and he's making strides. And he's doing other things, and he's taking great pride in his defense. Jordan Harris is all over the floor, he is all over the floor, whether it's defense, whether it's offense, getting big assignments, those type of things and so they come with a really good spirit to get better every day, and they do more than what's required. I think that's a huge part of any good player, but especially for a senior and the fact that they have such a good camaraderie together, a good friendship I think adds to it, and they've, they've allowed a lot of other people to be a part of that on this team and I think that's huge."
What are your thoughts on Anthony Edwards' offensive improvement over the last couple of games?
"I think he's improving all the way across the board, whether it's defense, whether it's offense, whether it's selection, whether it's movement, you know, we still got to continue to get him to take catch and shoot shots, because they're there, and be ready to shoot those shots. That's a big thing with him. I mean, bottom line is, is take what the game has given you, and you're good enough that you can impose your will on the game, but also take what the game has given you. Sometimes it's there right away. I think it's just a matter of getting more and more experienced every game I think it's the same with the other guys, and that's what you want, and the ball is in his hands between he and Sahvir [Wheeler]. It's in their hands a lot, and they're able to create for others. I think the fact that Anthony moves the ball so well is helping him be that much more efficient of an offensive player."
Is this second game versus Florida, when you look back to losing a lead of 22 points to the Gators back on February 5th, is this the "ultimate" do-over?
"Well, we were not good in that second half. There's no doubt about that. We didn't attack—we were right in, and we were right in it to the end and so we missed two layups at an open three at the end. So we got the ball where we wanted it, we didn't keep getting it where we needed it to go against the zone, but we did not defend well. We did not defend the ball screen well. We started chasing the ball, and when you're chasing the ball you're chasing the game, and that's not a good place to be. We were in a bunch of overhelps, and they were getting open threes. I'd say we probably got shell shocked a little bit in that. But again, it's like anything else when you're not making shots, it's hard to be really good on the defensive end for any team, but especially for a young team and that's what happened with us, but the difference between that game in the Missouri game is we kept coming back at it, and we were right there, right there, we had we had chances to win the game we just couldn't put it, please couldn't put it over at all."
Is part of the "turn around" the last four games due, in part, to how much improvement the team has had playing better on the defensive side of the ball?
"I think that's huge. I don't think there's any question about, and I think the turnover thing is a big deal. I mean we can't turn the ball over and be successful. We cannot give up points. There was a span we gave up 50 points between the Texas A&M game and the South Carolina game. We gave up 50 points to our 13 points off turnovers, you're not going to win doing that. We've got to be continued to be good there. Make simple plays. Make the next pass. Cut move without the ball. Get second shot opportunities. Throw it ahead, but don't try to make, you know, things that aren't there happen you know just trust our offense. There's enough movement in it, that we should get really good looks, and the other big thing in a situation like this for us is we're going to continue to improve our transition defense is going to be good. Not only our rebounding at the end of the clock but our transition defense at the beginning of the clock, because it's getting tested and it'll be tested tomorrow night versus Florida."
What are your thoughts of playing on the first day of the SEC Tournament in Nashville, TN?
"I don't think like that. I haven't, I look at Nashville today, and I feel sad for it. Just reading some of the news stuff today and waking up to that this morning, and so that that's a concern. I've got friends that are, like I'm sure a lot of you, and that—no, I haven't. It's all been about Florida than it'll all about LSU. It really is. I mean it really is. I'm know we have a bracket sheet in there, but I haven't really looked at it at all."