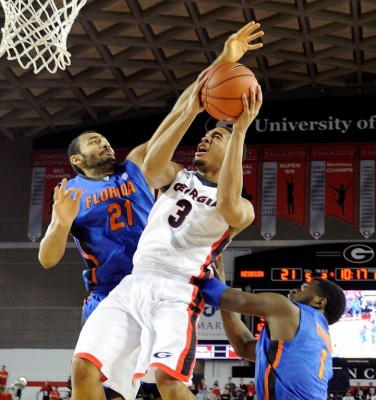 Sophomore small forward Juwan Parker played six minutes in Georgia's 73-61 victory against Florida on Saturday. After missing the previous game with a nagging achilles injury, Parker scored just one point and missed all three of his field goal attempts. Parker had not practiced prior to the game and on Monday head coach Mark Fox provided bad news on the status of Parker's injury.
"He will not play tomorrow barring a miracle," Fox said. "It's going to be a long road, and it's something that won't get better until after the season."
Fox indicated that the training staff would try to manage Parker's injury, but he was not optimistic that Parker would be able to get back to full strength for the rest of the season.
"I think we can hopefully get it calmed down where we could get a few minutes out of him [Parker] but the day after it's just really hard for him," Fox said.
Parker's injury leaves a Georgia team, that was already thin at the small forward position, with tremendous depth issues. Sophomore Kenny Paul Geno, who had been coming off the bench, fractured his wrist against Arkansas and according to Fox is about a week away from getting his wrist in a soft cast.
In their absence Charles Mann will play small forward with J.J. Frazier moving from the bench to the starting point guard position. The lineup had success against Florida on Saturday as Georgia got out to a 21-6 advantage and finished the game shooting 56 percent.
Parker switched positions to begin the year after projected starter Brandon Morris was dismissed from the team over the summer. On the season he was averaging 5.5 points and five rebounds. Junior Cameron Forte, who scored four points in 23 minutes against Florida, will get the majority of Parker's minutes. However, depth is still a concern going forward.
"That's certainly an issue for us right now," Fox said.