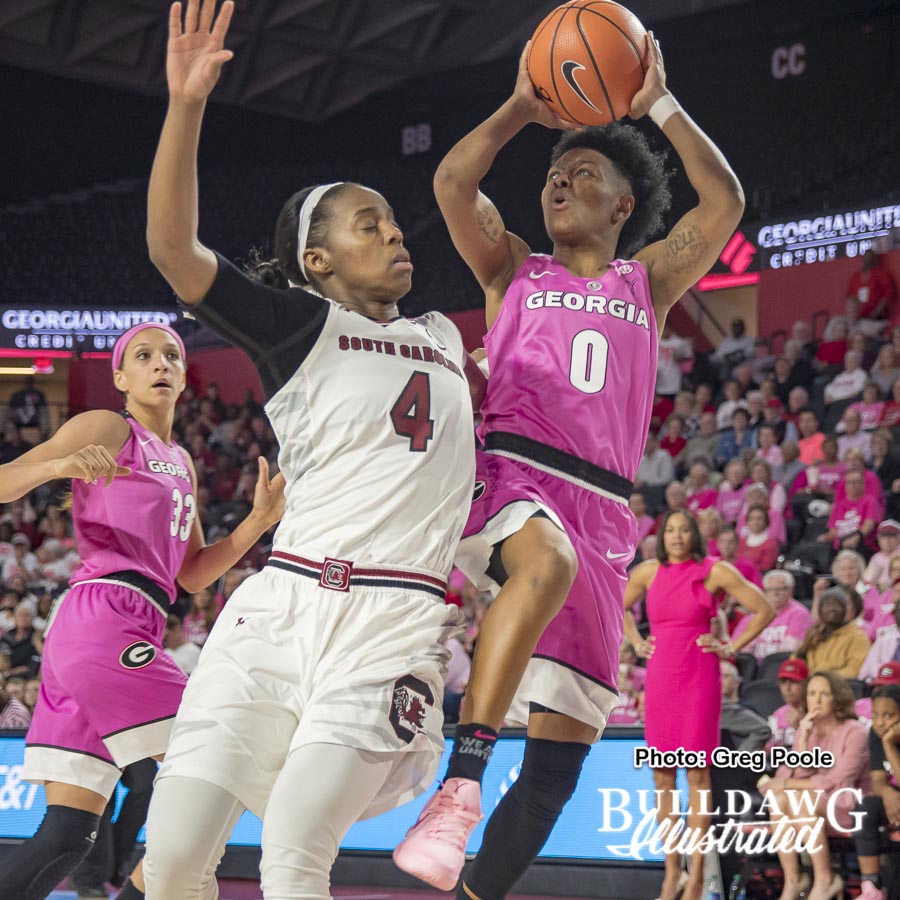 ATHENS – The drought continues.
Despite forcing 15 turnovers and scoring 38 points in the paint, No. 19 Georgia (21-5, 9-4 SEC) fell to No. 8 South Carolina (21-5, 10-3 SEC) 77-65.
The Gamecocks extended their winning streak over UGA to eight, with the Lady Bulldogs' last win coming back in 2013.
Gamecocks win the paint
The Lady Bulldogs faced a significant height disadvantage for the majority of the contest – USC's Alexis Jennings checks in at 6-foot-3 – but managed to score the majority of their points from inside the paint. Georgia finished with 38 points inside the paint despite being outrebounded 47-32.
However, the Lady Bulldogs had no answer for South Carolina's two bigs, as USC's A'ja Wilson and Alexis Jennings combined for 37 points and 19 rebounds.
"We're pretty good in that we've got a lot of post players that we can rotate in," South Carolina head coach Dawn Staley said. "When we put them back on their heels and got them in a little foul trouble, we got the matchups that we wanted."
The Gamecocks outscored the Lady Bulldogs in second-chance points 18-8, which ultimately doomed Georgia down the stretch.
"I don't think we have a right to be frustrated because we're the ones not boxing out," Georgia forward Mackenzie Engram said. "It's all on us. They got way too many second-chance shots because we didn't get a body on anyone. So, we can't blame anyone but ourselves."
The rebound disparity showed, too – the Gamecocks finished with 18 second-chance points, ultimately putting the game to rest with a 12-2 run in the fourth quarter.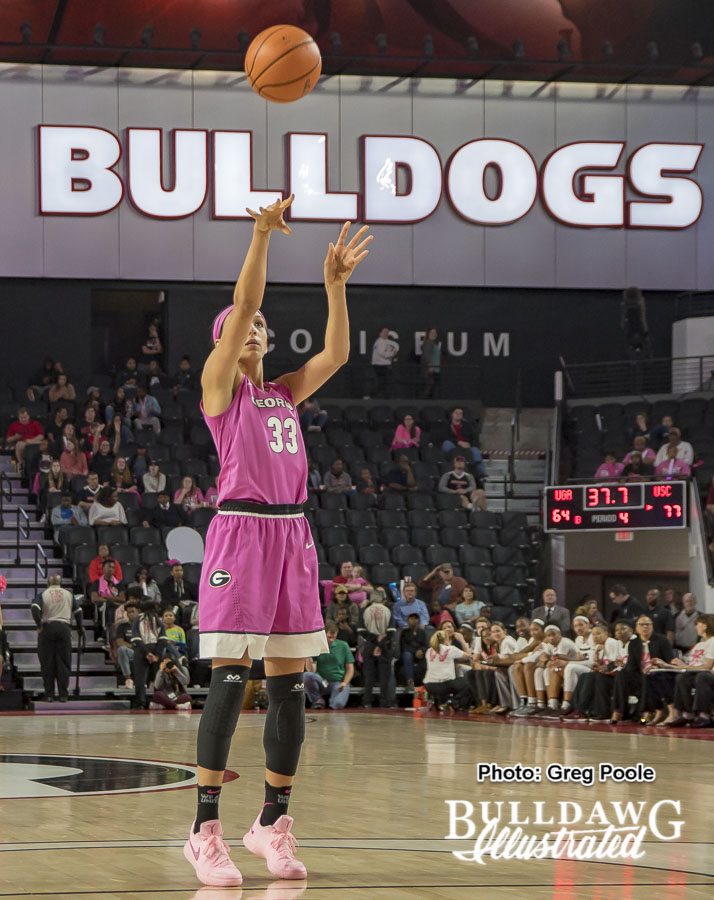 Robinson fights through the pain
Georgia guard Caliya Robinson landed awkwardly on her ankle midway through the second quarter and had to be helped off the court by her coaches, limping noticeably. She returned, however, before the quarter had even finished.
"I knew I was gonna return," Robinson said. "I just heard somebody on their bench say 'it's over' so that right there, just tape me up and I'm alright."
Robinson finished tied for second in scoring for the Lady Bulldogs with 11 points.
Georgia bench comes through
On a night where Georgia desperately needed its bench, it ultimately came through. Although in a losing effort, the Lady Bulldogs bench outscored the Gamecocks bench 18-5.
"That's one of our strengths is the ability to have scorers coming off the bench," Georgia coach Joni Taylor said. "I think it speaks a lot to how they prepare and are ready to go."
Taylor will likely call on her bench to contribute more in the games remaining, as the Lady Bulldogs must travel to Ole Miss and Alabama before hosting Florida on Senior Night.
Free throws doom Lady Bulldogs
The Gamecocks outscored the Lady Bulldogs 42-26 in the second half, largely assisted by their ability to get to the free-throw line. South Carolina outscored Georgia 27-5 at the free-throw line.
"I don't know how many times they went to the line, but it was more than we should've sent them," Engram said. "You're just not going to beat a good team like that."
The large number of fouls called, mainly on the Lady Bulldogs, greatly hindered head coach Joni Taylor's ability to mix up her rotation.
"We aren't allowed to talk about officiating," Taylor said. "You saw the game, everybody saw it and has an opinion on how it's called. The foul count is what it is. I'm not gonna get into discussing more."